We just returned from a cruise aboard the newly AMPLIFIED Royal Caribbean Oasis of the Seas. We sailed this ship back in 2017, but we loved it so much and knew they had made some changes, that we wanted to sail it again.
Oasis of the Seas underwent what Royal Caribbean calls "Royal amplification" in late 2019 that added a number of changes, including new restaurants, water slides, the tallest slide at sea, an escape room, a new live music venue, a reimagined Caribbean pool deck and more.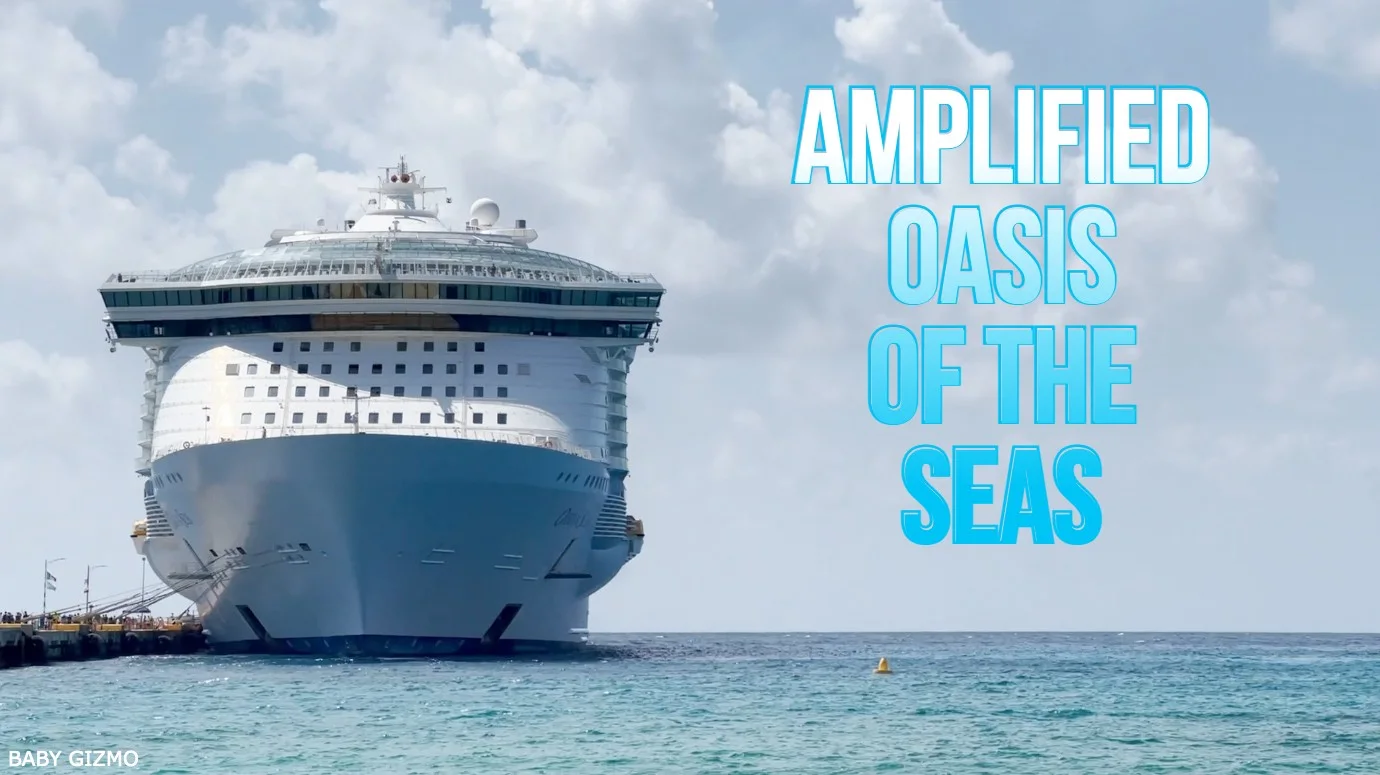 What's new on Oasis of the Seas
Caribbean-style pool deck
Lime & Coconut signature bar
Ultimate Abyss slide (dry slide)
The Perfect Storm water slides
Splashaway Bay aqua park
Portside BBQ specialty restaurant
El Loco Fresh complimentary Mexican restaurant
Playmakers Sports Bar & Arcade
Sugar Beach candy shop
Spotlight Karaoke venue
Music Hall venue
Bionic Bar
Revamped Adventure Ocean
Mission Control: Apollo 18 escape room
Let's start with Mr. Gizmo's assessment and tips of the newly amplified Oasis of the Seas.
TIPS FOR SAILING OASIS OF THE SEAS
OASIS OF THE SEAS STATEROOMS
We have a tricky number in our family when it comes to cruising. Most cruise rooms accommodate four guests, and as the overachievers that we are, we have five in our family. That means that we either have to splurge for a family suite or get multiple rooms.
For this sailing, we priced the rooms every which way to Sunday to find the best deals. This meant checking rates on the daily as prices go up and down every day and calling customer service to see what the current family stateroom situation was. Royal Caribbean doesn't publish the availability or the prices of the few rooms on the ship that can accommodate five people on their website so they make you call to inquire about them.
Ultimately, our best deal was….
WAIT FOR IT…
to get three rooms. Yep, THREE ROOMS was cheaper than two rooms and almost half the price of the one family stateroom. Does it make any sense? Nope. Not to us. But we figured we'd go with it. More staterooms = more bathrooms and that is important when sailing with teenagers.
Oh, did I tell you that we were sailing with 3 teenagers? How did we get three rooms with only two adults sailing in our party, you ask? Well, that was the trick. You can't have children under 18 in their own rooms on Royal Caribbean UNLESS the rooms are connected or right next door to a parent. So, that is how we worked it.
We got two interior rooms and one balcony room all on the same deck and same side of the ship. The interior rooms were next door to each other. One parent was listed in the balcony room with a teen. The other parent was listed in one interior room with a teen and the third teen was listed on the connecting interior room.
Sounds complicated but it worked for us and was the must budget-friendly option we could do. Okay, sure, we could have done three interior rooms but the people who pay for the cruise (the parents!) get to see the water.
BALCONY ROOM TOUR
INTERIOR ROOM TOUR
ULTIMATE ABYSS SLIDE
This is a new attraction on the ship that was so much better than we anticipated. Sure, it's the tallest slide at sea that plummets 10 stories but we just didn't think it would be as fast as it is. The kids LOVED IT! It's a dry slide that you sit in something similar to a potato sack and slide through lighted tubes at a fast rate of speed. You have to be over 44″ and under 300 lbs to enjoy this slide.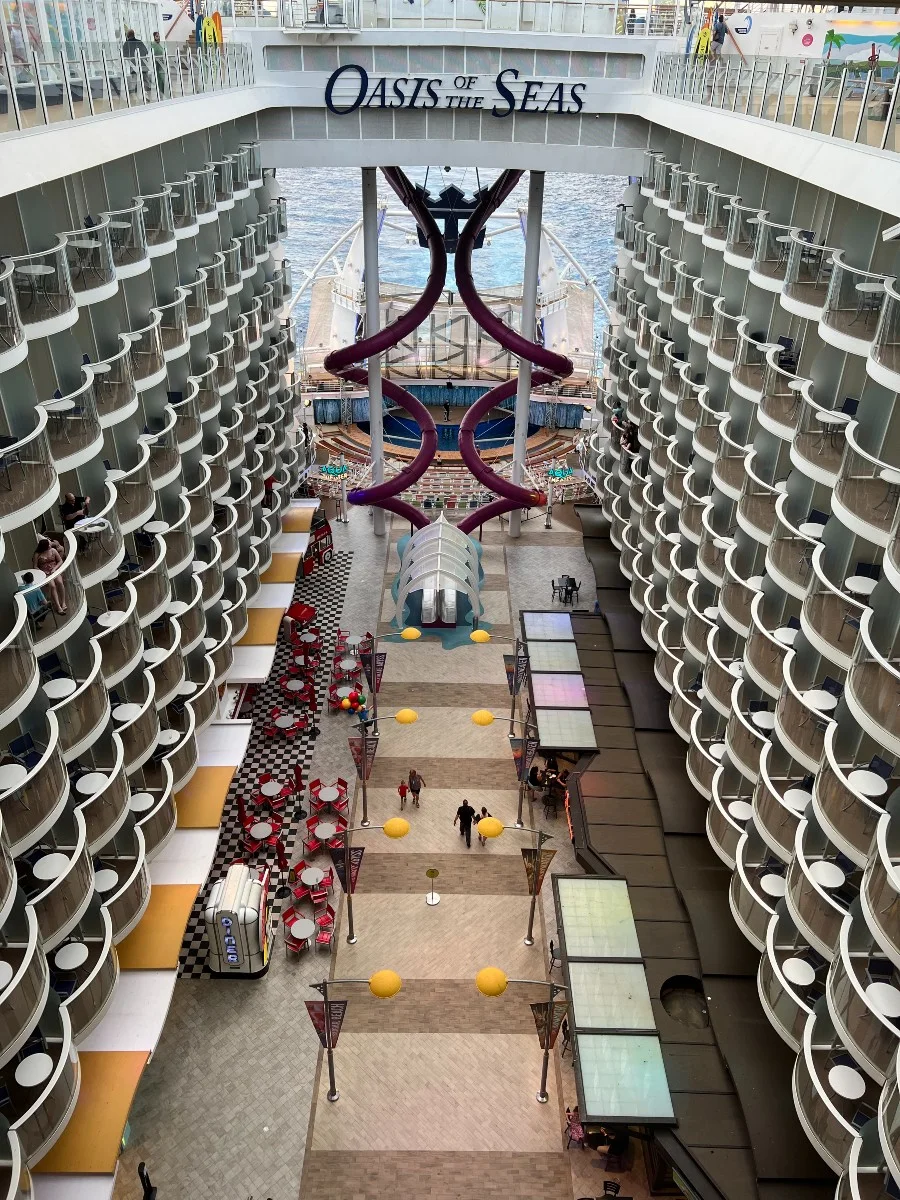 Take a virtual ride down the Ultimate Abyss with us…
Royal Caribbean's first barbecue restaurant is now on board the Oasis of the Seas. Portside BBQ℠ is the real deal, serving up authentic barbecue favorites cooked low and slow to perfection. Choose from a meat-packed menu of tender brisket, pulled pork, burnt ends and even turkey legs.
Crave-worthy sides like home-style cornbread and irresistible mac and cheese. Plus delicious desserts, like the Banana Dream and the Chocolate Brookie. The Chocolate Brookie was hands-down our favorite dessert on the ship!
Here is a video of what we thought about this new BBQ restaurant…
ZIP LINE, FLOWRIDER AND MINI GOLF
In addition to the new offerings on the Oasis of the Seas, our favorite attractions were still on board including the zip line, Flowrider and the mini golf.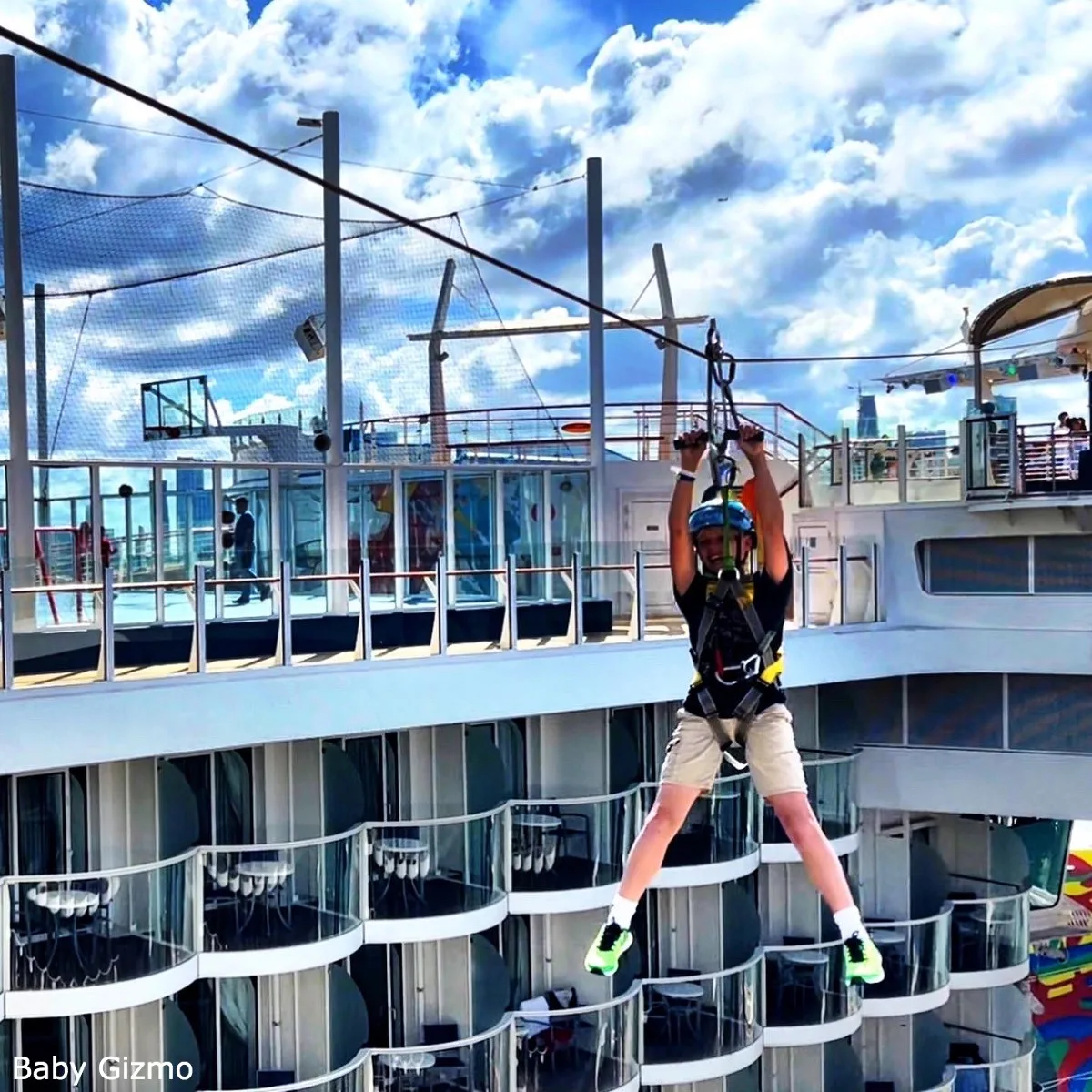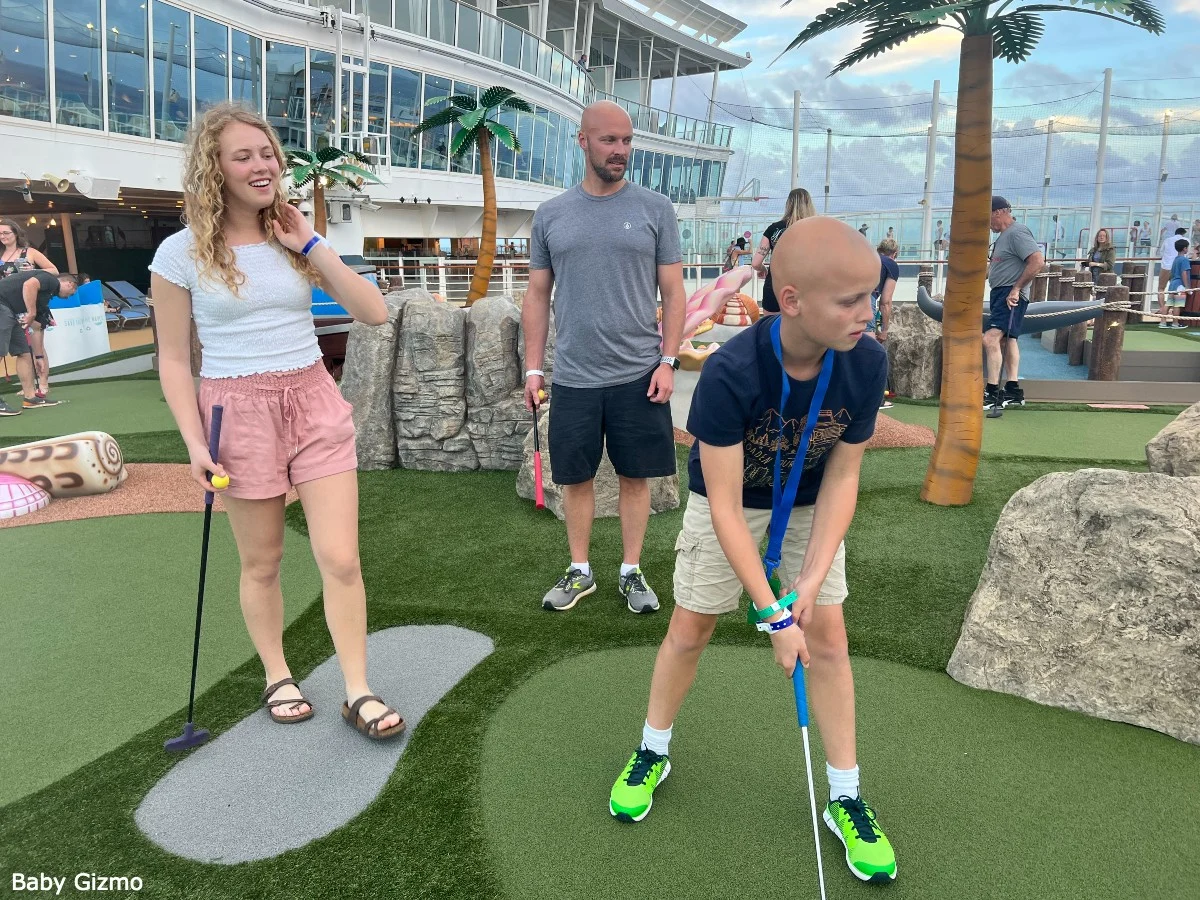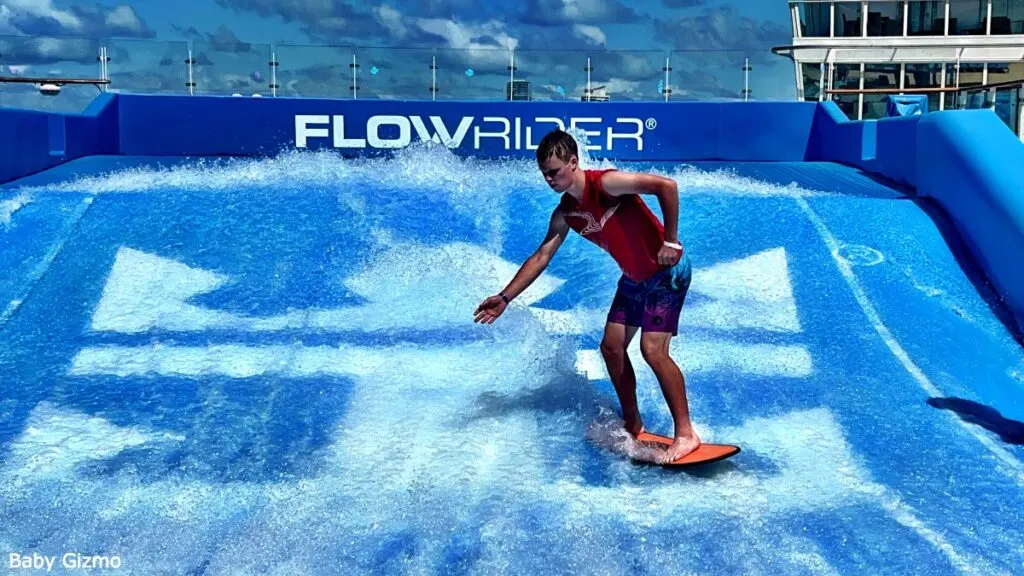 Overall, we were very happy with the amplification of the Royal Caribbean Oasis of the Seas ship. It is the ship we loved but even better. Our only complaint is that they still have the same main show this year that they had back in 2017 – CATS. Yeah, we hated the show back in 2017 and still hate it today. What can I say, Cats just wasn't one of Andrew Lloyd Webber's best works even though I LOVE-LOVE Andrew Lloyd Webber! I'm hoping that Royal changes the show soon! It's run its course and it's time for it to move on!
Otherwise, you can't go wrong with the Royal Caribbean Oasis of the Seas if you are looking for a family cruise vacation! So much to do on board for the entire family!!