On a rainy morning this week I whipped up the most fabulous treat — Apple Pie Bread! It was perfect for a fall snack and my kids gobbled it up while we read Secrets of the Apple Tree. Which, is such a fun book thanks to the Shine-A-Light surprise!
Lately I've been trying to cut back on the amount of treats and desserts. You know, healthy back to school routines and all, but with gobs of freshly made applesauce filling my fridge and pantry I just couldn't say no to Apple Pie Bread!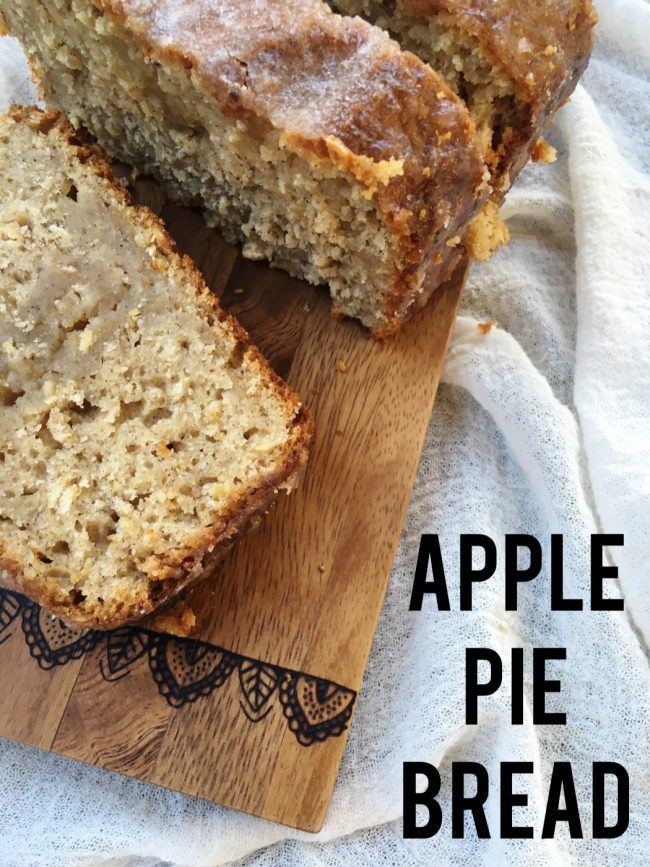 Ingredients
1 cup sugar
3.4 cup vegetable oil
1/2 cup honey Greek yogurt
1 cup applesauce
2 eggs
1/2 teaspoon vanilla
2 cups flour
1 cup old fashioned oats
1 tablespoon wheat germ
1 tablespoon flax seed, ground
2 teaspoons cinnamon
2 teaspoons baking powder
Optional Glaze: 1 cup powdered sugar and 1/4 cup applesauce
Directions
Preheat oven to 350 degrees. Grease a loaf pan.
In a mixing bowl, thoroughly combine sugar and oil. Fold in yogurt, applesauce, and vanilla. Set aside. In a separate bowl, whisk dry ingredients. Slowly add dry ingredients into wet ingredients and mix until fully blended.
Pour batter into the loaf pan and bake for 50 minutes or until a toothpick comes out clean from a poke in the center.
While your Apple Pie Bread bakes, whisk together the glaze. Remove the bread from the loaf pan and place on a wire cooling rack with a parchment lined cookie sheet underneath. Pour the glaze over the top and let it run down the bread, soaking into all the cracks and filling it with extra goodness. Allow it to cool for 10 minutes before slicing.
Enjoy warm with a pat of butter!