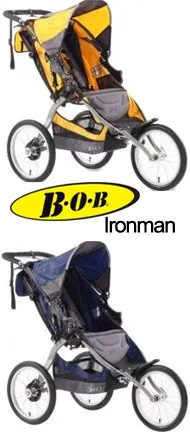 If you are a parent who thinks you might take up jogging to lose a little baby weight but aren't quite committed, move on. BOB Ironman is not for you. If you are a serious jogger/runner that KNOWS you are a runner, meet BOB Ironman! He is awesome but he is no joke. He is a true jogger with big rear wheels and a big, front fixed wheel that does not turn. If you are serious about your running, a front fixed wheel is what you want and BOB has it.
BOB Ironman will be your new running BFF that won't complain when you bring the little one along. In fact, BOB will carry your baby. What did I tell you? Best. Running. BFF. Ever. Not only will he carry the baby but he will do it comfortably, without throwing the kid all over the place, won't get in the way of your run AND will carry your stuff in his man-bag…ummm, I mean basket. He's a good guy. Just give him a chance!
Now let's get to BOB's seat. His seat is wide (which is a good thing!) and accommodates up to 70 lbs. It measures 15" across with a 21" seatback and a seatback to canopy measurement of 23". Our almost 3 year old tester fit comfortably in the seat. It's important to note with the shorter seatback, your taller children will definitely hit the canopy with their head before they max out the weight capacity.
To keep your little rider comfy in the seat, there is back support and extra padding in the seat right where your kid needs it. It sports an adjustable, padded 5-point harness with a one-touch buckle. We were surprised that the buckle was so easy to do because we expected BOB to want to keep his little rider close and not let him escape with the touch of a button. Needless to say we'd like to see a more difficult harness buckle to keep our naughty toddlers from trying to escape mid-ride. How about a padlock, BOB? Just kidding. Kind of.
The seat reclines with two hands with a strap system. It reclines far enough back for a nap but not flat. You should never jog or run with a baby under 6-8 months anyway, so no need for a flat recline.
BOB knows that kids like to snack on the run so he has a cool accessory adapter built right into the seat. This is for a snack tray or infant car seat adapter- which are sold separately. (Remember, you should never run with a child in an infant seat!)
The handlebar isn't adjustable but it is higher at 40" from ground to handle. The handlebar is definitely far enough from the frame that it accommodates even a taller parent well. If you are super-duper-Shaq-tall, you might want to try it out first. The handlebar also features a wrist strap.
Let's talk about BOB's canopy! He has your little rider covered. The canopy is huge! It even sports a very large peek-a-boo window with a cover to keep an eye on your little one mid-ride.
Like a good man, BOB can (and is willing!) to hold all your stuff. Two mesh pockets in the seat will hold your rider's snacks, toys or sippy cups. A large mesh pocket on the back of the seat will hold tons of parent or baby essentials that you need to access quickly. And his basket underneath will hold your purse and/or diaper bag with ease! Loving your storage, BOB!
BOB Ironman is sleek and sports lightweight alloy 16″ wheels with pneumatic tires. These are jogging tires (similar to bicycle tires) and not "all-terrain" tires. They are fast and durable more than they are rugged. These tires are made to glide along the payment to keep you going at the pace you want to go. BOB isn't going to hold you back when he's along. The front wheel even features a tracking system to keep you rolling straight ahead! There is a one step brake bar in the rear to lock the stroller in place.
BOB's push is amazing! BOB moves as if he is super lightweight and glides along as if he is floating on air. Turning isn't BOB's forte though. That front fixed wheel needs to be lifted slightly to turn but that is how a true jogger works. Plus, BOB is smooth! Super smooth. With the "state-of-the-art, adjustable suspension system", the stroller is smooth like butter! There are two positions for the suspension. Position #1 is for children up to 40 lbs. It's as easy as flipping the lever to the second position to accommodate a larger rider from 41-70 lbs. It's important to note that each time the stroller is folded it will default back to position #1.
The fold is two-handed but quick and easy to do. Lift the two levers on the handlebar and push the handle forward. Then grab and pull up on the red handle under the seat and down he goes. He does make you put in a little effort by locking his manual lock – I'd prefer if it was automatic – but not a big deal. Plus, he's wheels are a little bulky when folded but since I can pop them off easily, he fits in my sedan trunk with no problems. Of course, BOB rides in the trunk!! He likes it back there.
Like all good boy-toys, he doesn't come cheap retailing at $409 (he does go on sale though!). But let us assure you, he's worth it. Overall, if you are a real runner (not a willy-nilly-I-think-I-want-to-be-a-jogger but a REAL runner!), you need BOB! He is smooth, sturdy, will carry all your stuff including your kid, has great sun protection and won't hold you back on your run.
To see BOB Ironman in action to see all the ins and outs of this true jogger, watch our video review below:
SHOP BOB Ironman HERE
*Disclosure: Thanks to BOB for sending us an Ironman to review. As always, all our thoughts, opinions and statements are our own. (Unless someone stole them online and is pretending that they are their own. They are not. They are our own.)