UPDATE (June 7, 2021): This post has been updated to reflect current content and offerings.
We just returned from a trip to Beaches Resort in Negril, Jamaica. There was so much fun, family-friendly things that we did, that I'm going to try to condense it into one post.
If you are looking for an all-inclusive resort that really knows how to keep families entertained, happy and wanting to come back time and time again, Beaches Resort is it. From food that is truly kid-friendly (my picky 7 year old didn't complain once!) to water slides to lovable Sesame Street characters around every corner to staff that was friendly and helpful that we wanted to pack them up and take them home with us, Beaches exceeded our expectations.
Beaches Resorts has partnered with Sesame Street to bring your entire family a vacation to remember. What kid wouldn't love a dance party with Elmo, a parade with Big Bird, a bedtime "tuck-in" with Abby Cadabby, baking with Cookie Monster or a Super Science Fair with Grover?!? They all would love it! It's too fun. This Caribbean adventure with Sesame Street is one your family won't forget.
If you'd like to see it in action, watch our video review below. If you prefer to read and look at beautiful photos, our full written review follows the video.
Beaches Resort Jamaica Video
ARRIVAL
We arrived at the Montego Bay, Jamaica airport and easily found our way to the fantastic Beaches Airport Lounge where we were greeted immediately. They took our bags and invited us to wait in their gorgeous lounge that was complete with a light snack (banana bread), beverages and a super clean bathroom until our car was ready.
While we had a mishap with a leaky coffee maker that delayed our flight out of Chicago which in turn caused us to miss our connection (this is another entire post on its own), Beaches was on top of it. They monitored our flights and knew that we would be arriving 4 ½ hours late, so instead of the bus that we would usually have taken, they had a personal driver with a Mercedes waiting for us to take us the 90 minute ride to Negril. Now THAT is class!
CHECK-IN
Since we arrived at 10pm and my 7 year old was exhausted from traveling all day, I was extremely happy that check-in to the resort was fast and painless. We were offered a drink and shown to our rooms within five minutes of our arrival.
ROOMS
We had the standard room that is for families of 4 and under. If you have 5 or more, you have to upgrade to a suite. The room was perfect. It has 2 king-size beds, a desk, TV armoire, full bathroom and a beautiful balcony with table and chairs. My daughter was excited to see two towel animals greeting her on the beds. It's crazy how much my kids love those towel animals!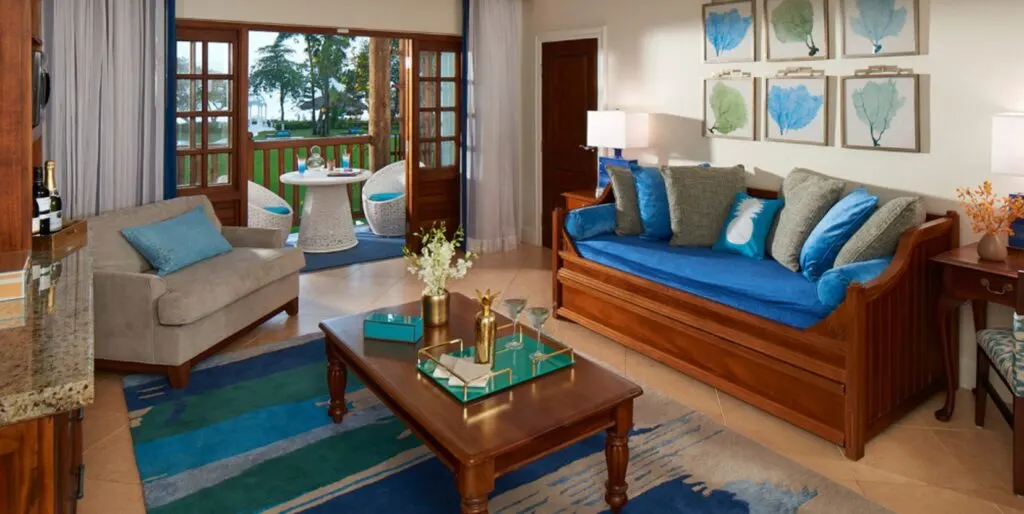 GROUNDS
I have to say that the grounds of the resort are absolutely breathtaking. From lush greenery around every corner to sparkling pools, you really feel like you are in paradise when you walk around.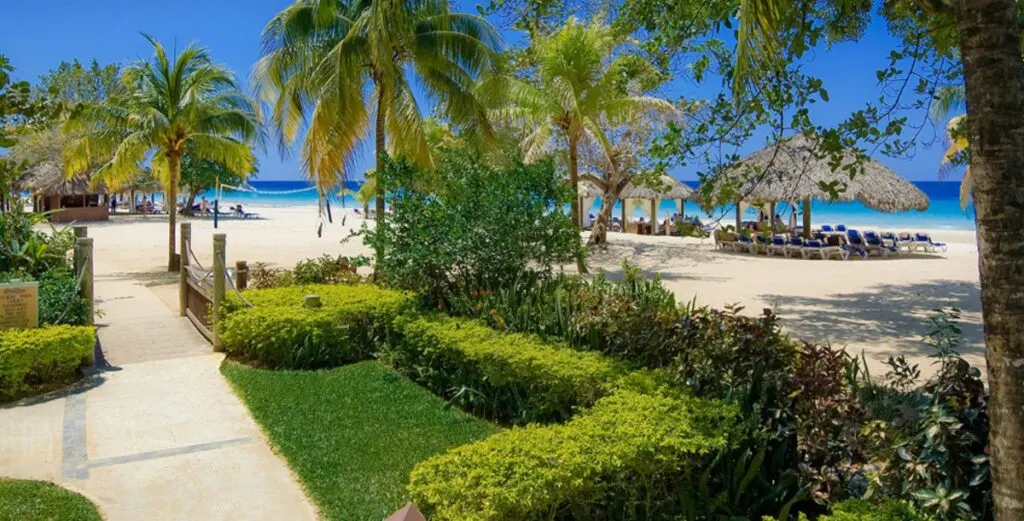 KIDS CAMP
Kids Camp was one of my daughter's favorite places to go. This is Beaches kids program that is open from 9am – 9pm everyday and allows parents to check-in and check-out their kids throughout the day. Yep, you can check them in while you hit a restaurant for dinner and check them back out to hit the pool. They can stay for as little or long as they (and you!) would like. And no reservations needed, just stop by with the kids. They accommodate babies from 3 months up to 17 years old. The kids are divided into age groups with hourly activities geared toward each group.
Infant Program Ages 0-2
From the smallest newborn to those up to 24 months, there is a Beaches Infant Proram. Luxurious, climate-controlled nurseries-filled with cribs, strollers, high chairs, rocking chairs and everything your little one could ever need await to cradle them in the very lap of luxury.
The 0-2 age group has their own room that resembles a fun day care complete with toys, cribs, changing tables and the most amazing staff ever! Seriously, after seeing how these Jamaican ladies cared for the babies and toddlers, I understand why women of this culture are very popular choices as nannies for the celebrities. I don't know what else to say about them except they are truly amazing. I would have no hesitation leaving my baby with this staff.
Toddler Program
At Kids Camp, three to four year-olds can truly have a blast with their very own set of activities, supervised by Certified Nannies. There's plenty of opportunities to have fun and play happy; toddler pools, shell collecting, face painting, treasure hunts, puppets, costume time, magic shows, sand castle building just to name a few.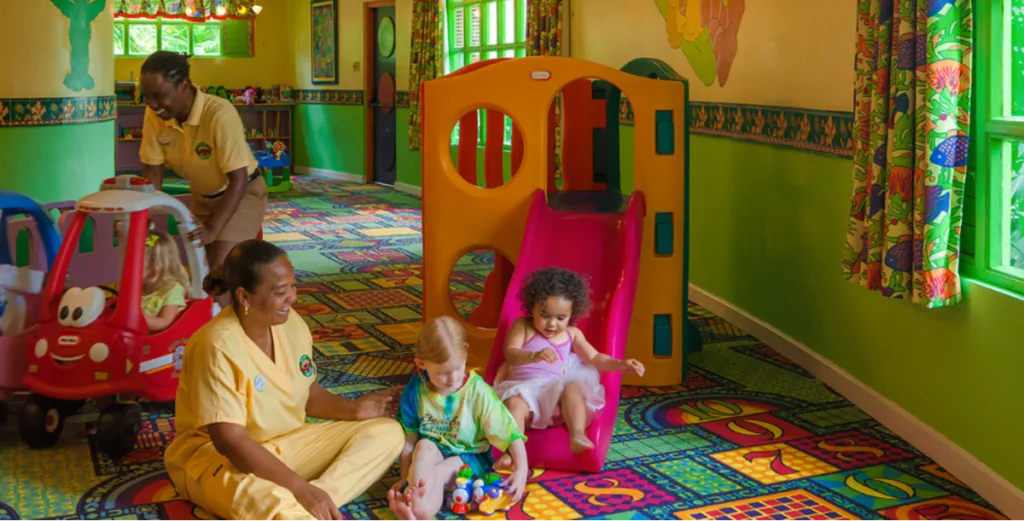 This was the group that my daughter was in. They had a Surprise Tea Party for Abby Cadabby, a Dance Party with Elmo and activities with Ernie and Grover. The staff even takes the kids to the stage shows at night. Other activities include mini golf, playground play, movies and more. All the activities are posted on a board in the camp area so that you can plan what your kids would like to participate in.
Adventures Program (Kids 8-10)
Not yet a tween, the 8-10 year old crowd has an unending amount of fun-filled activities to choose from. Scavenger Hunts, beach soccer, capture the flag, water pong and more!
Tweens Program (Ages 11-14)
We noticed that these age groups particularly liked to hang in the game room that is in the center of Kids Camp. This game room is complete with the latest and greatest Xbox games. When I say latest and greatest, I'm talking there is a partnership with Xbox and Beaches which means they have the games as soon as they come out.
The tweens get to experience Dive–In Movies to Karaoke to a whole world of water sports and activities. Kids ages 11 to 14 can take to the sands in beach soccer, beach volleyball, flag football and more
Trenchtown was also a hotspot for the tweens that included foosball, air hockey, and basketball.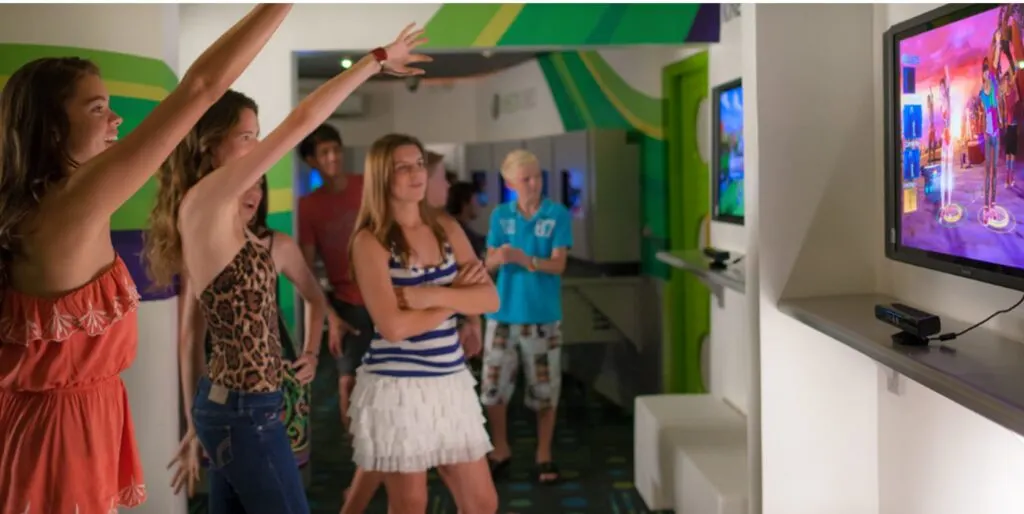 Teens (Ages 15-17)
Beaches know that teenagers don't always want to hang out with mom or dad even on vacation. Sometimes they like to hang with others their own age in an environment suited to them. From pizza bars to soda bars, to their own "nightclub" with karaoke, we give teens their own scene all day and places to hang each evening. Teens ages 15 to 17 will enjoy group water sports, boat cruises, pool olympics, tennis clinics, karaoke, discos, dance parties, talent shows and much more.
Overall, the Beaches Kids Camp was top-notch! The BEST staff with a schedule packed with fun, engaging activities.
POOLS
There are two main pool areas at Beaches Negril. Both are amazing, sparkling-clean pools that are big enough that we never felt crowded.
Main Pool
The Main Pool is situated near the center of the resort. It's a big, beautiful pool that is stamped with the Beaches logo on the bottom. This is the pool that you usually see in all the advertising shots. There are plenty of chairs surrounding the pool, rafts to float on and a volleyball net but I have to say my favorite feature was the huge swim up bar. Need a drink break but don't want to get out of the pool. No problem, Mon! They have you covered with this swim up bar.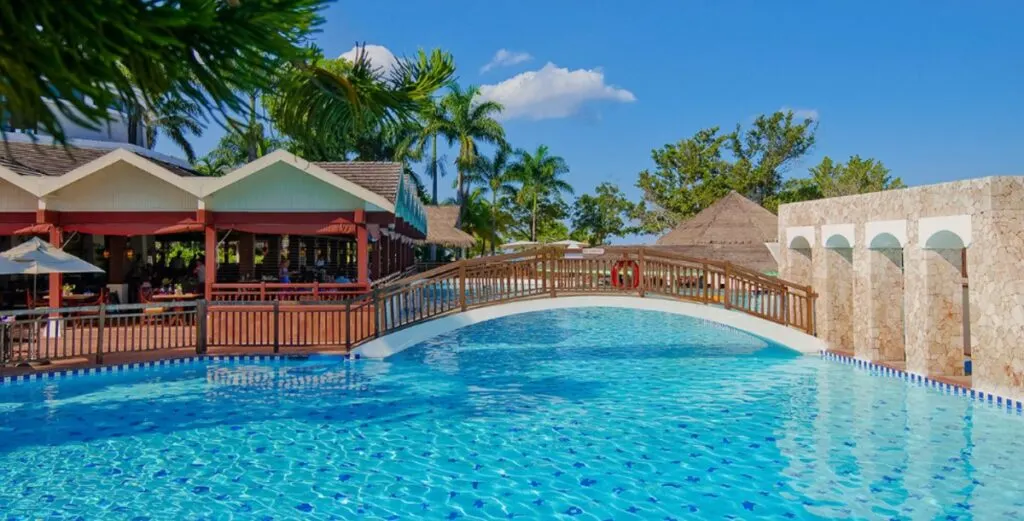 "Kid's Pool"
Clearly, this was my 7-year-old's favorite pool. What's not to like about waterslides, a lazy river, splash pad and another swim up bar that serves up kid slushy drinks when you're seven?!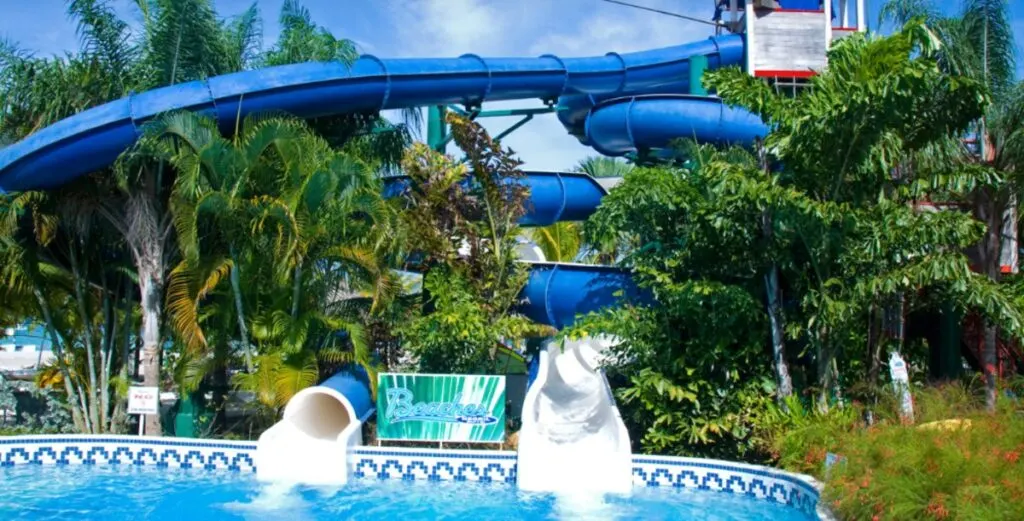 The swim-bar was a really nice touch to keep the kids happy and hydrated with drinks like the Superman and the Monkey. I'm telling you, huge hit!!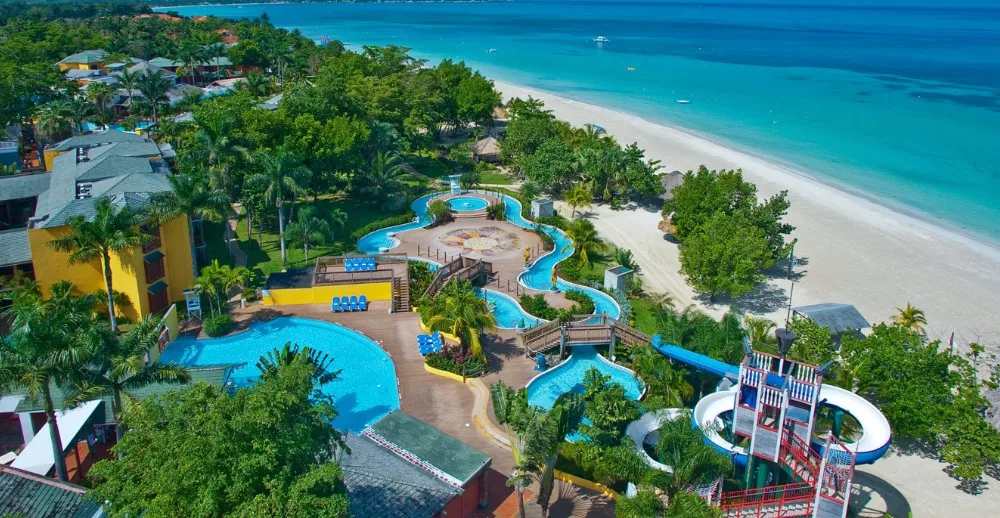 RESTAURANTS
This resort is all-inclusive so that usually means lot of eating. There are seven restaurants on property to choose from: one buffet and 6 sit-down restaurants, ranging from super casual poolside to need a reservation Japanese restaurant.
I have to say that no matter where you eat on property there are plenty of yummy kid-friendly choices. I never heard my daughter complain once that there was nothing to choose from. That is a win in my book!
The Mill
The Mill is the large buffet-style restaurant right off the main pool. While I'm usually not super impressed with buffets at all-inclusive resorts, the Mill pleasantly surprised me. The food was hot, the choices were extensive and the staff was great. We even liked that there was a kid section that featured kid favorites such as mac & cheese, chicken tenders and french fries.
Arizonas
Arizonas is their Tex-Mex restaurant poolside. We ate here for lunch one day and were big fans of the Nacho Bar and the fact that we could eat in our swimsuits.
Kimonos
Kimonos is Beaches Japanese restaurant. (Very similar to Bennihana.) This is the restaurant that you need reservations for and we highly recommending grabbing one when you arrive. While we didn't get a chance to eat there, Katia (she was part of our group) from Mommy Poppins and her family did and they raved about it. They said the service was amazing and the food was delicious.
Dinos
Looking for pizza on property? You'll want to hit Dinos. Tasty pizza served pretty much on the beach. Can't beat that!
Stewfish
Want to dine on the beach but looking for something a bit more upscale than pizza? Stewfish is a seafood restaurant that is literally on the beach. One night we even saw a couple dining at a two person table inside a circle of sand by candlelight at this restaurant. Super romantic!
Seville
If you are looking for pasta or just good ole' Italian food, you'll want to dine at Seville Restaurant. This upscale restaurant offers the latest and greatest Italian dishes served in a beautiful fine-dining type atmosphere. While kids are allowed here, I would almost suggest making this a couple's night out and dropping the kids at Kids Camp. I just don't think the kids will appreciate it like the parents will.
Café Carnivale
This poolside grill serves wraps, burgers, hot dogs, fries, jerk chicken and more. You walk up and order so it's fast, easy and the kids love it.
ACTIVITIES (for the entire family!)
Since this is an all-inclusive resort, most activities are included. From learning to scuba dive to taking a ride aboard the banana boat to volleyball, tennis, and kayaks, there is plenty to keep you busy your entire trip. The only activities that are not included are the motorized boats (ex. Wave Runners).
We had a great time on the banana boat but be sure to warn the kids that there is a possibility of getting dumped in the ocean. I had a 7-year-old that was shook up a bit from her ocean dump we all took when we rounded a corner a bit too fast.
My daughter was excited to see some old school resort games (they were new to her!) like giant chess and shuffleboard.
One of our favorite activities was just hanging out on the beautiful, white sand beach. Gorgeous!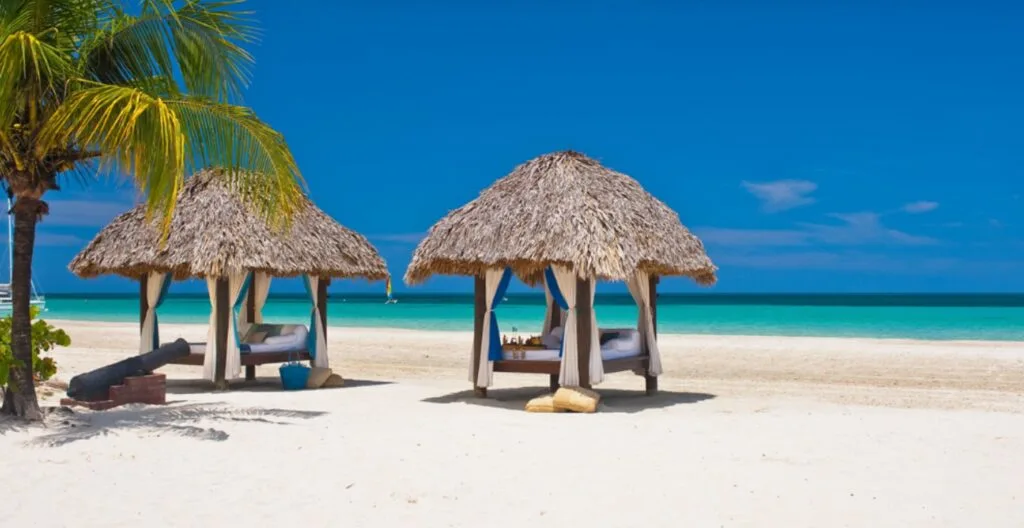 ENTERTAINMENT
Each week, Beaches offers a variety of night entertainment including live bands and shows, stage shows, parades, beach parties, bon fires, themed nights and talent shows. We missed the Thursday night Sesame Street parade due to our airline delay but those we talked to said they loved it.
We did manage to catch two Sesame Street stage shows which were super fun. There were tons of places for parents to sit in the open theater and a big, open area in front of the stage for the kids to dance and sing along. If you visit Beaches, the stage shows are a definitely must-see.
FOR THE ADULTS
Red Lane Spas of Beaches
Don't forget the spa when you visit the resort. This fantastic, first-class spa is pure luxury! Offering services such as massages, manicures, pedicures, wraps and facials, the spa to relax and find your inner harmony.
I had the opportunity to experience a 50 minute Tropical Bliss Massage and it was seriously amazing!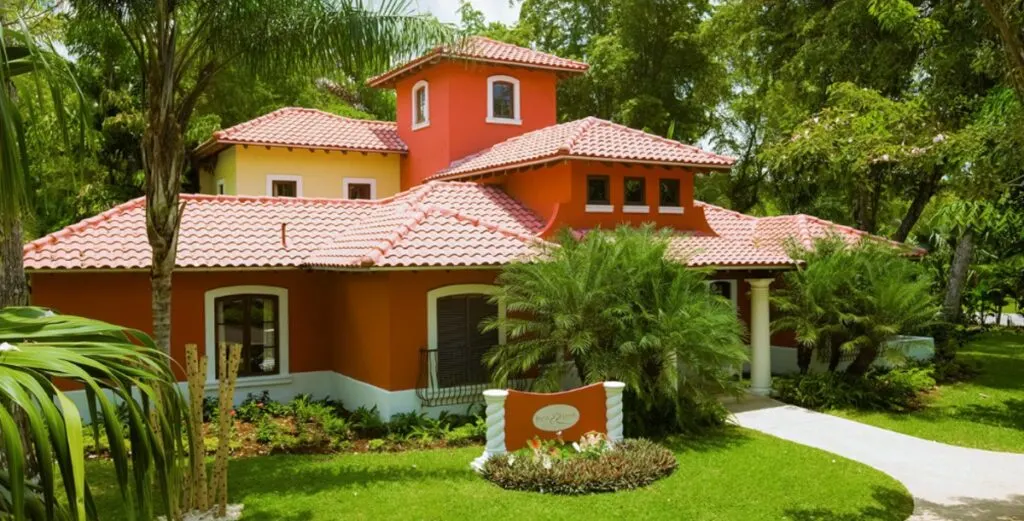 They even have spa services right on the beach.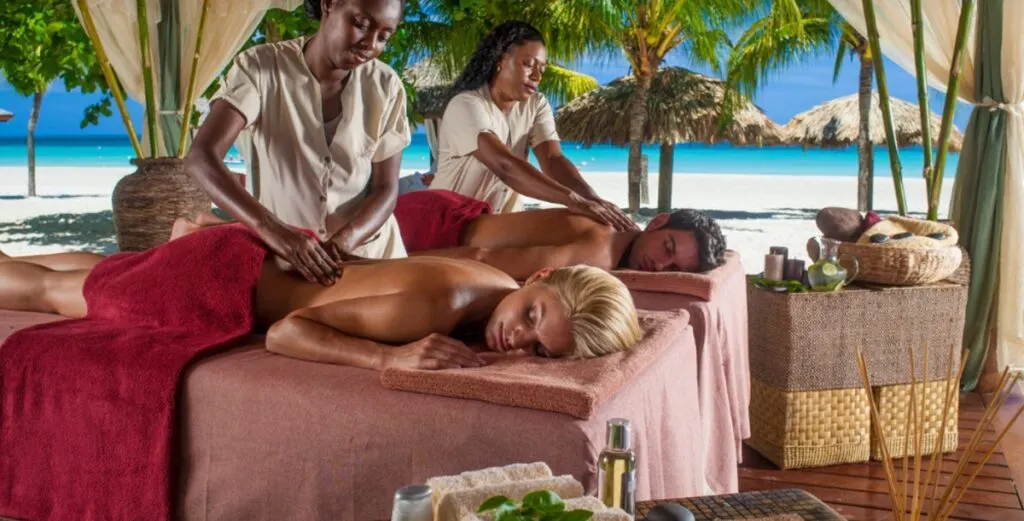 Fitness Center
As a workout buff (yes, even on vacation!), I was happy to see a state-of-the-art fitness center that was stocked with cardio machines, machines and free weights.
Scratch DJ Academy
This unique area is geared toward teens and really cool adults! Ever dream of being a DJ (even for a minute!)? Scratch DJ Academy is a place that you can release your inner DJ.
In this hip room, you can learn how to mix, blend and scratch on vinyl, CD's or even your iPod. Honestly, I felt cool just standing in this room!
As part of the program (costs extra but is minimal in terms of how much fun you'll have!), you'll have the option of performing for your friends and family, or even participate in an authentic DJ battle! How cool is that?!?
Wrap-Up
Overall, our Beaches Resort trip was amazing! The resort was as kid-friendly as you can get! We were big fans of the open hours of the Kids Camp, the endless activities and beautiful grounds. Plus, the staff was so amazing that we wanted to put them in our suitcase to bring them home with us. If you are looking for an all-inclusive, kid-friendly vacation for the entire family, you should really check out the Beaches Resorts!
Expert Travel Tips
Our Baby Gizmo tips for visiting Beaches Resort in Negril, Jamaica:
1) Be prepared for a 90 minute ride from Montego Bay to Negril by bus.
2) Take advantage of the Beaches Kids Club to give you a little adult time.
3) Make sure you grab reservations at Kimonos Restaurant.
4) Don't skip the stage shows because the kids will LOVE them.
5) Consider getting the extra "Tuck-in" service with one of theSesame Street characters. It's really fun.
6) Bring bug spray. When the sun goes down the beach area can be brutal with mosquitoes.
For more information on Beaches Resorts, visit their website: Beaches Resort
FAQs
*Disclosure: Thanks to Beaches Resorts for paying for my travel expenses to visit the Negril, Jamaica resort. As always, all thoughts, statements and opinions are my own.