Raise your hand if you're a iPhone camera junkie … I am too 🙂
I have to be very intentional about picking up my DSLR and practicing manual these days, because, let's face it, it just isn't as convenient as my phone. Plus, just like this mama, it is totally possible to take amazing photos with your phone. This digital age is pretty darn amazing if you ask me!
So, since the majority of our moments are captured by my iPhone I've taken it upon myself to experiment with a number of iPhone photo and editing apps. Here's my current line-up …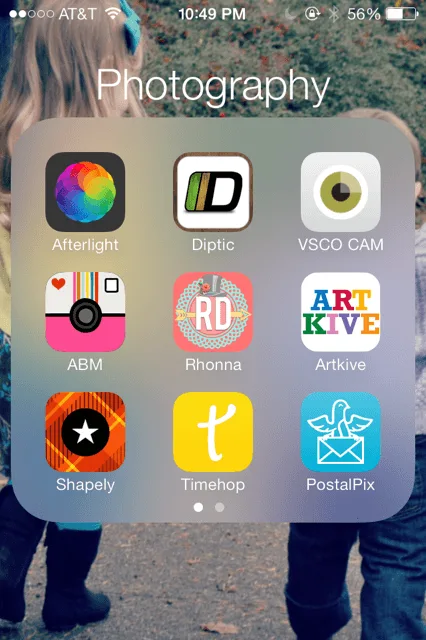 Afterlight | I love the editing capabilities of Afterlight and at just 99 cents, it's totally worth it because it can truly transform a photo into a real piece of art. You can resize, adjust exposure and so much more. My favorite feature is the alphabet frames, I'm planning to create an alphabet book for our family with it soon! This adorable IG mama already has a jump start on hers – take a peek at her sweet letter "K".
Diptic | Need a fabulous collage? Diptic is my go to app! You can even add text now which is a new-ish feature. Here's my #monthinphotos collage from November with added text – so easy and such a fun glimpse of the month to look back on.
VSCO CAM | I'm so far from being a professional photographer, it's not even in my realm of possibilities. I'm just a momtographer … but, VSCO CAM puts a serious spin on my photos. I LOVE editing with their filters. It totally glams them up and adds just the right lighting. Highly recommend this app!
A Beautiful Mess | Want awesome text, arrows and frame shapes? Buy A Beautiful Mess. I totally heart this app and use it every day.
Rhonna Designs | Another fun "extras" app, similar to A Beautiful Mess, just with different fonts and add-ons.
Artkive | This app is genius. GENIUS! Snap a quick photo of your kiddos art work and "artkive" it. Way less pain in recycling those darling projects when it's archived in a photo. Plus, you can email photos of your little's artwork straight to your spouse, grandparents, etc.
Shapely | Want your photo in a certain shape? Download Shapely. And I'm not just talking basics like circles and stars, Shapely has flowers, coat of arms, pennants and almost 100 other shapes.
Timehop | Ok, so this isn't editing related, but I click it everyday. Timehop collects all your posts and photos from various social media sites and shows you a quick review of "one year ago", "two years ago", "three years ago", etc. I tear up on the daily seeing my sweet baby's faces from our past adventures … they grow up so fast!
PostalPix | Have a fabulous photo you've just got to share with family? Upload to PostalPix and you can have a postcard mailed at the touch of a few buttons. I love sending these as quick little thank yous for playdates and mini presents from grandparents. Super simple and definitely brings a smile to the receiver's face.
Obviously, it goes without saying that Instagram is a favorite too 🙂 It's on my main screen page though – not tucked in the photography folder.
What are your favorite iPhone photography apps?