The holidays are coming up which means many families are going to be traveling. Parents will be packing up the kiddos and hitting the road whether by plane, train or automobile. If you are traveling with a baby, you are going to want a good lightweight, travel stroller to accompany you on your trip.
Meet the new Bombi Bēbee Lightweight Travel Stroller.
From Disney to everyday, this lightweight buggy is big on features. Plus, it isn't just for traveling but can be great for everyday use whether you are going out for quick errands or just a walk around the block.
STROLLER VIDEO REVIEW
ECO-FRIENDLY FABRIC
Let's start out with one of the unique, Earth-friendly features of this stroller that makes it stand out from the rest. It's eco-friendly! The BeBee fabric is made from at least 50% recycled plastic bottles.
In fact, each eco-friendly stroller + it's included carry bag saves at least 56 plastic bottles from ending up in landfills. Plus, you won't find any single use plastics in the box like zip ties, plastic sheets or styrofoam peanuts in an effort to reduce waste & support eco-initiatives.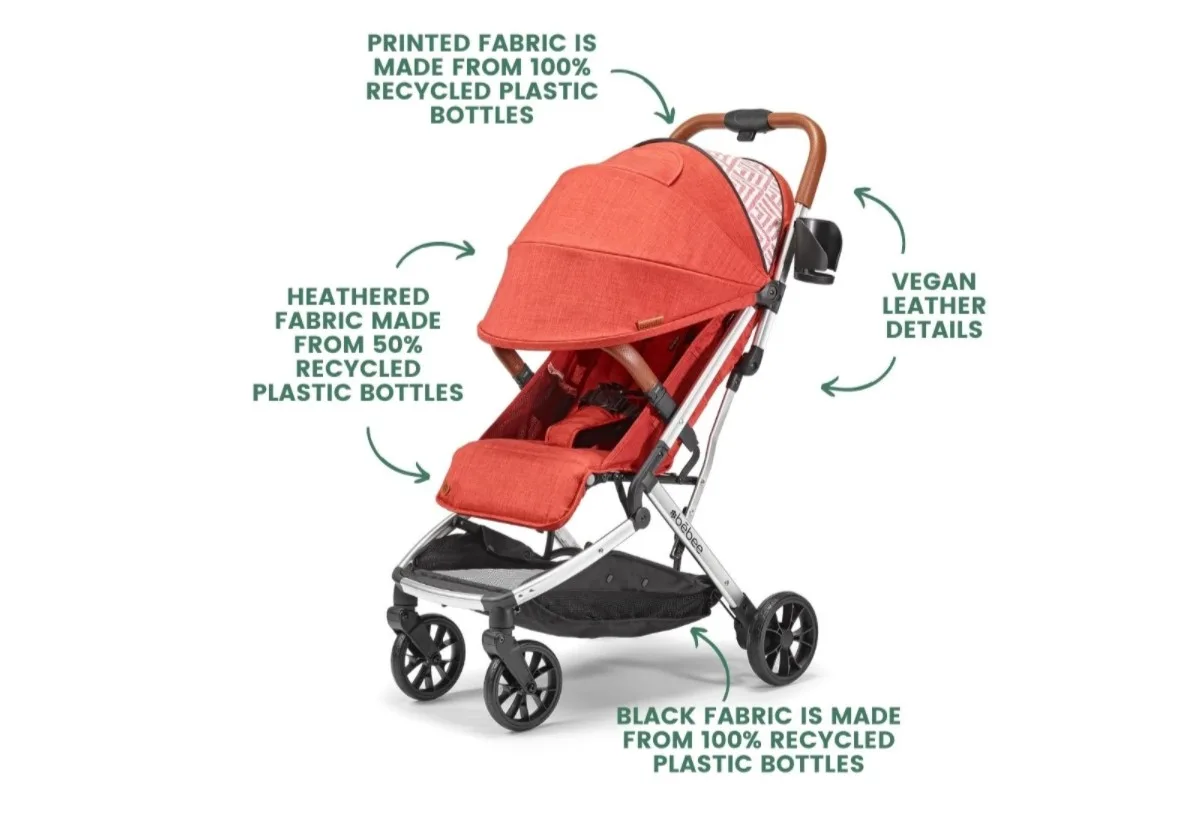 BOMBI BEBEE STROLLER SEAT
The seat on the Bombi Bēbee is roomy and accommodates from 6 months to 50 lbs. It measures 14″ wide, with an 17″ seatback and a measurement of 27″ from back of seat to canopy. The seat sports a padded, adjustable, 5-point harness and an adjustable calf rest for comfort and safety.
The seat has a deep recline with one hand but does not go flat which is why it is recommended for 6 months and up. There is a swing-away, removable baby bumper bar that is made of vegan leather. (Yep, no mouthful of foam if your little one decides to chew on it.)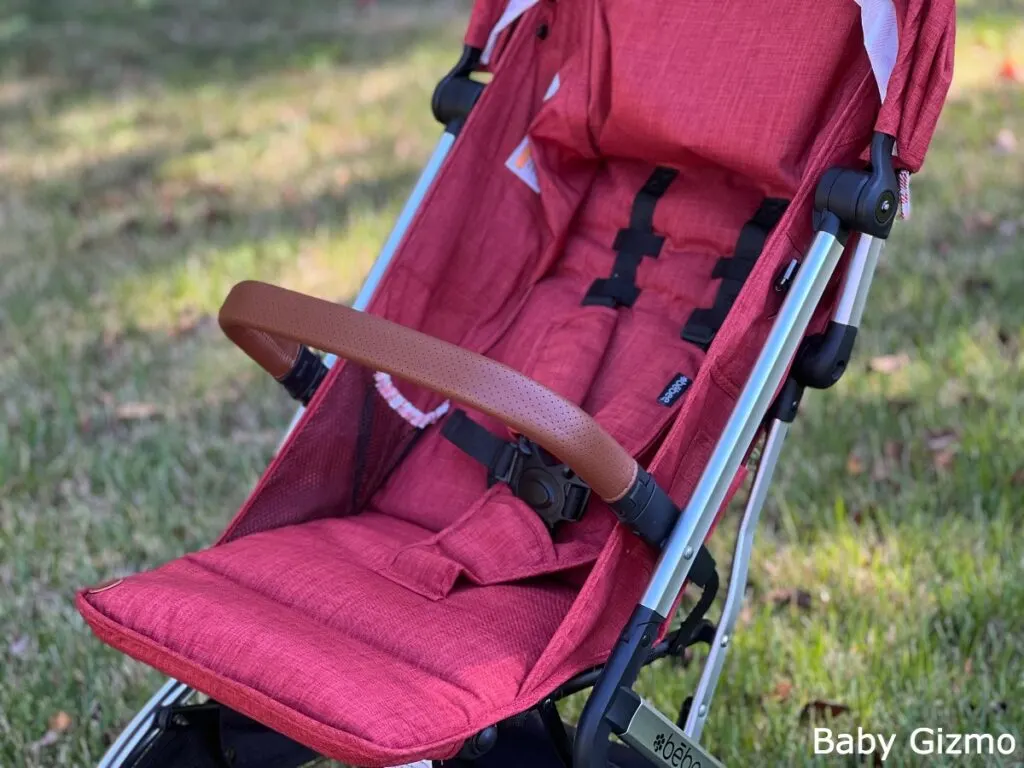 CANOPY
Bigger is better when it comes to canopies and the Bēbee canopy doesn't disappoint. The canopy is large with three panels and expands when you unzip the hidden 4th panel that folds all the way down to the baby bumper bar. The canopy features a mesh peek-a-boo window with a magnetic closure which is great for keeping an eye on your little rider.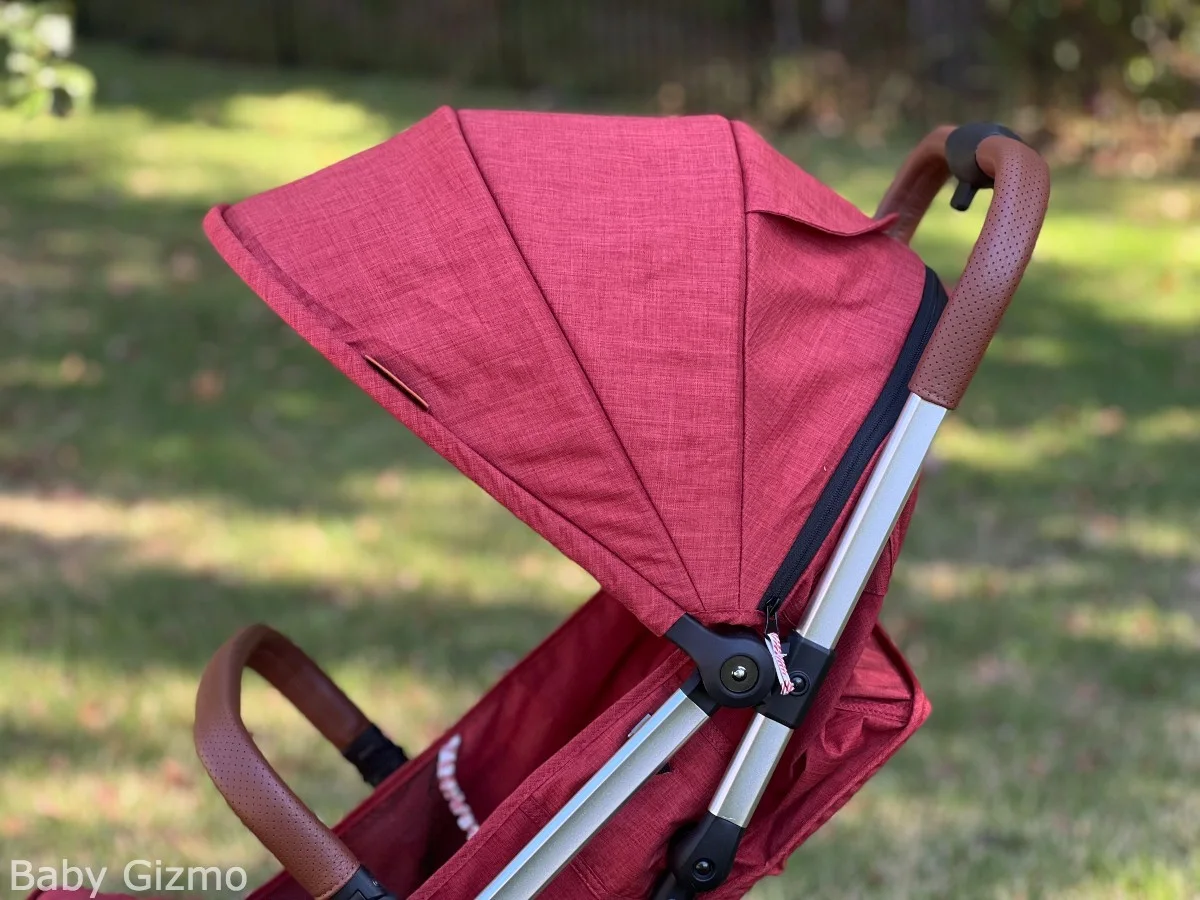 BOMBI BEBEE HANDLEBAR
While the handlebar isn't adjustable on this stroller, it is taller at 41″ from ground to handle making it great for taller and shorter parents alike.
STORAGE
Good storage is key on a travel stroller and the Bēbee doesn't disappoint in that area either. The Bēbee stroller has a pocket on the back of the seat to carry essentials such as a wallet, cellphone or keys that you can get to quickly.

There is also a small mesh pocket in the seat of the stroller for a baby bottle, binky or small toy for baby. The large basket can easily hold a medium to large diaper bag and is easy to access from the back or the front. We don't want to forget the great INCLUDED cup holder (bottle holder) that snaps onto the side of the handlebar.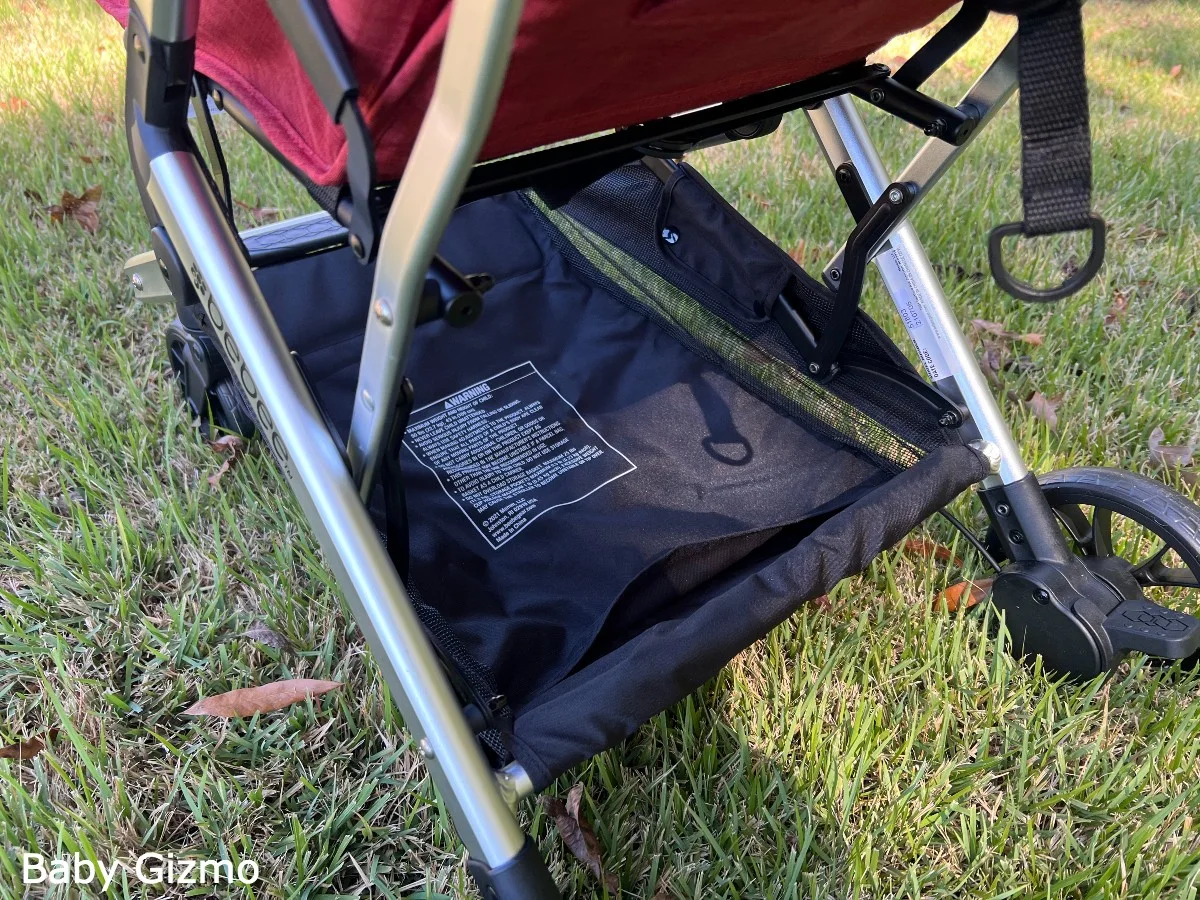 WHEELS
The stroller rolls on hard rubber wheels with 7″ wheels in the back and 6″ swivel wheels in the front. Note: The front wheels do not lock. Plus, the all-wheel suspension provides a smooth ride for baby on smooth surfaces.
There is a one-step brake that locks the stroller into place.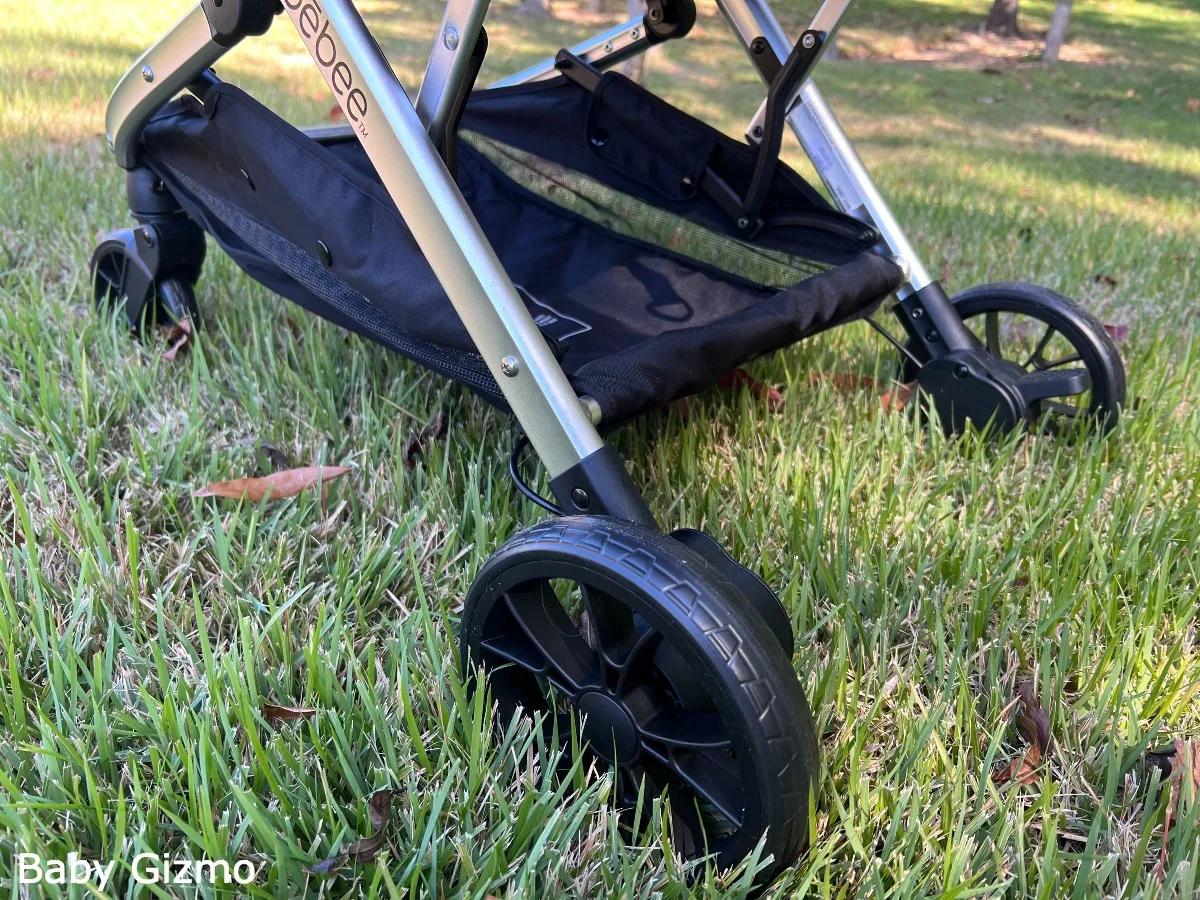 STROLLER FOLD
A travel stroller needs to fold fast. And easy. The Bombi Bēbee does just that! With just one hand, the stroller folds down easily and quickly into a compact package that stands on its own. It has an auto-lock that keeps it locked into place and the stroller fits into the smallest of trunks. It weighs just 16 lbs which makes it easy to travel with or carry around.
That's not all, the Bēbee stroller comes with a travel bag. Yep, no need to buy one separately! The travel bag keeps the stroller looks great on your journeys and we love it!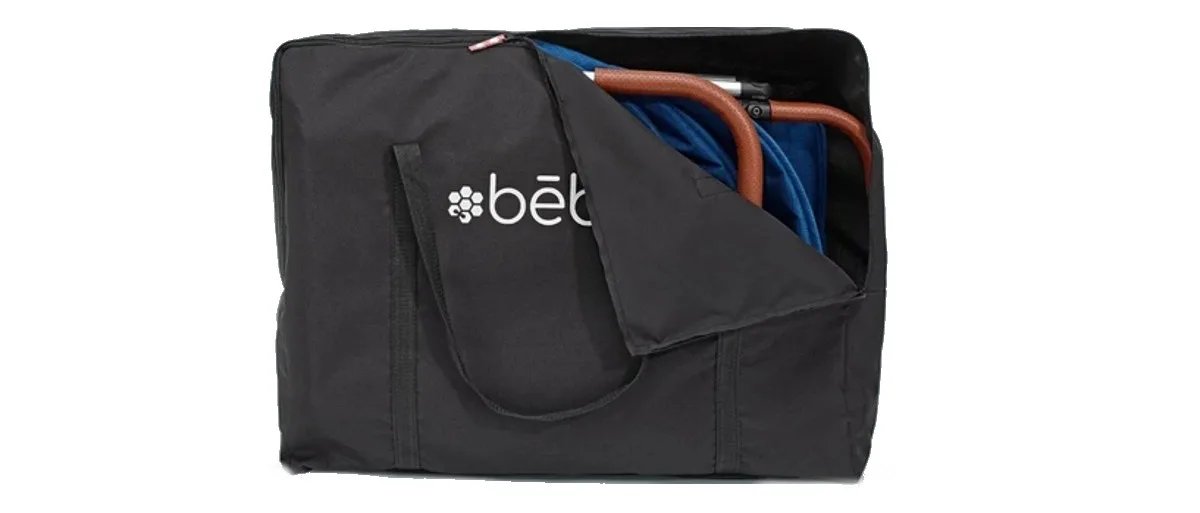 STROLLER UNFOLD
To unfold the stroller, you just slide a lever with your thumb and squeeze with the same hand and give the stroller a shake open until it locks into place.
PRICE AND COLORS
The Bombi Bēbee retails for a very reasonable $199. You can purchase it on the Bombi website. It is available in four different colors: Evergreen, Midnight Black, Terracotta (featured in our Bēbee stroller video!), and Glacier Blue.
WRAP-UP
The Bombi Bēbee stroller has some fabulous features for both mom and baby in a lightweight, travel-friendly, easy to fold package. We love the eco-friendly fabric, huge canopy, big basket and super easy fold. It's definitely a stroller that you want to check out.