Back in June, my husband and I learned that our kindergartener was going to be surprised at the last assembly of the school year with the school's student leadership award. Each semester, two students from each class were selected by their teachers and recognized for consistently demonstrating the school's values. Oh my goodness—we were so proud! And because my love language is stuff, I immediately asked what we should get her to celebrate. Then remembering that she's in kindergarten and literally half her class won this award over the school year, I realized I need to calm the f*ck down.
Fortunately, several months before this, I told my husband about a book that was being published in June. He loved the concept of the book so much that he preordered it right then. The book arrived just a couple days after we found out about the award, and its message was so on point with the award that we decided to give it to her as a yay-for-you-kid/last-day-of-kindergarten gift. We wrote a letter for the front of the book to personalize it and were all set.
What is the name of the book with the amazing, on point message? She Persisted: 13 American Women Who Changed the World by Chelsea Clinton. Now, please hear me out: This is not a political book. Given the author and the title, one might think it is, but it isn't. Okay, maybe a little bit because it's feminist in that it sends a positive message to girls about what they can accomplish, but that's all.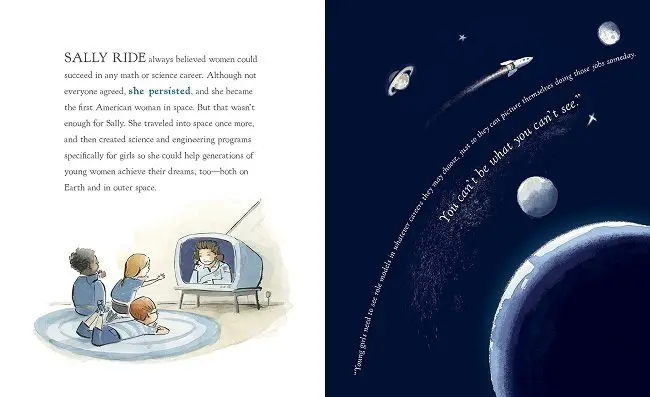 The book shares the stories of 13 American women who influenced the country—and the world. It includes women as diverse as Florence Griffith Joyner, Nelly Bly, Oprah Winfrey, Sally Ride, Sonya Sotomayor, and Virginia Apgar. Apgar? That should sound pretty familiar to those of us who have been present at the birth of a child. The Apgar score is given to babies at one minute after birth and five minutes after birth; it consists of five tests used to judge the baby's physical condition and identify whether there is a need for medical intervention. Virginia Apgar was discouraged from going into medicine by a society who thought women were unsuited for the profession. I, for one, am glad she persisted.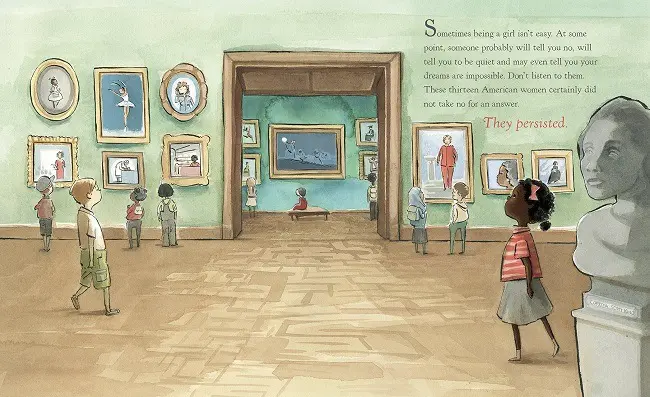 The illustrations are beautiful. The one on the last page is my favorite! And the message on the last page gets me all choked up and teary: "So, if anyone ever tells you no, if anyone ever says your voice isn't important or your dreams are too big, remember these women. They persisted, and so should you." (Seriously, I got chills typing that out.)
No matter the gender of the children in your life, this book is a great choice. I encourage you to read it to your child, and talk about the stories inside. The book's message about working to overcome the odds and persevering is important for all children (all people, in fact!) to hear.