Every year I make a reading goal. I love reading, always have, but with a toddler glued to me (literally, I wish I could share a video of my little monkey!) and a preschooler who is constantly ready to engage in a project or activity it's hard to find the time! Can I get an AMEN from other mamas?
I've found ways to sneak in reading time though – books on tape while we drive around on errands, a Nook for nighttime reading and solo mom escapes to the bath tub on occasion. My books and I find our time, that's for sure 🙂
Last year almost 20 books. Of those 20, these were my favorites …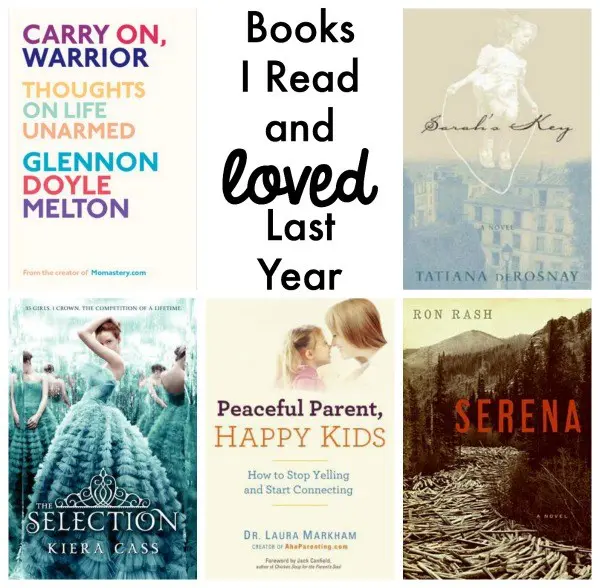 Carry On, Warrior by Glennon Doyle Melton
I actually read this one twice, loved it that much. I think it's one of those books you could read once a year and still learn from. Glennon is just so down to earth, truly beautiful and the type of mom I find mountains of encouragement from. Her book of essays are top notch, plain and simple.
Sarah's Key by Tatiana de Rosnay
Grab a box of tissues and settle in for one of the most moving historical fiction books you'll ever read. The anticipation will keep you on your toes and when it was over all I could think was, "Man, how did this historical event happen and I've NEVER heard of it!" Sarah's Key has me pining to dig deep into world history and learn about educate myself about historical (and current) events beyond our borders.
The Selection by Kiera Cass
I had to include one young adult novel in my favorites list, right? This series is simple and almost predictable but really entertaining. You'll be rooting for your top girls and wish it would turn into a movie. It's like a less raunchy Bachelor with an interesting ending.
Peaceful Parent, Happy Kids by Dr. Laura Markham
If the government could mandate one required reading for all parents, this would be it. Another book that I could read annually and gain new pearls of wisdom from, Peaceful Parent, Happy Kids is everything I strive to become … and practice makes perfect so I'm adding it to my list again this year! The author's blog is amazing too!
Serena by Ron Rash
I didn't speed read this one, it had some peaks and some major valleys in the form of timber speak, but the character development is divine and nothing will prepare you for the ending. Hurry and read this before the film debuts in November 2015!
What did you read last year and love? We'd would love your recommendations!