Mother's Day is almost here and if you're like me, there's nothing you really want than 1) someone else making breakfast and 2) them bringing it to you in bed. So post this to your husband's Facebook wall, because we're rounding up some ideas for serving the mom in your life breakfast in bed this year! 😉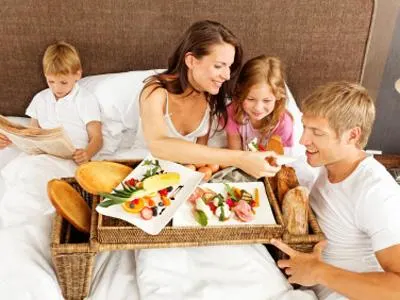 Tips
– If you want breakfast to be a surprise, make a few dishes ahead of time the night before or at a different house. Wake up early and put the finishing touches on the dishes.
– You don't have to make mom five elaborate dishes. Getting served a homemade meal in bed is special, even when it's simple.
– If you have small children, let them help with breakfast by choosing easy recipes like pancakes or cereal.
– Ask Mom a few days ahead of time what her favorite breakfast recipes are to get an idea of what to make. If she gets suspicious of your surprise, go ahead and tell her! That way you don't have to sneak around the kitchen early and mom can sleep in. Sleep and food? Best day ever!
Breakfast in Bed

Menu Ideas
– Fresh fruit and cereal. Give mom a side of fresh whipped cream for her fruit! Serve it up with her favorite juice and coffee.
– Fancy yogurt parfait. Serve mom a bowl of plain greek yogurt and give her a tray full of yummy toppings to choose from!
– Eggs. Make mom eggs just the way she likes them and serve them with toast and coffee. Simple, plain, from the heart. Easy enough that kids can help with.
– Quiche. If you want to go all out, make mom a quiche this year and stuff it full of yummy favorites like bacon, cheese, spinach and peppers. Serve it up with a latte and fresh fruit.
– Blueberry pancakes. Who doesn't want to be greeted to a warm stack of pancakes in the morning? Mom not a fan of blueberries? Make chocolate chip ones instead. Serve with warm syrup and whipped cream.
– Omelet. Omelets are surprisingly really easy to make! Have your kids throw in her favorite ingredients and serve it with toast and hashbrowns.
– Easy peasy. Not the chef? That's okay! Make the tray look fancy and serve something simple like a bagel and cream cheese, a bowl of her favorite cereal, or toast and jam! Don't forget the coffee. It's the thought that counts.
– Take out. Let mom sleep in, strap the kids in the car, and go get mom breakfast from her favorite restaurant or even Starbucks! Nothing says love like a to go meal or a venti iced vanilla latte!
The point here is doing something nice for mom so that she doesn't have to do it herself. Make sure you serve her breakfast in bed along with some nice homemade cards, and lots of hugs and kisses! Happy Mother's Day to all of our mom readers out there!