Dining out with a toddler is tricky, but it can be done if you're armed with the right tools. Here are eight items to bring to a restaurant to ensure things run smoothly—and to help you eat your meal in peace!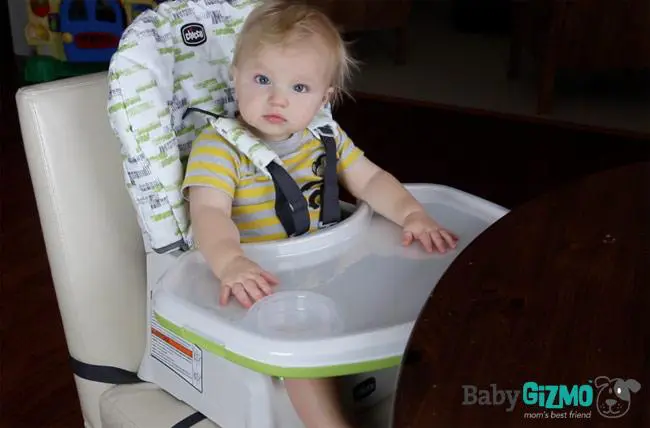 1) Triangular Crayons: Most restaurants that aren't too fancy (i.e. restaurants you would actually bring your kid to) give children crayons and coloring pages. The problem is, the darn crayons constantly roll off the table—meaning you'll have to spend your entire meal reaching onto the floor to retrieve them. A great solution? Bring a few Crayola Triangular Crayons, which will stay put throughout the meal. You may also want to bring a travel-sized coloring book in case the restaurant doesn't have coloring pages.
2) Disposable place mats: Since toddlers generally cannot be trusted with breakable dishes, it's a good idea to bring disposable place mats that stick to the table. The place mat will give your child a clean surface from which to eat her food, and you can just peel it off and throw it away at the end of the meal. Try these fun Sesame Street Biodegradable Table Toppers. They were a lifesaver while dining out when our twins were toddlers!
3) A waterproof bib with a pocket: Cloth bibs just won't cut it for toddlers. For minimal mess at mealtime, you'll need a waterproof, wipeable bib with a pocket at the bottom to catch crumbs and dropped pieces of food. We like Bumkins SuperBibs.
4) Baby wipes: This should go without saying, as you'll likely have wipes in your diaper bag anyway for diaper changes. But be sure to keep them handy in the restaurant to keep your little one's hands clean as he eats and to wipe up spills and messes throughout the meal.
5) A sippy cup: While many restaurant have plastic kids' cups with straws, some don't. Since you don't want to risk your child spilling her drink all over the place or breaking a glass, don't forget to bring her favorite sippy cup!
6) Toddler utensils: If your toddler is not yet adept at eating with a salad fork or a teaspoon, be sure to bring toddler-sized utensils. My family has tried them all, and our favorites are the NUK Gerber Graduates Kiddy Cutlery.
7) Small Toys: Toy cars, little figures, board books, and other small playthings will help keep your toddler entertained while you eat.
8) Smartphone or tablet loaded with fun apps: Even if you are anti-screen time in your day-to-day life, it's a good idea to load a few educational apps, or a toddler-friendly TV show or movie, onto your smartphone or tablet in case of an emergency (i.e. a tantrum). If your meals take a long time to come out or your child finishes his meal before the rest of the group is finished eating, he may get antsy and restless. In that case, a small dose of technology could help you avoid a huge meltdown and dirty looks from other diners.
What else do you bring to a restaurant when dining out with your toddler? Leave a comment and let us know!