We are all about lighter, easier and faster these days, right? Well, Chicco knows that following that trend means making a stroller that is easy to fold and great for on the go.
The new Chicco Mini Bravo Plus stroller is just that. This compact, easy to fold stroller has great features for both parent and baby including two trays, a huge basket, a large canopy and the ability to become a travel system.
SEAT
The seat accommodates a baby from 6 months to 50 lbs and measures 14″ wide with an 18″ seat back and a measurement from back of seat to canopy of 25″. You can use the stroller with a newborn if you pair it with a Chicco Infant Car Seat to turn it into a travel system.
The seat sports an adjustable, padded, 5-point harness and three recline positions. We love that the seat has a one-handed recline and lays back enough for a quick nap (for the baby – not mom!) 🙂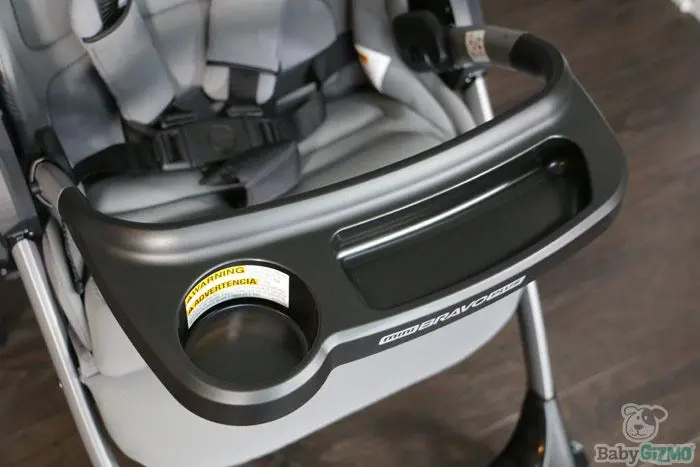 CANOPY
Don't kid yourself, size matters when it comes to stroller canopies. The Chicco Bravo Plus doesn't disappoint with it's large canopy that extends almost to the baby tray when you unzip the 3rd mesh panel. The mesh panel is not only great for air-flow through the seat but it also doubles as the peek-a-boo window.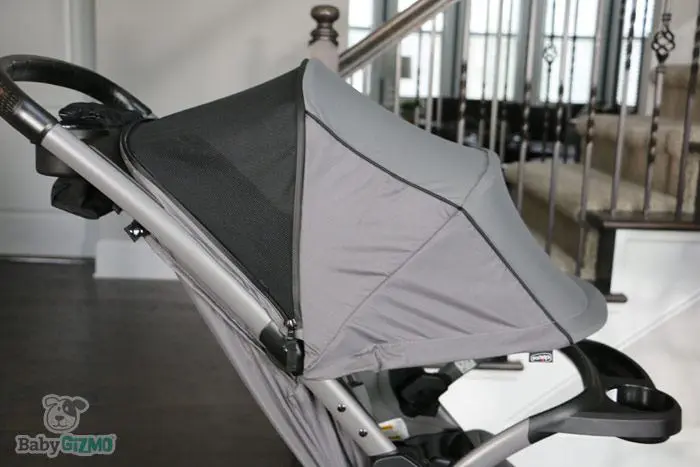 HANDLE
While the handle doesn't adjust, it is taller at 41″ from ground to handle and has a great texture to give you a good grip.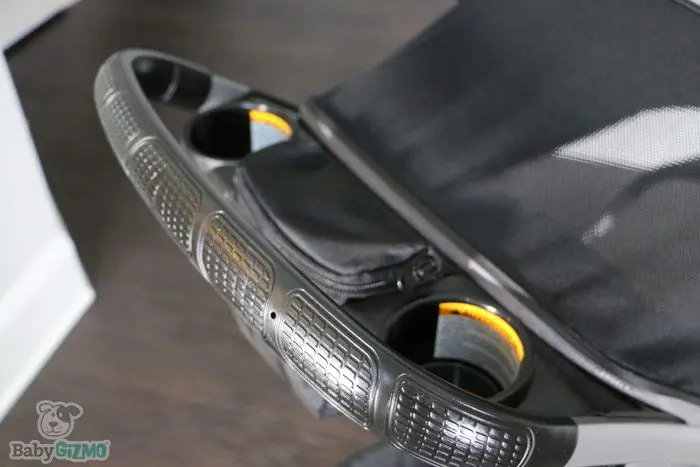 STORAGE
Who doesn't love a great storage tray on a stroller, right? Well, Chicco gives you a baby tray AND a parent tray on the Mini Bravo Plus. The baby tray features a bottle holder and a snack holder, while the parent tray has two bottle holders and a covered area that is perfect for keys or a phone.
That's not all. The basket under the seat is very easy to access and can easily fit a big diaper bag.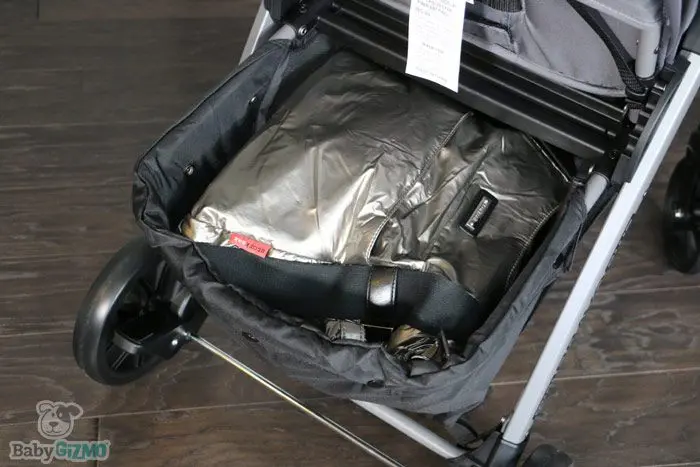 WHEELS
The stroller rolls on 8″ hard rubber wheels in the back and 6 1/4″ hard rubber wheels in the front. The front wheels are 360 degree swivel wheels.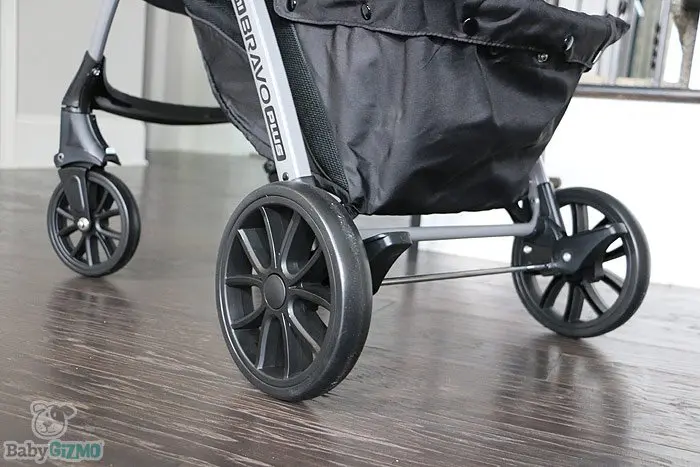 FOLD/UNFOLD
One of the best things about the Chicco Mini Bravo Plus is the easy, one-handed fold. With just a grab of the hidden handle under the seat, the stroller folds down into a rather compact package AND sports a standing fold.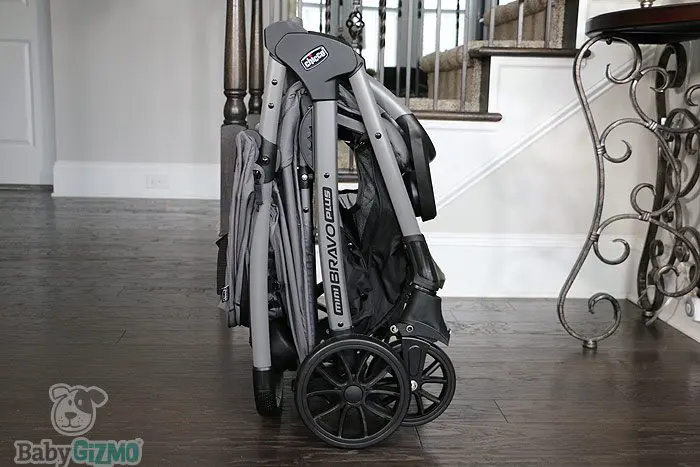 TRAVEL SYSTEM
If travel systems are your things, the Chicco Mini Bravo Plus does that too! When paired with a Chicco KeyFit or Fit2, the stroller easily turns into a travel system with the easy click-in attachment.
WRAP-UP
For all that stroller goodness, the Chicco Mini Bravo Plus isn't going to break the bank with a retail price of $179. It comes in four different fashions and could be your one and only stroller (unless you run/jog because it doesn't do that!).
SHOP the Chicco Mini Bravo Plus Stroller on AMAZON.COM.
What is the difference between Chicco Bravo and mini Bravo?
The main difference is that Chicco Mini Bravo Plus is better equipped because it comes with child tray and features compatibility with infant car seats which means it can be used from birth as a travel system.
Is the Chicco Mini Bravo stroller reversible?
No.
How much does the Chicco Mini Bravo stroller weigh?
19.6 lbs