I grew up always wanting chocolate milk as my dessert. It was such a sweet treat and something my mom willingly stirred up if my sisters and I cleaned our plates. Granted, chocolate milk is still delicious (even after all these years!), but when a chocolate craving strikes, my kids and I have developed a healthier version of chocolate-y goodness. We call it the chocolate almond butter smoothie!
In this smoothie recipe we've eliminated milk, since one of us suffers an intolerance, and added a boost of protein to make this chocolate smoothie a great breakfast or afternoon snack. It is the perfect consistency and can easily be doubled for a crowd… or seconds for those who are feeling extra hungry 🙂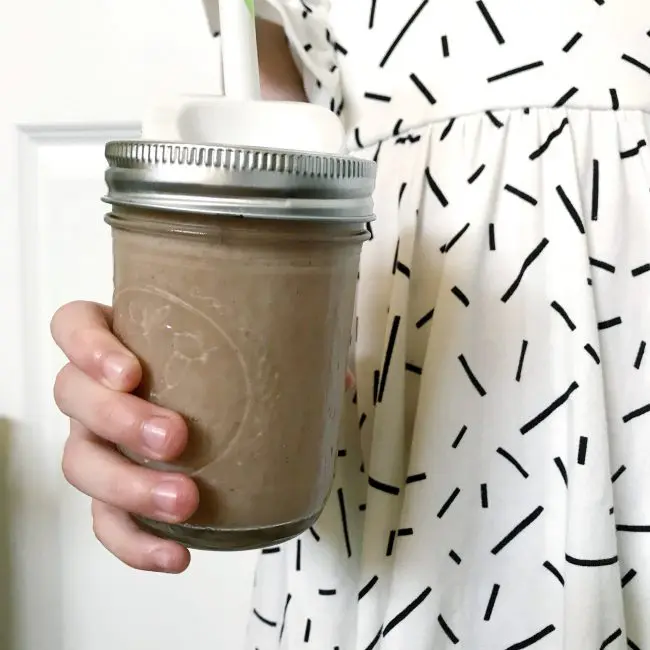 Ingredients
1 cup unsweetened vanilla almond milk
2 tablespoons almond butter
1 heaping scoop chocolate protein powder
1 cup ice
Directions
In a high speed blender, blend all of the ingredients together (ice on top works best). Pour into 2 cups and enjoy your chocolate almond butter smoothie!
For easy serving, we love using mason jars with these lids and straws!
And, one quick note about chocolate protein powder — we currently have the Arbonne chocolate protein powder and love it because it's vegan. But be sure to check out Costco and their options as well as Amazon. Sometimes it takes a little while to find a powder that you and your kids love, but it's definitely worth it. Sneaking that extra protein into recipes has become a godsend with my picky eaters.