Ready for a healthy treat that the whole family can enjoy? Whip up this chocolate avocado pudding in less than 5 minutes, let it sit overnight, and BOOM!, dessert is served!
Now, a little side note … if you're thinking this is gonna be a super rich "normal" type of pudding, this isn't it. This pudding is different, healthier due to the avocado base, but totally worth a try. Plus, if your kiddos haven't had regular pudding they'll probably think this is a scrumptious, thick chocolate yogurt!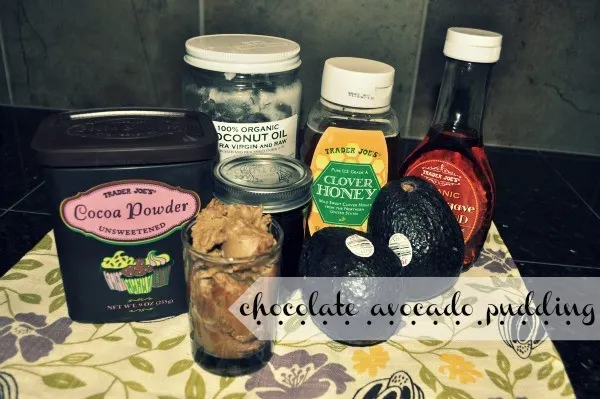 CHOCOLATE AVOCADO PUDDING
Ingredients
Puree in a blender or food processor:
2 avocados
1/2 cup coconut oil, liquified
Then add:
1/4 cup cocoa powder
1/4 cup honey
4 tablespoons agave
2 teaspoons vanilla
Scoop into a serving dish and allow to rest in the fridge for 8 hours (or overnight).
Adapted from The Spunky Coconut Cookbook.
This recipe was spurred by my search for healthier alternatives to our normal meals and desserts. I'm logging it as one of my successes! I can hardly believe I've been munching on avocados as my dessert these past few evenings. It's kind of crazy … and much better for me than a pint of Ben & … you know who!
I'd love to hear if you have any go-to hidden veggie recipes … leave me links in the comments!