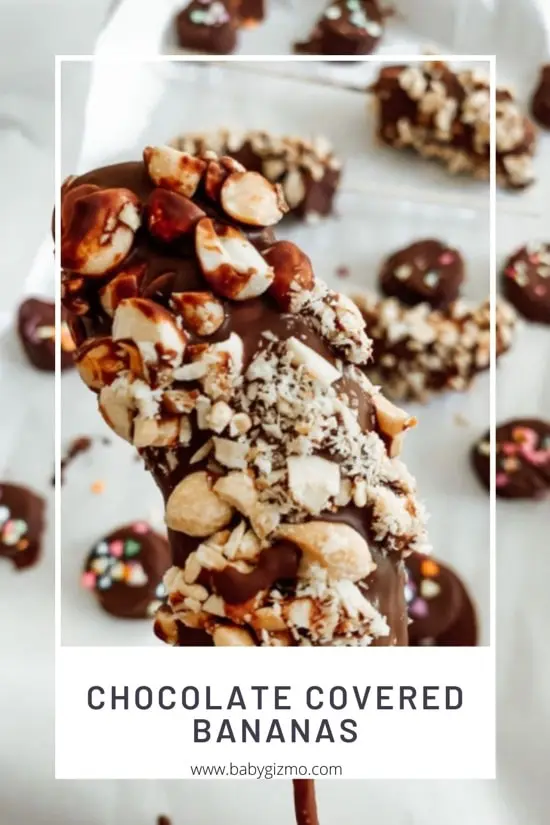 Growing up my mom always served fruit as our dessert at dinner – fruit cocktail or sliced peaches or fresh berries. Often with a dollop of whipped cream to make it "fancy". We lived life BIG back in the day! Now, as with many things, I'm turning to my mother's wisdom as I raise my own kids. They've definitely been over-sugared lately and in an attempt to reign us all in I've been choosing fruit as our family dessert this summer. But, with a twist. A chocolate twist. Because, how can I resist? Chocolate and bananas just go so well together!
Inspired by one of our favorite treats at Disneyland the kids and I whipped up a batch of chocolate covered frozen bananas. We prepped them in the afternoon and by dinner dessert time they were ready to be enjoyed on the back porch.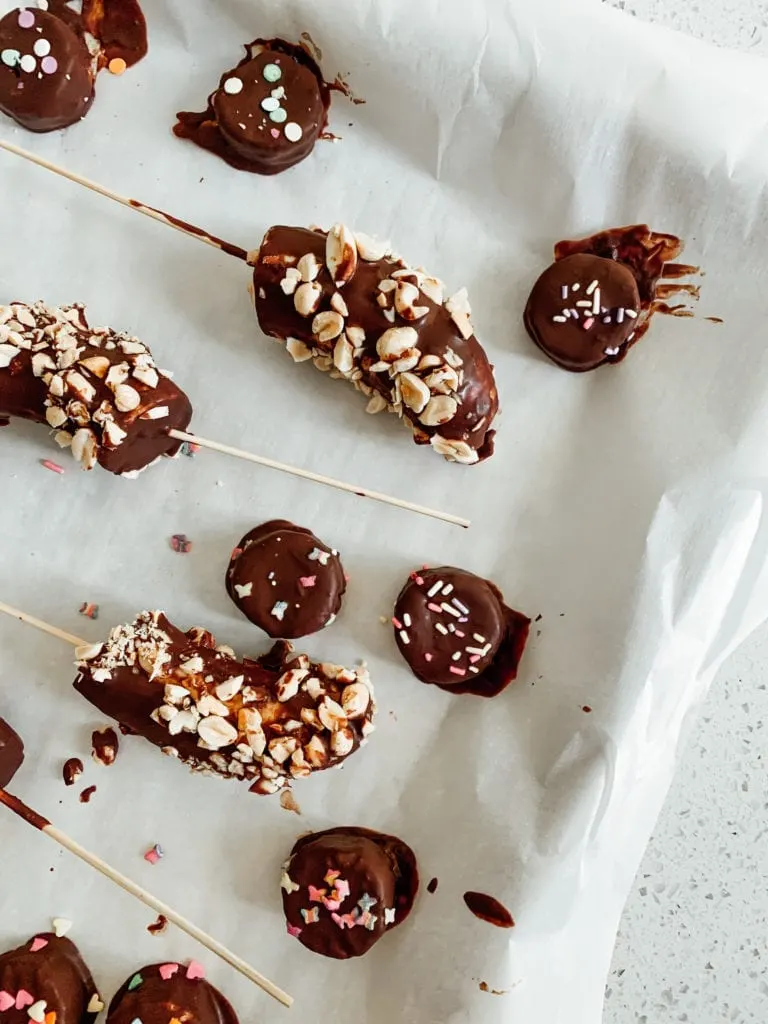 INGREDIENTS + SUPPLIES
Cooking sheet
Parchment paper
Popsicle or bamboo sticks
4 bananas
1 cup semi-sweet chocolate chips
2 tablespoons coconut oil
Toppings: chopped peanuts, sprinkles, etc.
DIRECTIONS
Line your cookie sheet with parchment paper. Cut bananas in half (we've found this is the perfect size treat, you can leave whole if you wish) and skewer. Lay on the parchment paper and freeze for one hour.
I often do banana chunks too for my younger kids, freeze those chunks as well.
At the hour mark begin melting chocolate chips and coconut oil in a double boiler. Once melted, turn heat to simmer. Using a fork as a balancing anchor dip each banana in the melted chocolate and use a spoon to cover each banana completely. It's a little tricky but you'll get the hang of it!
While the chocolate is still wet roll in your desired toppings. Traditionally, chopped peanuts are the Disney way, but my kids also love colorful sprinkles.
Return to the freezer for one hour.
Then, enjoy your fruit-based dessert! Chilled and delicious!