This is one of my favorite DIY projects (besides the BBQ island!) that we've done in a while! And yes, I'm not going to lie, it's because it gave me a beautiful and comfy place to sit poolside.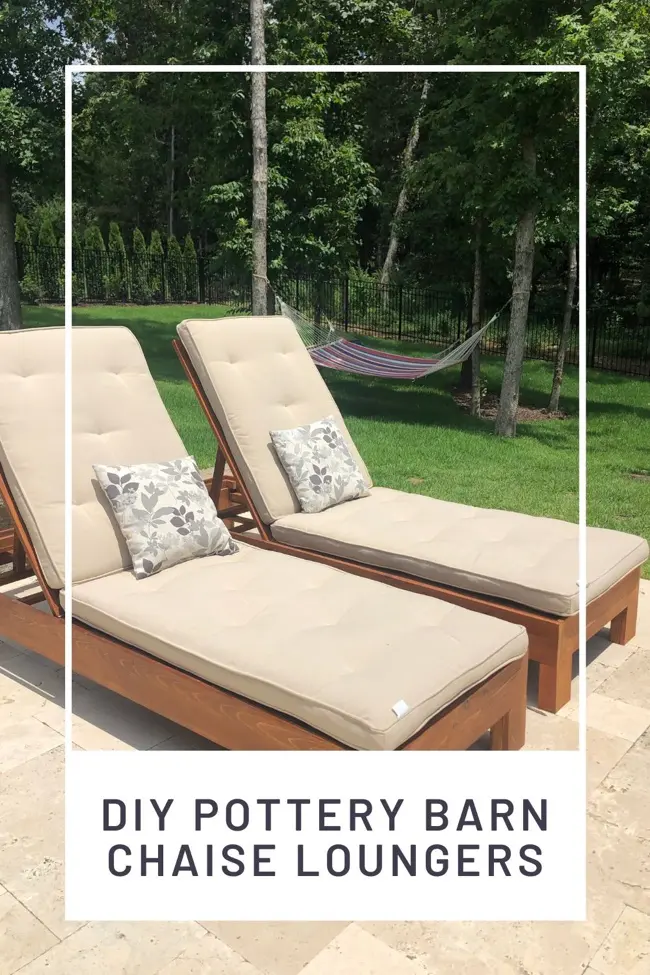 I've always wanted those beautiful Pottery Barn outdoor chaise loungers but I was never willing to spend $900+ per chair. I just couldn't. Yes, they look beautiful but I would be investing $1000s on outdoor chairs and I just couldn't justify it.
But then it dawned on me – we're handy people. We thrive with a good DIY project! Why couldn't we make our own? And that's exactly what we did! We made a set of Pottery Barn Inspired Chesapeake Chaise Loungers and saved over $1600 doing it. We followed (with some modification!) this plan that we found online and they turned out AMAZING!!
Mr. Gizmo and I worked on this project together and it took us a few days to complete but since we are in Quarantine times, we have time on our hands.
The plan from Design Confidential was great in terms of lumber needed, materials needed and the cut list. While we were thankful to have it, the instructions part of the plan needed some modification to make it work. Plus, there were a couple confusing parts in the instructions that we had to work out with trial and error so make sure you WATCH OUR VIDEO to see what those modifications were so that it makes it that much easier for you.
I definitely highly recommend this project because our finished products are absolutely amazing and no one would ever know that we built them ourselves. They look that professional. Plus, with an amazing deal we scooped up at the Pottery Barn Outlet on two cushions that fit perfectly ($60 each – originally $250 each) this project was a home run!
If you'd like to tackle this project and make some Pottery Barn Inspired Chesapeake Chaise Loungers, watch our video and then follow these plans from Design Confidential with our modifications.
Next up is a Pottery Barn Inspired Chesapeake DOUBLE Chaise Lounger so watch out for our upcoming video!