My daughter has had a balance bike for a couple of years, but she never really showed that much interest in it. As much as she loves running around outside and dancing ballet, the general area of "athletics" hasn't interested her much at all. But suddenly this summer, the bike caught her interest and she started practicing daily.
Unfortunately, by the time she decided she was interested in the bike, we found it's also several inches too small for her. My husband and I made the decision to purchase a two-wheeler as a fifth birthday gift. I went back and forth on just getting a larger balance bike until she was able to ride it with ease, but in the end we decided to go with a regular bike and training wheels. Here's what I learned about choosing your child's first bike.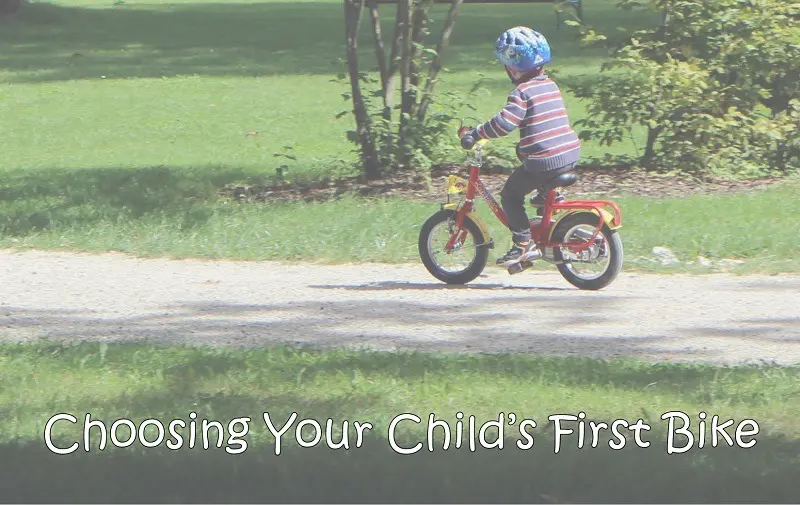 Bike Budget:
Okay, let's be real. Your budget is a good place to start. As long as the bike is safe, it doesn't really matter how much you spend, although a more expensive bike will probably perform better. In a nutshell: buy the best bike you can afford.
Fit:
Children's bikes are sold by tire size (wheel diameter), whereas adult bikes are sold by frame size. Choose the bike based on your child's height or inseam. If your child is between bike sizes, it's best to wait to buy until they have grown into the larger size. Also note that the tire size is just a starting point; each frame is different; some frames are higher while some are lower to the ground. The best thing to do is have your child with you to "try on" and test ride bikes when you shop.
Make sure you're buying a bike that fits your child properly. Because we parents like to get the best value for our dollar, we tend to buy larger bikes that our kids will grow into. Don't! This actually presents a danger to your child, as they may not be able to control the bike properly. It can also negatively impact their ability to learn to ride. A good fit means:
Your child's feet (or at least their toes) touch the ground when they sit.
The handlebars should encourage an upright posture so that your child is looking up and out, and is aware of their surroundings.
The handlebars should be close enough to the seat that your child can hold and turn them easily, and their arms shouldn't be stretched out with locked elbows.
Your child's knees should not impact the handlebars as they pedal.
One of my favorite fit resources is from Two Wheeling Tots. It's incredibly detailed, but also incredibly helpful!
Brakes:
Your child—especially if you're shopping for a young child—may not have the strength necessary to use hand brakes. For a young child and their first bike, look for a bike that has a coaster brake (the kind where the child pedals in reverse to stop the bike) or a bike that has a coaster brake and a single hand brake. The combination means that the single hand brake allows them to get used to using the hand brake while still providing stopping power with the coaster brake.
Frame:
Particularly if you're looking to include your child on long family rides, you want to consider the weight of the bike's frame. Aluminum frames are lighter than steel frames. They're also less likely to rust, so they'll last longer for hand-me-down or resale purposes.
Shocks and Gears:
Shocks aren't really necessary for a beginning rider's bike. As your child grows older and, especially if they're mountain biking, the shocks will become more important. The same is true for gears. While they can help a more experienced rider (even if they're young) handle hilly terrain, the ability to shift gears isn't important on a first bike.
Looks:
This one is a totally personal choice. However, I encourage you to think twice about anything emblazoned with characters. What's going to happen to that Frozen bike when Moana hits the theaters? What if your child doesn't outgrow the bike as quickly as you think they might and is stuck with their Teenage Mutant Ninja Turtles design when everyone else has moved on to big-kid style? Just my two cents.
Miscellaneous Bike Buying Tips:
See if the store you purchased the bike from will assemble it for you. I am not a DIYer and think this service to be worth every penny—although you may find that the store offers it as a free service.
If you will be doing the assembly work on your own, be sure you have the necessary tools, including a tire pump.
Ask around and see what your friends have purchased for their kids. Find out what they (and their children) like or don't like about the bikes they have.
Consider making your purchase a bicycling store, or at least a sporting goods store with a dedicated (and trained) bike staff. Expert advice can make this whole buying-a-bike adventure so much easier.
REMEMBER TO BUY A HELMET. Get the kid a safe, properly fitted biking helmet. My daughter has one that's certified for both biking and scooter-riding, so we don't need to have multiple helmets in the house. This is not the place to scrimp: buy the best helmet you can afford. More expensive helmets tend to be more adjustable, which makes them safer based on the ability to get a better fit—and the fact that children are more likely to keep a comfortable helmet on.
Have fun shopping, then hitting the trails! Be safe out there!