Each year our family buys a share of a cow. Once delivered we have a variety of cuts and the one we all get most excited about is the rib eye roast that turns into prime rib. It stays tucked safely in the freezer until Christmas week and then becomes the star of our holiday meal.
For years we went back and forth on different marinades and rubs, salt packs and seasonings. Some years we would even try two on one prime rib – one thing on the left side and one thing on the right – and then vote 🙂 Finally, we arrived at a clear winner and since 2012 this recipe has been the star. I doubt we'll ever sway from it!
Lucky for you I'm sharing our trial and error efforts with this winner of a recipe for Christmas (or New Year or birthday or any ol' celebration) Prime Rib!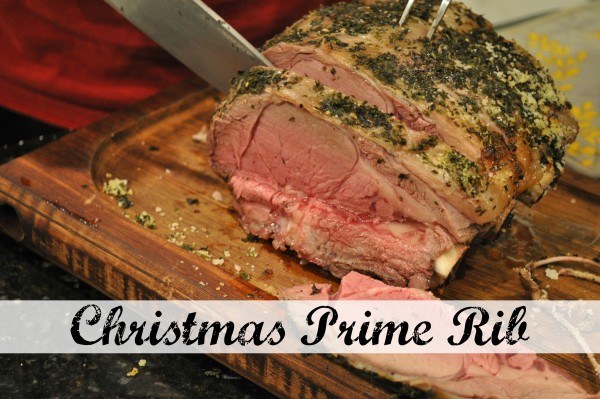 INGREDIENTS
1/3 cup olive oil
1/4 cup onions, minced (this is my favorite way to mince onions!)
1 teaspoon sea salt
1 garlic clove, minced
1 teaspoon dried basil
l/2 teaspoon marjoram
1/2 teaspoon thyme
1/4 teaspoon black pepper
3 pound beef rib eye roast, fat trimmed off
3 pounds kosher salt
1 1/4 cups water
DIRECTIONS
Combine oil, garlic, sea salt, basil, marjoram, thyme and pepper in a large plastic bag. Shake to mix well. Add the roast and coat well with marinade. Allow to sit in the refrigerator for at least 2 hours.
Preheat the oven to 350 degrees and line a roasting pan with aluminum foil. Another option is to use a large Dutch oven (my favorite!).
In a large bowl, mix kosher salt and water to create a thick paste. Layer 1 cup of salt paste about 1/2 inch thick on the bottom of the pan. Pat dry your roast with paper towels and place meat on top of 1/2 inch salt layer in your pan. Pack the remaining salt paste on all sides of the meat.
Bake for 60 minutes or until a meat thermometer reads 140 degrees. Before slicing allow the meat to rest for 10-15 minutes. Remove and throw away the salt crust before slicing and serving. Then, enjoy a very merry Christmas feast!
Curious about buying a cow share? I spilled all the details recently. Read about it here!