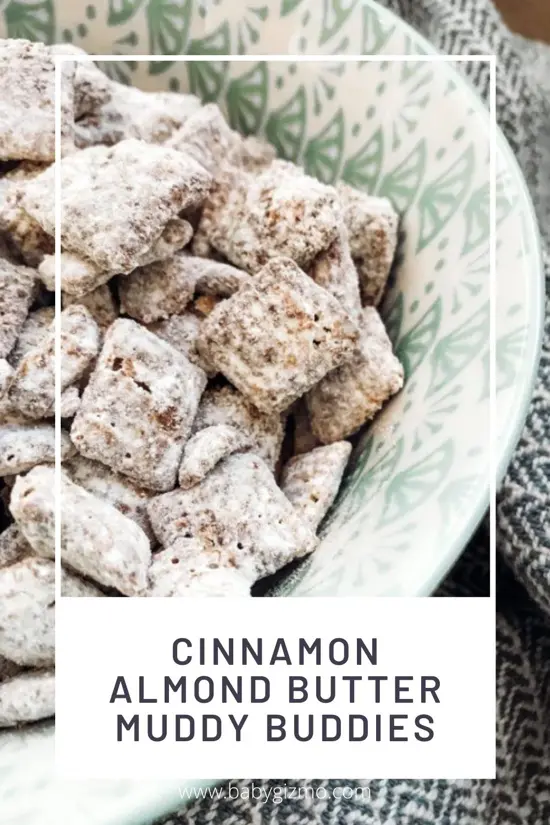 Muddy buddies are not just a holiday treat.
I repeat, muddy buddies are not only for the holidays … they're for all the time! Like today!
After introducing my kids to muddy buddies this last Christmas we've tried a few variations. They love helping with this recipe and even more, we love munching on a big bowl of it together.
Muddy buddies are the a fabulous, crunchy snack and I can almost argue that they're a little healthy since they're full of nut butter. This variation, with a bit of cinnamon and almond butter, are decadent … the only kind we make now. So, so good!
INGREDIENTS
9 cups Chex™ cereal – we like rice Chex best
1 cup chocolate chips
1/2 cup almond butter
1/4 cup butter
1 teaspoon vanilla
1 teaspoon cinnamon
1 1/2 cups powdered sugar
DIRECTIONS
In a large stock pot melt almond butter and butter over low to medium heat.Stir continuously. Reduce heat to a simmer. Stir in vanilla and cinnamon. One cup at a time add cereal and gently stir.
Pour cereal mixture into a two gallon resealable plastic bag and toss with powdered sugar until cereal mixture is fully coated.
Cover a large baking sheet with parchment paper and evenly spread muddy buddies. Allow to cool completely before munching/serving.