My journey towards green living began back in 2008 when my sister declared her college major. She was pursuing a degree in Environmental Science and upon that declaration I was constantly bombarded with emails and texts related to making my life more green. In the beginning I baulked at her efforts. Then, slowly but surely, I began to embrace them. This whole green living thing makes a lot of sense. Especially once you have children!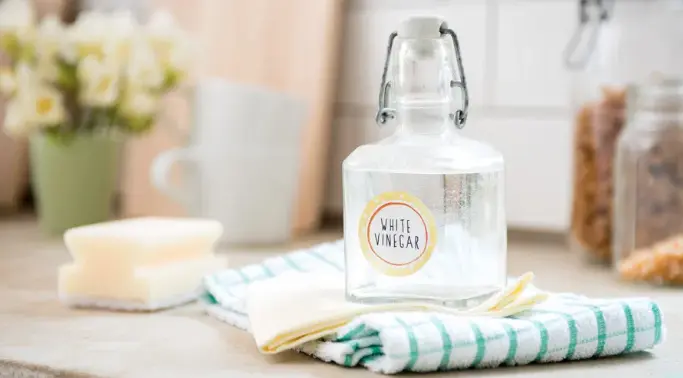 When I was preparing for the birth of my little ones I did a clean sweep of our house. My goal was to move out chemicals, toxic cleaners, and the like. I wanted to make things safer and more natural. With little hands and feet transferring everything into their mouths I didn't want to take any chances.
As I began to research how to make my home a healthier environment I discovered vinegar. "Vinegar is a weak form of acetic acid that forms through the fermentation of sugars and starches" (source). It is non-toxic and the perfect solution for an every day, child-safe cleaner.
There are countless ways you can implement vinegar around your home. Just Google "vinegar as a cleaner" and you'll find a plethora of recipes and uses. Here are a few of my most used combinations … all featuring fabulous vinegar!
ALL-PURPOSE CLEANER
1/4 cup vinegar + 1/4 cup baking soda
Dissolve in 4 quarts of water
Portion into spray bottle and label
MOLD TREATMENT
1/2 cup vinegar + 1 teaspoon tea tree oil + 1 cup water
Pour into spray bottle and label
For treatment, squirt vinegar mold treatment onto affected area and let rest for 1 hour
Scrub affected area with bristly brush and repeat if needed
CARPET STAINS
1 cup vinegar + 1 cup water
Pour into spray bottle and label
For treatment, spray in stain and let sit
Scrub with sponge dipped in warm soapy water
FABRIC SOFTENER
Add 1/4 cup vinegar into fabric softener portion of washing machine
This is just the beginning of how you can use vinegar as a cleaning agent around your home. You can order a 3 pack of spray bottles for only $1.45 and vinegar is super cheap at roughly $3/gallon. Don't be overwhelmed by all the options and variations you'll find out there, just pick a few cleaning recipes, mix them up, and get cleaning! Plus, you don't have to worry about handing your little ones a spray bottle and rag. It's a win-win!