Cranberry Orange Rustic Bread
I'm starting this post with a big, bold PSA …
YOU NEED 18+ HOURS OF PREP AND RISING TIME TO CREATE THIS BREAD. DO NOT START THIS RECIPE ONE HOUR BEFORE DINNER.
With that said, it's totally worth it. And truly very, very easy. And the results are magnificent! There is just nothing like warm, crusty bread coming out of your oven. Especially when it's infused with something as divine as cranberry and orange. Your family will be thrilled with your culinary expertise, I promise!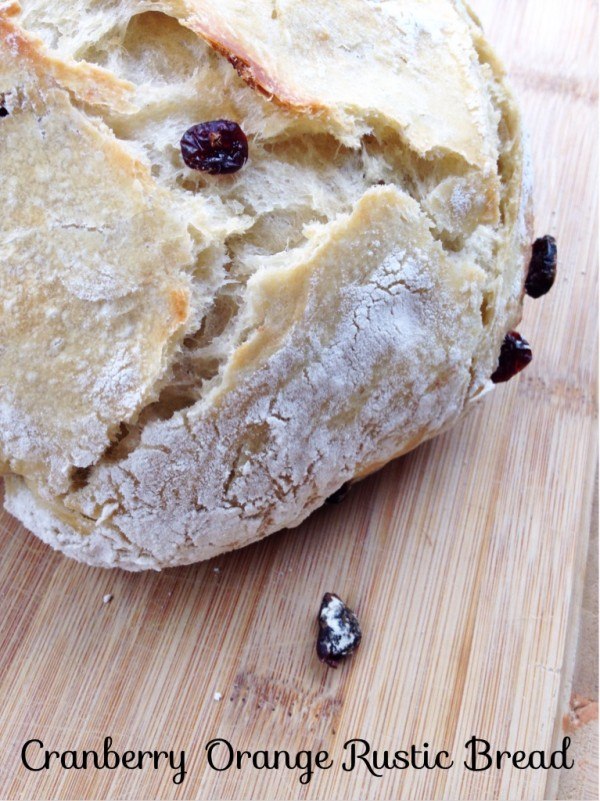 Ingredients
3 cups unbleached, all purpose flour
1 1/2 teaspoons salt
1/2 teaspoon yeast
1 1/2 cups water
1 cup dried cranberries
5 drops orange essential oil (a brand that is approved for ingestion) OR 2 tablespoons orange zest
Directions
In a large mixing bowl whisk together dry ingredients. Add water and incorporate until the dough appears "shaggy". Cover your bowl with plastic wrap and set aside for 12-18 hours. Do not refrigerate.
When you hit the 12-18 hour mark your dough will have grown (thank you yeast!). Place an empty large Dutch oven (this is one of my favorites) in a cold oven. Preheat to 450 degrees. When the oven reaches 450 degrees set the timer to 30 minutes; you want your Dutch oven to be thoroughly heated.
While the Dutch oven is heating, pour your dough onto a floured surface, sprinkle with cranberries and ingestion-approved orange essential oil, knead a few times to blend, and then shape into a ball. Cover with plastic and allow it to rest.
After the 30 minute mark of Dutch oven heating remove it from the oven, drop your dough into the center, and cover with a lid. Return to the oven and bake for 30 minutes. After 30 minutes, remove the lid and bake for an additional 15 minutes. Use a fork or spatula to gently lift our your circle loaf of bread and place on a cooling rack.
Cut with a sharp bread knife and serve with a mountain of butter or olive oil and balsamic. Enjoy!