Did you know that this week is National Pancake Week? Yes, that's right! The 4th week of February is officially National Pancake Week.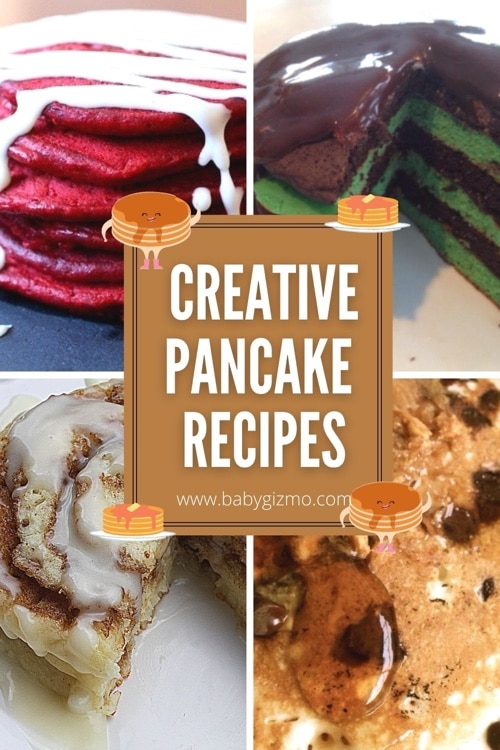 Not just a day, but a whole week devoted to my favorite breakfast item- pancakes! In honor of this delicious week, I've rounded up some creative pancake recipes for you to make and enjoy. These aren't your usual ones- get ready for some fun!
Red Velvet Pancakes From She Knows. These delicious red velvet pancakes are topped with a cream cheese glaze that makes them decadent and delicious!
Chocolate Chip Cookie Dough Pancakes From Zain Jamal. These pancakes are sure to be your kids favorite. Chocolate chip cookie dough isn't just for ice cream anymore, it's for pancakes, too! Top them with butter and syrup, and enjoy!
Mint Chocolate Pancakes From Best Fit Body. I don't know if these qualify as breakfast or dessert but I sure am going to make them to find out 😉 Layers of chocolate and mint pancakes are stacked together and covered in chocolate syrup for a delicious meal!
Cake Batter Pancakes From Cassie Craves. These pancakes are perfect for birthdays, anniversaries, or just for fun! Cake batter pancakes are topped with sprinkles and glaze. Add a scoop of ice cream on top too!
Peanut Butter And Jelly Pancakes From Shockingly Healthy. Way better than a sandwich, these pb&j pancakes are actually good for you! Peanut butter pancakes are stacked with raspberry filling in between for the perfect combo.
Blackberry Pancakes From Coffee With Us Three. I've had pancakes with just about every kind of fruit in them besides blackberries. These pancakes have warm blackberry jam smothered on them for a fruity, filling dish you're sure to love.
Cinnamon Roll Pancakes From Purple Chocolat Home. I don't know about you, but I'm going to make these tomorrow. A fluffy pancake swirled in a butter, brown sugar and cinnamon mixture? Yes please!
M&M Pancakes from Brandy's Creations. Here's another favorite for the kids, and adults too, if they're young at heart! M&M pancakes topped with more M&M's and whipped cream will be a fun way to start your day, or end it, if you're counting this sweet treat as dessert.
Happy National Pancake Week!