I hit another homerun for dinner last night! This time it wasn't Pinterest to the rescue but a good old fashioned Google search. I knew I wanted to throw something in the crockpot that didn't include pasta. (We just had pasta the night before and I was trying to mix it up!) Yep, that is me – all wild and crazy in the kitchen!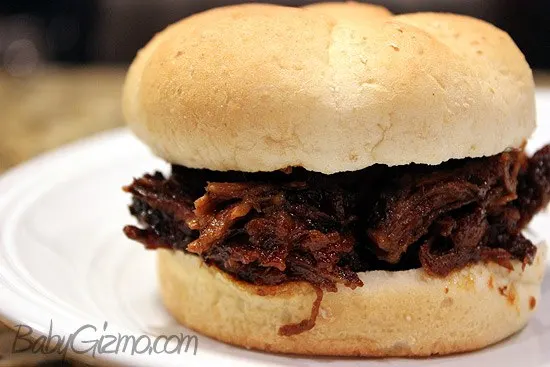 After a brief search, I discovered this fantastic Barbecue Beef recipe for the crockpot. Since I didn't have the meat for it, I ran to the store after dropping off the kids at school to get it. Being the *fabulous* cook that I am, I quickly realized as I was standing in the meat department, I had no idea what "lean chuck roast" even looked like.
Not really a Rachel Ray, am I? So, I picked up my domestic goddess pride and headed to the meat counter.
"I'm looking for lean chuck roast and I'm not quite sure what that looks like or where it might be. Could you help me?" I asked the meat guy.
He took one look at me and with a crooked grin said, "you have yourself a crockpot recipe, don't ya?"
"Ummm…yeah. And I'm not all that great at it so if you could steer me in the right direction, I would really appreciate it."
Thankfully and without too much grief, he guided me to the correct meat section and helped me pick out a great piece of meat. Let me tell you, it wasn't a cheap piece of meat ($12) but it was more than enough for a family of five so it was worth it.
I grabbed the remaining ingredients that I didn't have at home and a pack of whole wheat buns (yep, keeping it somewhat healthy in the Schultz household!) and headed home. The moral of the story is that if you don't know what meat to choose, just ask. They may chuckle at you but you'll get the meat you need because ours ended up being delicious.
The preparation for this crockpot dish is super easy and I had it cooking within 10 minutes. After a little while of the crockpot doing it's thing, my husband comes out of his office and says:
"Whatcha making?"
"Barbecue Beef."
"Really? I don't like barbecue beef."
Being the adorable wife that I am, I said, "Too bad, that is what is for dinner." (We've been married 15 years, so he expects this from me sometimes!) 🙂
In the back of my mind, I was hoping against hope that my entire meat department experience wasn't for nothing. Someone better eat this BBQ beef tonight! Thankfully, the BBQ beef sandwiches were a huge hit. Without another word about him 'not liking bbq beef" my husband gobbled down 2 full sandwiches.
"What happend to I hate BBQ beef?" I asked him.
"I do but this stuff is GOOD! Clearly it isn't BBQ beef because I really like it! Have any more?"
Yeah, that is what I thought! Even the kids ate it. All of it!
If you are looking for a super easy dinner to make that the entire family will love (if they like beef that is!), you have to try this one!
Crockpot Barbecue Beef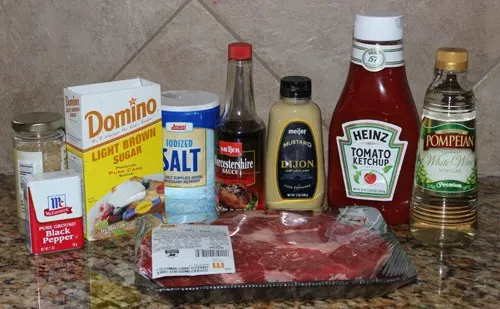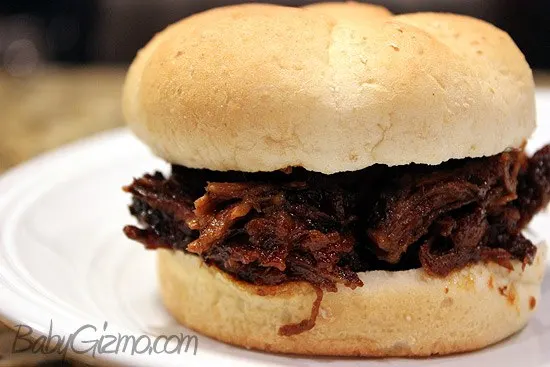 Crockpot Barbecue Beef
Easy family dinner idea with BBQ beef.
Ingredients
2 1/2 to 3

lbs

lean chuck roast

1 1/2

cups

ketchup

1/4

cup

packed brown sugar

1/4

cup

wine vinegar

2

tablespoons

spicy mustard

1

tablespoon

Worcestershire sauce

1/2

teaspoon

salt

1/4

teaspoon

ground black pepper

1

teaspoon

garlic
Instructions
Place beef roast in crockpot.

Combine remaining ingredients in a bowl and pour over roast.

Cover and cook on LOW for 8 to 10 hours.

Remove roast, shred meat. Place shredded meat back in crockpot; stir to coat well.

Spoon barbecued beef onto toasted sandwich buns and serve with extra sauce, if desired.
Nutrition
Calories:
451
kcal
Carbohydrates:
26
g
Protein:
37
g
Fat:
22
g
Saturated Fat:
10
g
Trans Fat:
1
g
Cholesterol:
130
mg
Sodium:
979
mg
Potassium:
865
mg
Fiber:
1
g
Sugar:
22
g
Vitamin A:
339
IU
Vitamin C:
3
mg
Calcium:
57
mg
Iron:
5
mg