There is something so redeeming about Valentine's Day. A day set aside to show love and appreciation to the special people in our lives is such a great reminder to stop, pause and reflect. I'm all for it and adore celebrating Valentine's Day for the entire month of February even with Valentine's Day house decorations.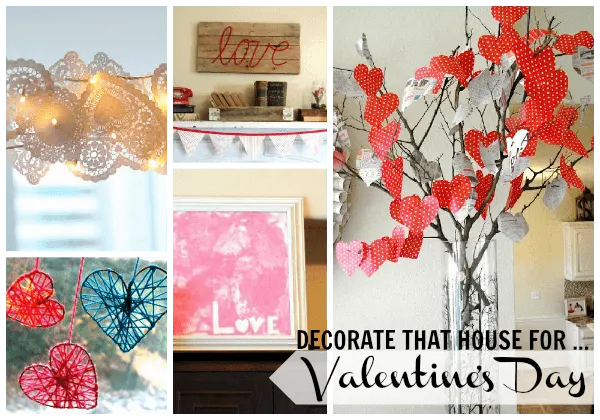 You see, once Christmas decor wraps up, I transition to my snow-themed decorations in January. Then, I let the snow melt (figuratively) and bust out the red, pink and white to celebrate LOVE!
My Valentine's Day house decoration usually revolves a table centerpiece, window art and a mantle-scape. This year, I can't wait to involve my two year old in some of our decoration creations. The above collage is my inspiration for this year — it's the perfect mix between rustic chic while still being family friendly.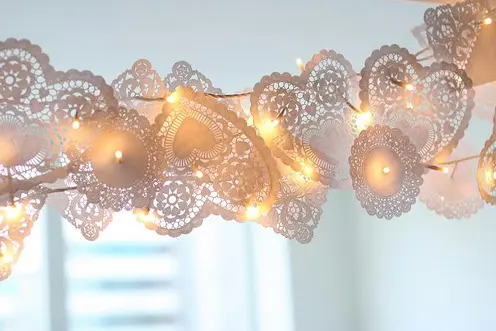 If this isn't sweet and simple, I don't know what is! Plus, do you know how cheap those paper lace doilies are? This is an economical project if I've ever seen one. And hello, another use for white Christmas lights!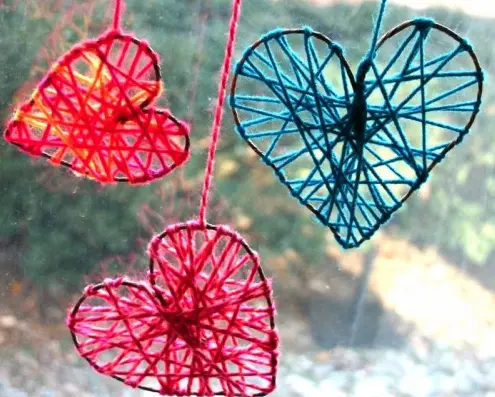 Our home will shout love from the front windows with these crafty hearts. These are a perfect DIY for the littles to take part in because there is no right way to twist and turn the yarn.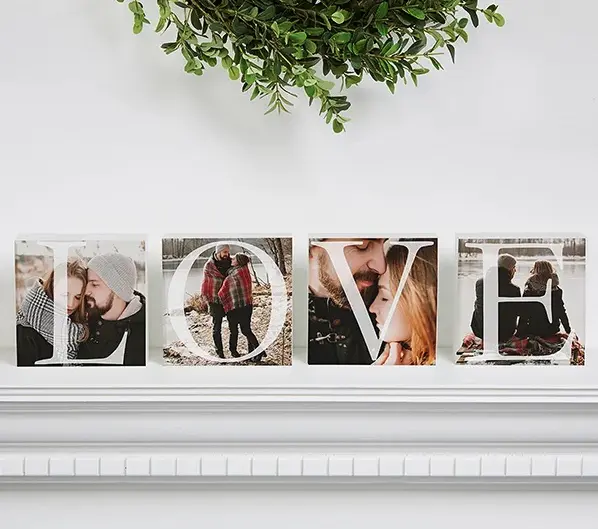 LOVE MANTLE ART
Yep, pretty much in love with this. I'd even consider leaving it up all year! I've tasked my hubby with building the plank base so hopefully this lovely piece will make its' debut on my mantle soon.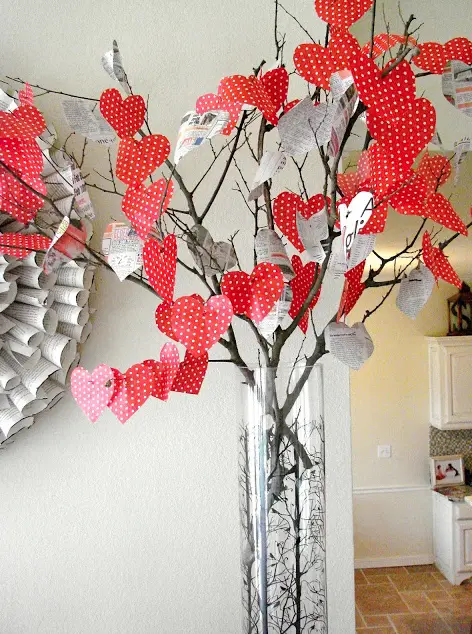 This is my kind of house decoration. I have a tree very similar to this and over Thanksgiving I decorated my center piece tree with mini leaves and our family's "thankful thoughts". Those leaves are packed away now and I'm excited add hearts with our notes about all the things we love.
How do you do your Valentine's House Decoration?
Need some Valentine's Day recipes? We have those too. Valentine's Day Recipes.