With snow in the forecast we're rolling from one winter craft to the next over here. Add in a bit of outside play, hot cocoa sippin', and favorite snowy books and it turns out that winter weather isn't too bad after all! This snowman greeting card craft is one of our best. It has a few easy steps and you can mail off pretty winter wishes to those you love while they endure their own snowfall of the season.
Supplies
Watercolor paper
Blank card and envelope sets
Thin Sharpie marker
Rubber cement
Watercolors
Paint brush
Optional: Washi tape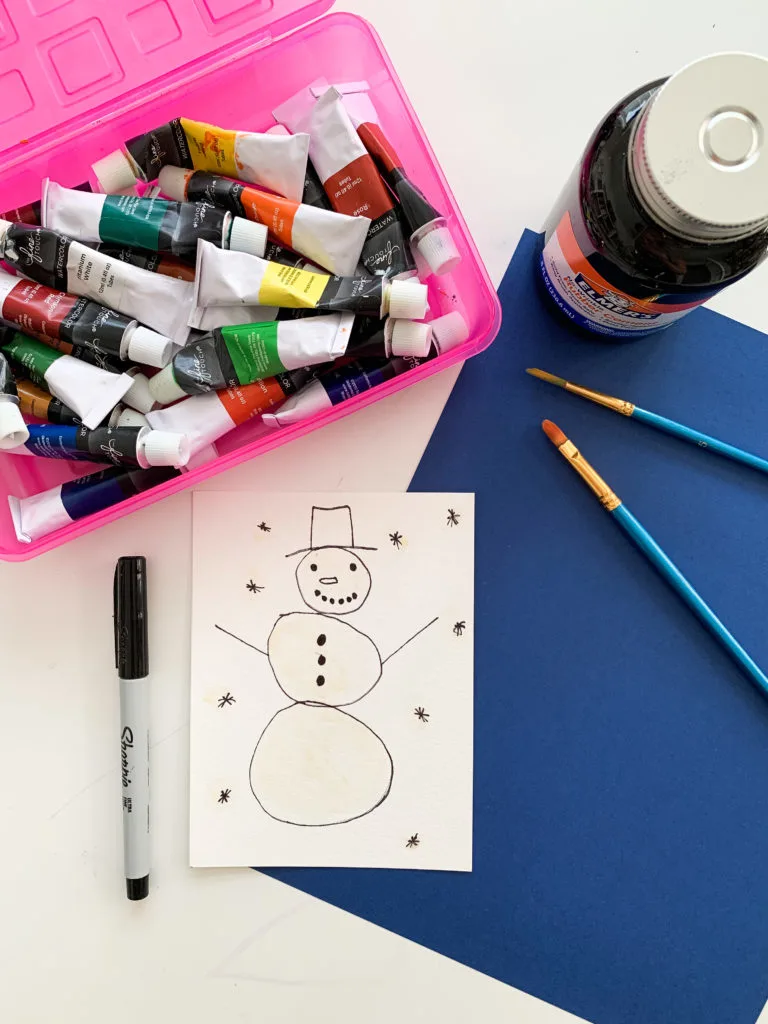 Directions
I opted to purchase a pack of blank greeting cards with coordinating envelopes for the base of our cards. We make cards a lot so it made sense for us to simplify this step. Of course you could use any card stock paper/blank envelope duo you have at home and make your own card. But, if you want the ease of that step being all done, you can buy the ones I do at Michaels. They're regularly $10.99 but always on sale … right now they're $4.99 with an extra 25% off. And the pack has 40 card and envelope sets!
Trim a piece of watercolor paper a touch smaller than the card front. I usually leave 1/4-1/2 inch border.
Have your child draw a snowman with the Sharpie marker on the watercolor paper. Add a hat, scarf if you want, and don't forget little snowflake "stars" around the snowman.
Cover the snowman and each snowflake with rubber cement and allow it to dry. This creates a barrier for when you watercolor.
Once dry, paint all over the the snowman. You can choose any color or a mix of a few.
Watercolors dry fast so once your snowman is no longer wet, gently rub the rubber cement off and your snowman and falling snow will be plain white!
Accent the envelope with coordinating washi tape if you'd like, write your note, and send off your sweet snowman full of winter wishes!