Ten years ago, pre-children, in my spare time I would grab a coffee and roam the mall. I worked in an office and went on lots of date nights with my husband so I was always up for finding a new blouse, pair of heels or cute dress that could sway from days to nights.
Now, with little ones, the mall is much closer to hell than heaven. Can I get an amen?
There is no strolling or coffee sipping let alone trying on clothes that might catch my eye. It's much closer to a race – in, potty break, snacks, purchase, out. That's mall life for me these days.
I still love shopping though. The browsing, deal hunting and watching trends … the culling of my closet to a new, chic, but washable mom style. Since the mall is out of reach most days I've turned to internet options. And boy, do I love what I'm finding!
One, eBates lets me save everywhere. Two, Twice, is my new go-to for secondhand pieces. And three, my long time love for none other than Stitch Fix! And that's who I want to share about today!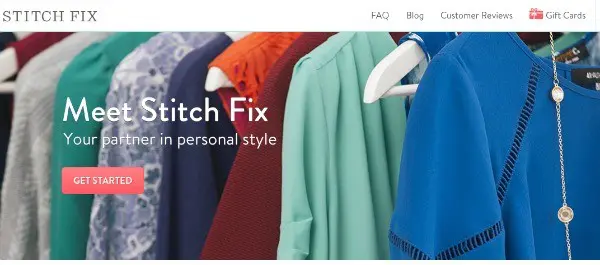 Here's how Stitch Fix works …
First, you complete a style profile. This is where you can say "I'm a mom who doesn't have silk blouses" or "I work in a suit and tie type office" or "I need date night outfits". It takes about 15 minutes to notate your size, style preferences, and budget. My favorite part of the style profile is the option to link to your style board on Pinterest.
Next, schedule the date you want your Stitch Fix box to arrive – depending on how busy they are, shipments can range from 2-4 weeks from the time your profile is complete.
While you hold your breath waiting for your customized box of fashion, a Stitch Fix stylist reviews your profile and hand selects 5 pieces just for you!
Once your box ships you're charged a $20 styling fee (but don't worry, that $20 is applied to anything you keep from your box so you really can't lose).
Then the happy day arrives – Stitch Fix lands on your doorstep and you get to try on each piece in the comfort of your home and then return whatever you don't like in a prepaid mailing envelope.
After you make your final decision you complete a simple checkout online – marking what items you are keeping and giving feedback on everything you received. If you keep everything in your box you save 25% off all 5 pieces.
Oh, and once you begin with Stitch Fix you can share your referral link with family and friends. If they sign up and plan a shipment, you get a $25 credit towards YOUR next fix!
I'm sure you're sensing why I love Stitch Fix … easy, convenient, totally in line with my life as a mom. Of course, professionals and grandmas and college students can utilize Stitch Fix too. I mean, we're all busy and could use a personal shopper on occasion, but really, Stitch Fix speaks the mom language and I just adore that.
Another huge perk is that you're working with a real, live person who reads your memos, reviews your Pinterest board and takes all your suggestions into account when selecting pieces for your fix. I'm very detailed in what I request and give lots of specifics about who I am and what I like.
Things my stylist has taken note of … I'm a breastfeeding mom so I like tops with buttons and don't like dresses that lock in the girls, I'm not a huge fan of red, I'm a few months postpartum so give me pieces with tummy grace, I need everything to be washable, I have a budget to keep in mind. One month I asked for a jean jacket and the perfect one was delivered, another month I said I needed help finding a stretchy, but appropriate pair of black jeggings/pants. Again, my stylist was on spot, not only on the style, but the size and price too.
Yes, it's true. I really love Stitch Fix. And I think you will too!
Here's a peek at a few of my favorite items I've received from Stitch Fix over the last 2 years …

Whether you want to skip the mall or just try something new … give Stitch Fix a try! Or ask for it for an upcoming holiday or birthday! It's simple and fabulous!
Disclaimer: My personal referral link was used above.