Disney's Maleficent movie starring Angelina Jolie is one of the early blockbusters of the summer. This is the untold story of Disney's most iconic villain from the 1959 Disney film, Sleeping Beauty. We had a chance to see the movie today with seven children ages 4-11 years old. With a rating of PG and a quite ominous and scary movie trailer, parents everywhere are wondering, "is it too scary for the littles?".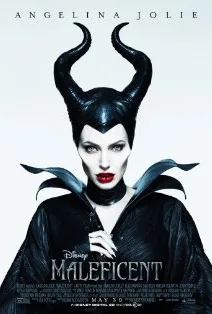 There are dark scenes, fighting, dragons, fire, villains and war scenes that give it the "PG" rating and may be a little scary for sensitive little ones. Fortunately for us, the 2 four-year-old's who accompanied us at the movies are pretty darn tough. Instead of hiding their little eyes, when the scary scenes hit the screen, they laughed instead of cried. That being said, they are not your typical four year olds. Not much scares these two! To give you an idea, they have been on the Tower of Terror at Disney's California Adventure and didn't even flinch. But if you have kids under the age of 7 that don't appreciate scenes with fire, dragons and other fighting, it may not be the right film for them.
The movie mixes up what you thought about Disney villains. I'm not going to give anything away because I really think you should see the movie but it isn't your typical Disney princess and villain movie. It's surprising, touching, and Angelina (Maleficent) draws the audience in to cheer for the "bad guys" in this one.
As we watched the Maleficent movie, our littles had quite a few questions, that we couldn't really answer. 🙂 So, I thought it would be a perfect time for a Baby Gizmo video. Maybe you have the answers?
UPDATE: Wondering where to watch Maleficent? You can get it on Amazon.
Looking for more movie reviews? We got you. Baby Gizmo Movie Reviews.