Tonight is daddy son bonding time so my daughter and I are to cook ALONE. I am making French chicken breasts with a mushroom risotto alongside a radicchio and romaine salad. Before we start, buy a white wine, chill and then pour a glass- you deserve it. I already know what most of you are thinking, "what is this woman thinking making this for kids let alone in a tiny NY kitchen? " It is an easy-medium level recipe with a fairly quick clean up and it doubles not only as leftovers but you will have a beautiful chicken stock to use in the future.
Ok, have you poured yourself a drink? Are you ready to be completely blown away at this culinary experience? Let's get started. Here is an ingredient list for everything you will need. Note: when I made this I had 90% of it already and you probably do too.
Ingredients (NOTE this feeds two kids, two adults and makes a large stock):
Butter
Extra Virgin Olive oil
Alaea Hawaiian salt (sea salt will work too the iron in the Alaea just creates more flavor)
Pepper
2 portabella mushrooms
4 French free range, cage free chicken breasts ( the butcher should be able to cut them for you if not I will explain later)
White wine (most important)
2 shallots
5 garlic cloves
Celery
Carrots
Radicchio
Tomato
Romaine
Arborio rice
Parmesan cheese
Lemon
Dressing (I use a homemade Italian made of salt, pepper, olive oil, parsley, basil, thyme and Dijon mustard)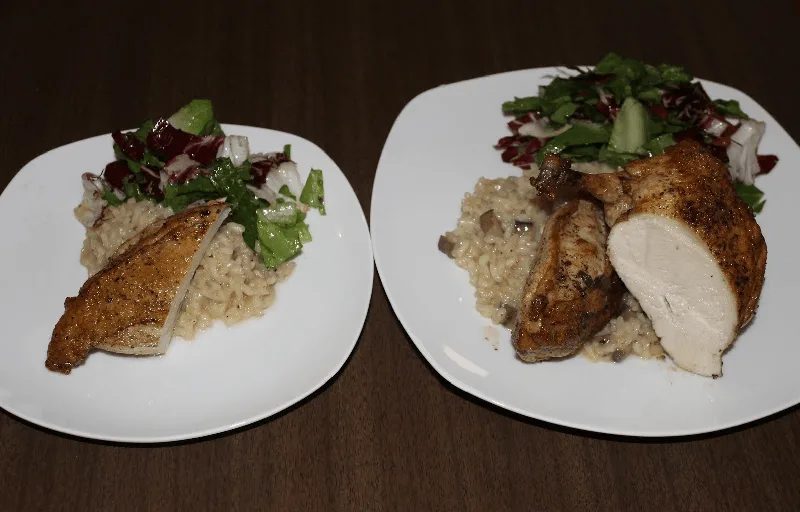 1. Starting with the chicken; I went to our local market and had our butcher cut the chicken breasts to be a French style. If you can't get it butchered that way then you will need to remove the rib bone first and then move to the wing drumstick and remove the skin leaving only the bone. You are going to take the excess bone and skin and fry it in a stockpot for a stock to use for the risotto. I use three breasts for dinner and then the fourth is cooked in the stock.
2. Preheat your oven to 350. In a frying pan pour about two tablespoons of virgin olive oil over medium heat. While that is warming up salt and pepper the skin side of the chicken, throw two tablespoons of butter into the pan and then put the chicken in skin down, salt and pepper the other side. Crush a clove of garlic into the pan.
3. Take a second to wash the cutting board because trust me cleaning up as you cook is the only way to avoid mass destruction. Cut your celery, carrots, one shallot and any other vegetables you have hanging around being unused. You are going to throw them into your stockpot and add water and wine covering all of your ingredients. Just let it hangout boiling until you need it.
4. Check on your chicken when your skin has a beautiful Italian color. Flip it over and baste it with your paddle spoon. Place on a flat backing sheet and put into the oven. Throw some water into the pan you just used, let it simmer for a minute or two, throw into your stock and YAY you have added flavor and your pan is now clean.
5. Put the risotto in a strainer and seep it into a bowl of cool water. Meanwhile, gut your portabella mushrooms of the gills (black, fuzzy part underneath the mushroom) and cap. Dice and slide to the side. mince your shallot and two garlic cloves
6. Heat a French skillet or sauce pan with about two tablespoons of olive oil to coat the bottom of the pan and add your shallots and garlic. When the garlic is cooked, throw in the mushrooms with a little more oil so the mushrooms won't absorb all of it. Dash of salt and pepper until they are fully cooked.
7. Add the Arborio rice, sauté until they are opaque, add your wine to right below the vegetables toss a ½ a teaspoon of lemon zest.
8. When the wine has reduced down, slowly ladle your stock from before into the pan just covering the vegetables. You will let it reduce down and repeat 2-3 times.
9. Pull your chicken to rest, slice the tomato, radicchio and romaine. I took the opportunity to pick up and get the table ready.
10. Take the risotto off the heat and plate. I top with Parmesan cheese and serve.
I hope you enjoy this as much as we did.