One of the best activities for kids in the summer is to visit the zoo. Most people have a zoo within driving distance of their home or they might be doing a little summer traveling and could be passing by a great opportunity for a fun zoo visit. Almost all kids have a favorite animal so a zoo outing can be fun for the whole family.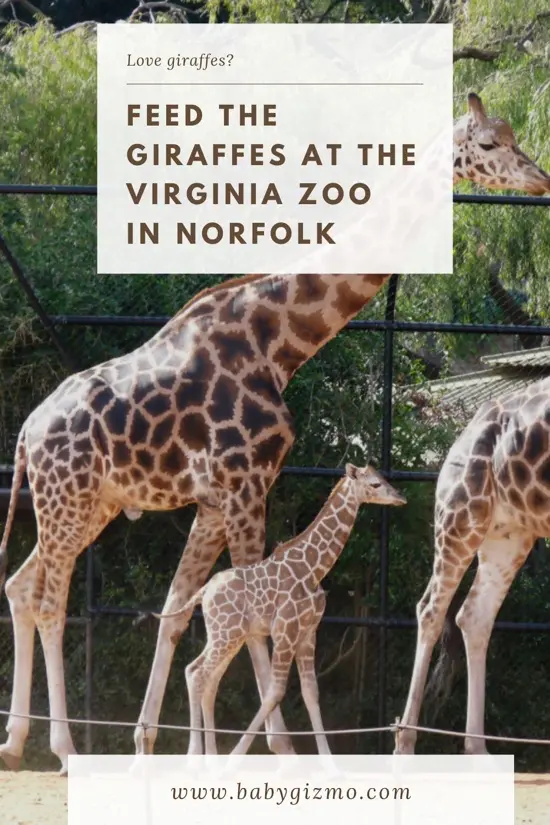 If you live or are traveling near Norfolk, VA, you might want to make a stop at the Virginia Zoo. This family-friendly zoo (what zoo isn't great for families, right?!?) offers all kind of activities for kids and parents. From feeding the giraffes to touring the elephant barn to exploring the "Australian Outback", this zoo is a roarin' good time. Next time we are out East, I know we'll be scheduling a visit for sure!

Here are some of the activities at the Virginia Zoo in Norfolk:
Giraffe Feeding Package – Stroll to Africa for a rare opportunity to feed the majestic Masai giraffe. See their long eyelashes and watch their 18″ long tongues as they reach for the healthy treats you offer. Learn about their behavior, feeding ecology and why their necks are so long!

Elephant Package –Tour the elephant barn to mix and mingle with the world's largest animal. Watch the elephant keepers as they engage the girls in a variety of daily activities like feeding, cleaning, and other basic care. You'll also paint with an elephant to create an original piece of artwork to take home.

Lion Package – Enter the lion's den to learn interesting facts about these animals and see what goes on behind-the-scenes. You'll also see the Zoo's feline friends up-close.

Kangaroo Package – Travel to the Australian Outback to meet the Virginia Zoo's mob of kangaroos. Learn what it takes to clean, feed, and care for these unique animals. Get up-close and personal as you offer the kangaroos peanuts as a special treat.

Red River Hog Package – Help the zookeeper hide food items in the exhibit and watch the red river hogs forage for the items. Meet and greet "Rocky", one of the Zoo's three red river hogs – you'll have a great time getting up-close to this exotic and charismatic African hog!
Each tour will offer families and friends the breathtaking experience of seeing the world's most dramatic wildlife up-close. To book tours, call 757-441-2374 to or visit VirginiaZoo.org. For more information on other sights and attractions in Norfolk, visit www.visitnorfolktoday.com.