Have you ever had a really awesome peach? I mean really awesome. You would know if you have. I've got a guy, my really awesome peach dealer. Every week during the season, I go to the farmers market to pick up delicious white peaches that come from a small farm in Pennsylvania . While you could just eat them and let the juices drip down your chin, I love to grill them. What?! Grill fruit?! Yep, it is super easy and super delicious. Grilling peaches concentrates that sweet flavor while also adding that smokey grill flavor.
One of my favorite things to make in the middle of summer is grilled peach and corn salad. It could not be easier!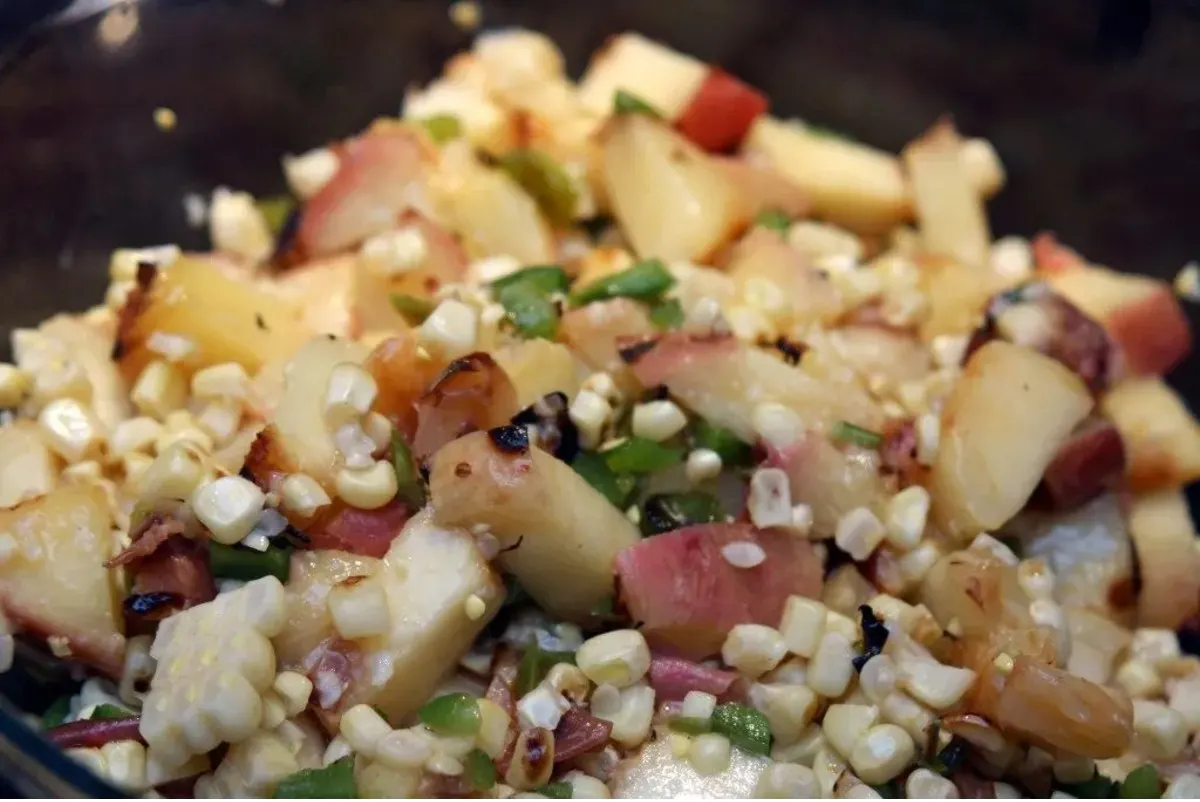 Grilled Peach and Corn Salad
Ripe peaches (not overly ripe otherwise you'll have trouble splitting them)
Sweet corn
Jalapenos or red peppers — your choice
Yes, that's it — trust me on this!
Cut the peaches in half. You know the crease in the peaches that some people might say makes the fruit look like… ehem… a posterior? Cut along that crease from end to end all the way in a circle. Without squeezing too hard, twist the peach open. Sometimes you will get it to open cleanly — sometimes it won't. Just do the best you can. Remove the pit with your fingers or a spoon depending on how tightly it is still in there.
To prepare the corn, remove the husks and the silk. I like to have completely naked, clean corn for the grill.
To prepare the peppers, cut in half and remove the stems. Then remove the ribs and seeds. In jalapenos, the ribs and seeds have all the heat so clean it with that in mind. If you are using chilies for this, be careful! Immediately after handling them and their insides, wash your hands with soap. Don't touch your face or your kids! I literally burned myself handling chilies once (a boatload of chilies, but still). It was awful so be careful. Anyway… clean the peppers and cut them in half.
Heat your grill until it is super hot. Make sure it is clean — hit it with your wire brush before cooking if necessary.
Put the peaches on cut side down. Put the corn and peppers on too.
Leave the peaches for about 3 minutes before checking. You just want them to have some nice grill marks. Flip them and get some grill marks on the skin. It doesn't take long.
For the corn, you want some grill marks all the way around… so let it get some color and rotate it until it is done.
For the peppers, you just want some char on the skin.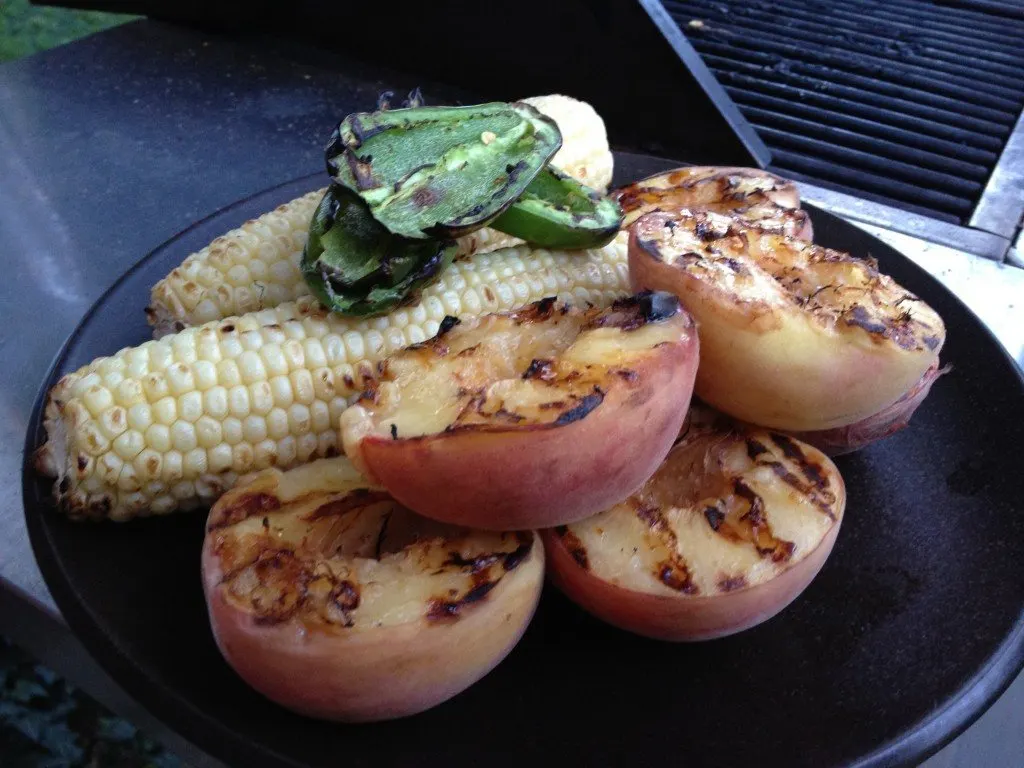 Once it is all done, you need to chop it. Dice the peaches and chop the peppers however you like (I like to mince if I'm using jalapeños). Take the corn and stand it upright on a cutting board. Run your knife down the corn to cut off the kernels. Then with the back of your knife, scrape off all the bits you left on the cob. There's good flavor there!
Mix everything together and let it sit for at least an hour. All of those intense flavors from the peaches, corn and peppers will combine and make a delicious salad. You can also chop everything up more finely and serve it as a salsa!