Growing up Italian, it's a rite of passage when you learn your grandmothers meatball recipe. It's something that is passed down from generation to generation. Each family has their own special twist and lord knows every recipe is as individual as the family themselves, but they all have one thing in common, tradition.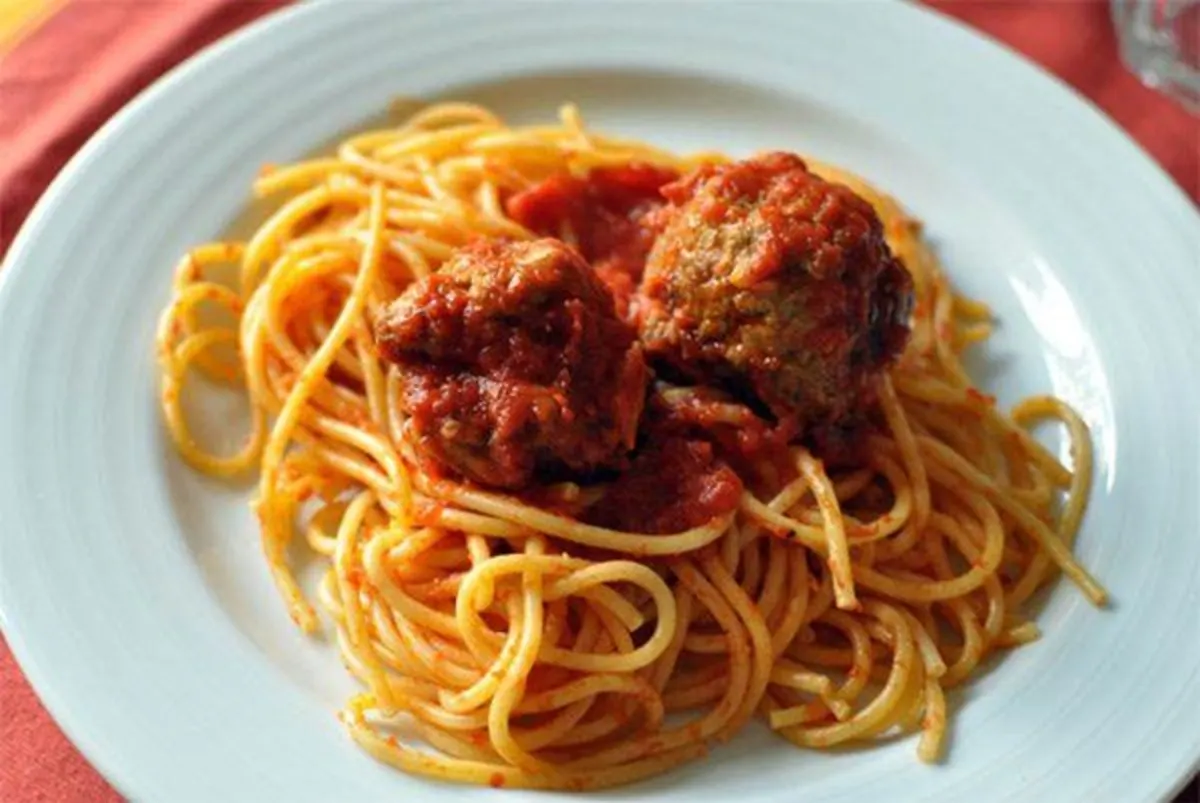 In fact, a family meatball recipe is more than just a well guarded secret recipe, it's a treasured piece of history, a link between the past and the present, a way to instantly bring back those who are no longer with us. One whif of Sunday sauce bubbling on the stove and I'm instantly transported back into my grandmothers kitchen.
I'm a six year old girl standing next to my 4ft 11 inch grandma, watching her work her magic, hand rolling each ball between her palms, carefully dipping her finger tips into a mug full of water to prevent the meat from sticking. That image is cemented into my memory and is a real testament to the power of food and family.
I don't mind sharing my family meatball recipe to you because it brings me great joy to share a piece of my family legacy with you. My grandmother never measured a thing so this version is my adaptation on her perfected recipe.
My hope is if you don't already have a meatball recipe of your own, you'll make this for your family. And remember, let your children help out in the kitchen because time spent in and around the kitchen and dinner table is so much more than the food, it's family.
Grandma's Meatballs and Sauce
Makes 12
Ingredients:
1/2 cup olive oil, divided
2 (15 ounce) cans of crushed tomatoes (we love Pastene, Sclafani or Pomi brand)
2 tablespoons tomato paste
3 cloves garlic, finely chopped and divided
1/2 cup ground breadcrumbs
1/3 cup locatelli romano cheese
1 large egg
1/4 cup flat-leaf parsley, finely chopped
1 pound ground chuck
Instructions:
1. Heat 1/4 cup of olive oil in a large soup pot or dutch oven over medium heat. Add in half of the garlic and the tomato paste. Cook for 30 seconds or until the garlic begins to become fragrant. Be careful not to burn the garlic! Pour in the crushed tomatoes and reduce the heat to low.
2. Fill a mug halfway with some warm tap water and set aside. In a large bowl combine remaining garlic, breadcrumbs, cheese, parsley and egg and stir until it's well mixed. Add in the ground beef and gently use your hands to work the breadcrumb mixture into the meat. Do not overwork the meat or else they will become tough. The secret to tender meatballs is to not overwork the meat. Dip your fingertips into the mug of warm water and coat your hands with the water. Place about 1/4 cup of the meat mixture into your palms and gently roll them into balls. Repeat the process until all of the meat is used up.
4. Heat remaining olive oil in a large high sided skillet over medium-low heat. Place each meatball into the hot oil and cook them, turning them to brown them all the way around, about 3 minutes on each side. Note: You are just browning the outside of the meatball to give it a nice crust, they will finish cooking inside the sauce. This technique creates a moist meatball with a tasty outside crust. Gently slip each meatball into the sauce and allow them to cook for at least 30-40 minutes or up to 2 hours. Keep the heat on low and periodically stir the sauce (gently) to ensure that the balls don't stick to the bottom.