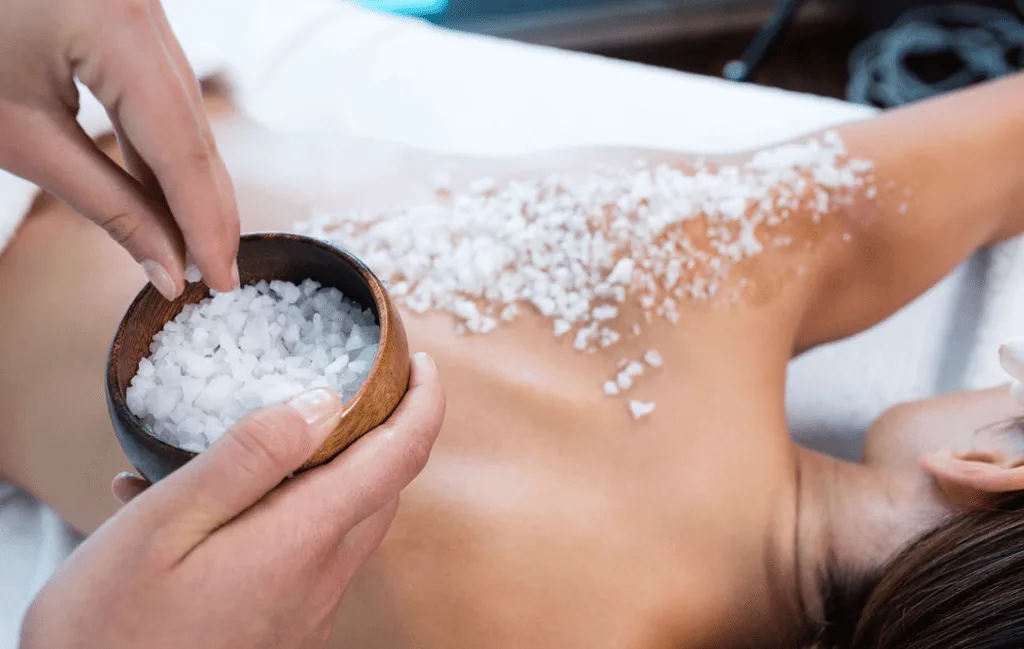 This week was kind of a whirlwind week. I jetted out to Los Angeles for a couple days to speak at two Club MomMe Events. As a former resident of LA, I was super excited to be back for a visit. It was a short two-day visit, but since I was traveling solo (without the kids!) I knew I could pack a lot into a little bit of time. It's crazy what you can get done by yourself when you are used to juggling all the duties of a mom of three!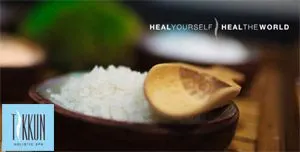 I knew that I wanted to fit something fun into the schedule during the time that I wasn't preparing for the events. When an opportunity to visit the Tikkun Spa in Santa Monica came up, I jumped on it. What mom doesn't need a spa visit, right?!? This was my chance to get pampered before the event and before I headed back home. You see, I don't get spa chances very often. Usually my "spa experiences" consist of ice cold water being splashed at me in the backyard from the kids' sprinkler, a speed shower that I manage to fit in after the kids go to bed or the occasional 3 year old "beauty salon" when my son fixes up my 'do.
So like any smart mom traveling without her kids would do, that spa visit was mine! I was not going to pass up on that opportunity no matter how many times I had to switch around my schedule that day. I was going to relax, dammit! 🙂
When I arrived at the spa, I knew I was signed up for two treatments. The first was a "v-steam" that the spa really wanted me to experience. In case you never heard of this (and I hadn't!), it is pretty much a vagina steam. Yeah. You sit in a chair type thing with steam getting blown all around you and at/up your who-ha or at least that is what I've been told. While I heard it is amazing and cleansing, I chickened out. I just couldn't pull the trigger on the v-steam this visit. It's just not in my comfort zone or anywhere in a 500 miles radius of my comfort zone. If you are up for a different kind of spa treatment, try it out and let me know how it goes. I have friends that say it's amazing but obviously I'm not that brave.
Instead I was offered a body scrub and a massage. I've had massages before but the body scrub was totally new to me. I wasn't even sure what to expect. Since I cancelled the v-steam last minute, I didn't even have time to research what exactly a "body scrub" entails so this was an experience that I was just going to have to go for.
After checking in I was given a tour of the entire spa. While it isn't as flashy and fancy as some of the well-known Los Angeles spas, it's really, really nice. I can't complain at all. There are all kinds of different rooms from heat rooms, ice room and everything you expect a spa to have.
We head to the ladies locker room, they show me the robes and tell me to get undressed and prepare for my "scrub". At this point, I'm getting a little nervous. I have absolutely no idea what I signed up for. I'm not a frequent spa person and since I'm a bit modest and self-conscious, I don't make it a habit to walk around naked with complete strangers. Lucky for me it wasn't a busy time at the spa so there was no one in the locker room. I got undressed and put on my swimsuit bottoms that I brought with me and a robe. Again, I'm just not the type to be completely naked outside my home. Plus, I had no idea what I was supposed to wear, if anything. I nervously hang out near the whirlpool in a room by myself waiting for my scrub.
A cute, little, old Korean woman named Susie comes bounding out of what I call the body scrub room and says to come with her. She quickly says "take off your robe". I remove my robe and immediately she sees my swimsuit bottoms.
"Take off. You need to be naked," she says as she points to my bottoms.
No, hey how are you, let's have a drink get to know each other, just a "get naked". Hmmm…just in case my husband is reading this, that's not how it works usually. "Get naked" isn't going to fly at home, buddy.
Clearly she must have seen the hesitation or fear or whatever on my face because she opens up a drawer and pulls out a pair of mesh-thong-string panty things. First of all, what the hell are those going to do?!? Seriously, they are see-thru! It's a thong. What coverage in God's green earth is that going to give me?!? I might as well be naked. Of course, that is all in my head.
I know what you are thinking – "Hollie, you've had THREE kids?!? How do you have any modesty left at all?" Listen, all I can say is that it's different. I'm standing there with a woman that I just met demanding that I get naked. I was nervous. I was a body scrub virgin.
I didn't want to argue so I put on these ridiculous mesh thong panties. Seriously, I felt ridiculous. Thankfully, it was a dimly lit room and no one else was there.
I was told to get up on the table and lay on my stomach. The next thing I know I am having an experience that I have never in my life had and it's hard to even explain what I thought. I was in shock. I pretty much spent about 20-30 minutes getting roughed up, felt up and hosed down by a little, old woman I didn't know. Don't get me wrong, I had never felt cleaner in my life. I was so squeaky clean that you could have eaten off my butt. Seriously. Off. My. Butt.
So, here's how it went down. She hosed me down with one of those handheld shower heads. That was nice – a little weird to be hosed down but nice. Then she proceeded to scrub me with some type of gloves that felt like those personal body scrubbing gloves you buy at the store but a bit rougher. Almost like sand paper. I'm sure it's wonderful for your skin so I went with it. I never actually saw the gloves because I was either on my stomach looking down or on my back with a towel covering my face. It was a little unnerving to be laying there naked having another woman manhandle you when you can't see anything. I guess it would have been much weirder to actually watch. I don't know.
Now when I say "scrub me", the woman roughed me up. Seriously, it was like a good pain, but good Lord, the woman was going to town on every single body part but my head. It was completely out of my comfort zone because she was whipping my breasts around like she owned them. Nothing seemed to be off-limits – inner thighs, butt, breasts, you name it and she was there. I've never had my butt cheeks scrubbed like that. It was out of control – in a good way.
After the scrubbing came the hose-down.
Then lotion.
Then the hose.
More scrubbing.
Hose.
This continued for like 20-30 minutes. After the last hose-down, she abruptly told me that I was done and showed me to the shower. Yes, I felt a little violated but boy did I feel squeaky clean.
Like I said at the beginning, I'm not sure how to exactly explain how I felt about it. Do I recommend getting a body scrub? Yes. Is it completely weird and will feel out of most people's comfort zone? Absolutely. I'm guessing it's the same kind of weird as a Brazilian wax which I have never had done. I just can't go there yet.
After my body scrub, I had a wonderful massage with Jessi. If you do visit Tikkun Spa in Los Angeles for a massage, you must ask for Jessi. He is amazing! His hands are like butter. This man has the softest hands I think I have ever felt in my entire life. They are like baby soft. You know your baby's tiny hands that you could just rub against your face all day long? Now imagine those same hands but bigger and that is what Jessi's hands are like. They were so soft that I felt a little embarrassed by my dry, rough paws in comparison. But don't let the idea of soft hands fool you though! Jessi has some pretty amazing strength when it comes to getting the knots out. Let's just say he has magic hands.
Overall, the massage was amazing. What I liked the best was that Jessi was paying attention to my body language. Since I am one to just endure the pain if the pressure is too much instead of saying something, he noticed that my hands started to curl up once and after relaxing my hands, asked if I would like less pressure. Now that is a masseur that is paying attention!
All in all, my spa experience was amazing. The body scrub was completely different but I'm so glad that I did it. I guess I just didn't expect the woman to be lifting up butt cheeks to scrub me, but hey, I smelled amazing and my skin has never been softer!
If you need a mommy-break, go to a spa! If you are in Los Angeles and need a spa break, go to Tikkun. If you are super brave, try the v-steam and tell me how it goes.
For more information on the Tikkun Spa, visit their website at http://www.tikkunspa.com.
*Disclosure: Thanks to Tikkun Spa for providing me with the complimentary body scrub and massage. I did not have to write about them but I wanted to. All thoughts, opinions and statements are my own.