Have you ever heard of Broccoli and Cheddar Pancakes? As parents we are always on the search for easy and delicious ways to feed our kids. Life is busy, kids can be picky and there never seems to be enough recipes to keep those little bodies nourished. I spend a lot of my time developing recipes that my boys (ages three and one) will love.
It's not always easy, especially in the veggie department because, let's face it sweet things are a lot easier to like. I know it takes at least 15 tries before a child develops a taste for a new flavor (especially savory stuff), and sometimes most of the time, that process can be crazy-stressful for a parent. I'm not really into "hiding veggies" because that just doesn't bode well for the future and have you ever read one of those cookbooks?
Who the heck has time to puree up random veggies and make different concoctions using mashed beans and such when we barely have time to make a regular dinner? But I digress…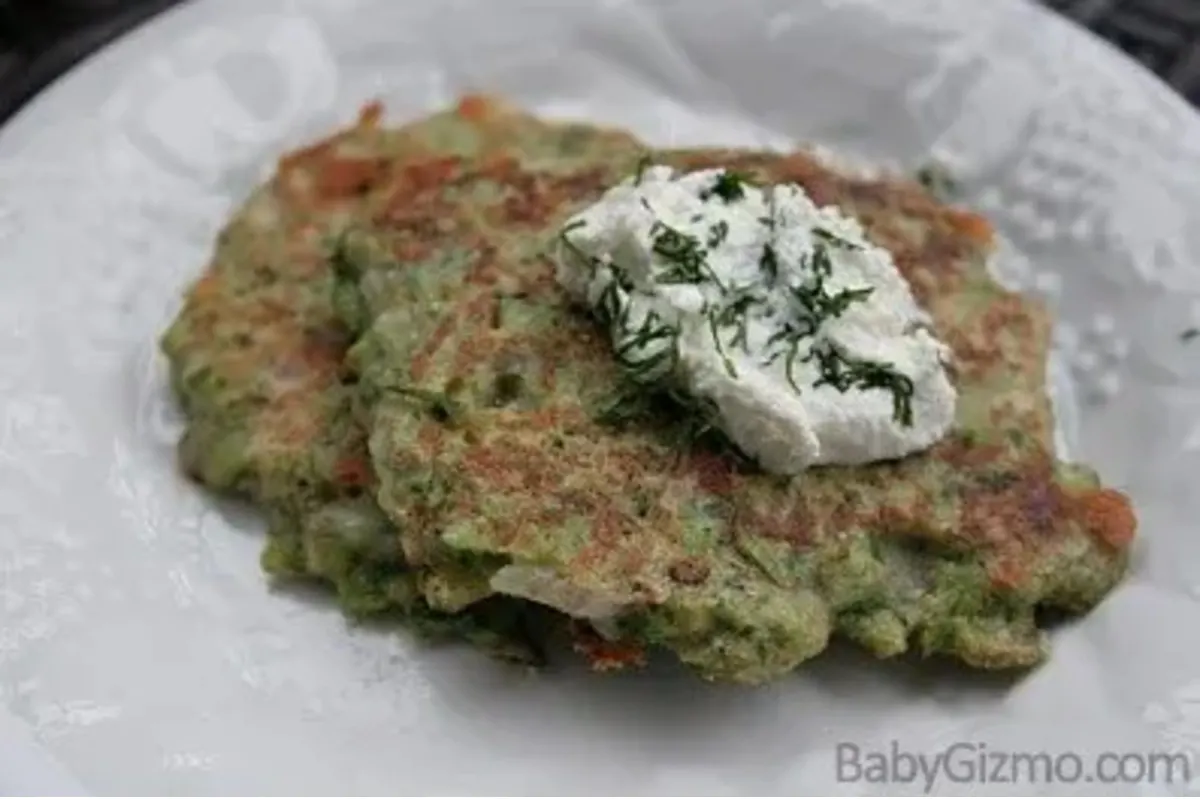 Like I said, I spend a lot of time working on different ways to work veggies into our meals and I try to keep the flavors and textures exciting. I don't strive to create 'kid food" per say but rather recipes that can feed the whole family.
I always serve a veggie side with dinner but that doesn't mean the vegetable needs to be served straight up in its natural state. Steaming and roasting can get boring after a while, so I like to try and mix up the presentations of vegetables for my family so that everyone is enticed and at least willing to try out the new preparation. One of my favorite ways to do that is by making veggie pancakes.
We do a lot of different versions in our house. When my first born was about one, I developed these Broccoli and Cheddar Pancakes as a finger food for him. I created them as an on-the-go meal to take with us to the park or on a walk.
There never seems to be enough healthy "Fast Food" and keeping your wee one well-fed can be a challenge when you have a babe that just won't sit still!! These pancakes provide you with an easy and delicious way to keep your energizer bunny nourished in one tasty and delicious package.
My Broccoli and Cheddar Pancakes are not only filled with veggies, they are also packed with protein (thanks to the eggs) and whole-grain fiber from the wheat flour. They will definitely fill your kids up and are delicious served warm or at room temperature.
I like to serve these as a side during dinner or as a quick lunch with a side of fruit. I make a double batch on Sunday night and keep them tightly wrapped in the fridge for up to 5 days. They reheat beautifully in the microwave and are ready to go when I need them. Easy peasy!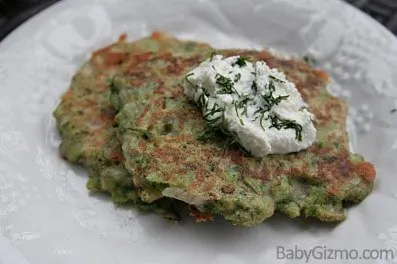 Broccoli and Cheddar Pancakes
Broccoli and Cheddar Pancakes to get your kids eating healthier.
Ingredients
1/2

cup

sour cream or ricotta cheese

2

tablespoons

fresh dill

finely chopped

1

cup

broccoli

steamed and finely chopped

1/2

cup

shredded cheddar

1/3

cup

whole wheat flour

1

large clove garlic

minced

1/2

teaspoon

salt

1

large egg

lightly beaten

2

tablespoons

olive oil
Instructions
Combine dill and sour cream in a small bowl. Cover with foil or plastic wrap and refrigerate.

In a large bowl combine broccoli, cheddar, flour, garlic, salt and egg. Mix with a wooden spoon until combined. For about 8 pancakes using about 1/3 cup of mixture for each.

Place olive oil in a large skillet over medium heat. Fry pancakes until golden brown, about 3-4 minutes on each side. Serve warm with a dollop of dill sour cream.
Notes
Tips
-Use zucchini instead of broccoli.
-Swap out the cheddar for your favorite cheese.
-Make it Italian- Swap out the broccoli and cheddar for chopped spinach, sun dried tomatoes and mozzarella.
Nutrition
Calories:
115
kcal
Carbohydrates:
5
g
Protein:
5
g
Fat:
9
g
Saturated Fat:
3
g
Trans Fat:
1
g
Cholesterol:
36
mg
Sodium:
214
mg
Potassium:
86
mg
Fiber:
1
g
Sugar:
1
g
Vitamin A:
248
IU
Vitamin C:
10
mg
Calcium:
93
mg
Iron:
1
mg