After 5 minutes of prep, I popped these garlic herb twists into the oven and their delicious scent started floating up the stairs. My daughter popped out of her room and said, "Dinner is smelling really, really good! What is that?"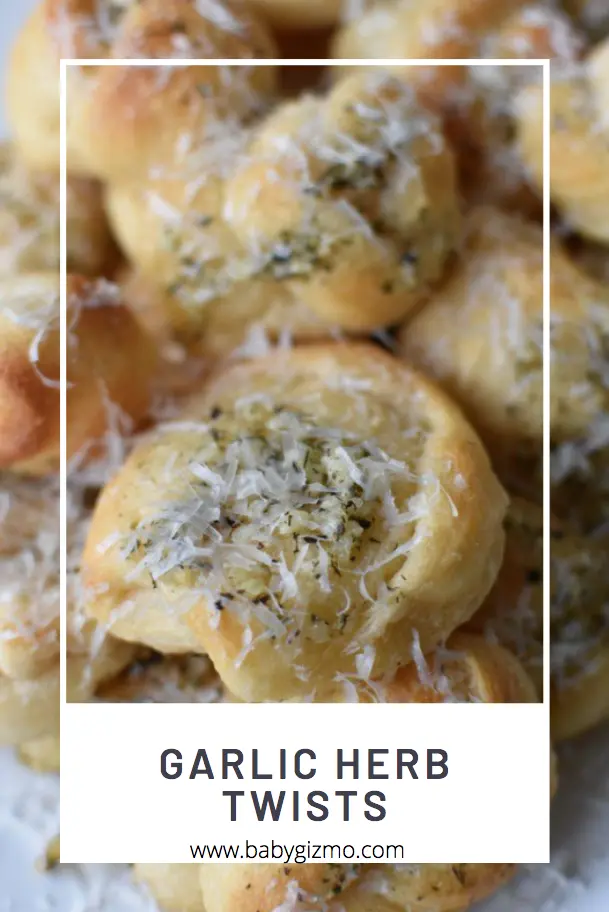 Oh, nothing really. Just regular dinner rolls bumped up 100 degrees of awesome!
These bite-size breadstick bites are the perfect addition to any Italian meal, a hearty salad, or your Thanksgiving spread. Plan to double or triple the recipe… when I pulled these out of the oven they were done before dinner was even served!
Ingredients
1 can (8 ounces) Pillsbury Crescent dough
4 tablespoons butter, melted
6 garlic cloves, pressed
1 teaspoon Italian herb blend (mine had a combination of garlic powder, parsley, dill, basil, and chives)
Parmesan, block ready to shave or pre-shaved
Directions
Pop and unroll each dough triangle. Rather than form into a crescent, twist into a swirl or knot. Place on a 9×13 baking sheet. The deeper the crevices the better — then garlic can sit and simmer in little pockets instead of rolling off.
In a saucepan, melt 4 tablespoons of butter. Add 6 cloves of pressed garlic and 1 teaspoon of Italian herb blend. Stir well and carefully spoon over each dough twist.
Bake at 375 degrees for 12 minutes or until the tops are golden brown. Sprinkle with parmesan and force yourself to let them cool a bit before taste testing!