I love the Thanksgiving traditions that center on each person present sharing something (or somethings) that they are thankful for. What I love even more is that this doesn't have to be one of those "everyone go around the table and say something you're thankful for" moments that can be so awkward. Check out these fun—and decorative—ways to give thanks.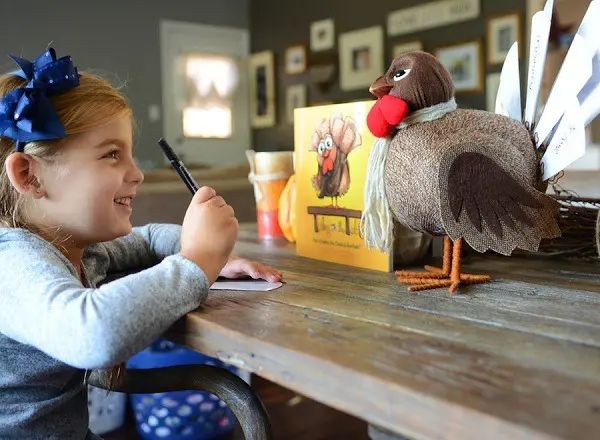 Turkey on the Table encourages its owners to give thanks in the days leading up to Thanksgiving by writing one thing they're grateful for on the turkey's tail feather until he has thick, beautiful plumage on Thanksgiving. I think it would work equally well if you ask holiday dinner guests to write down what they want to give thanks for when they arrive and then add their feather to the turkey's tail. In addition to cultivating gratitude, Turkey on the Table partners with Feeding America to provide ten meals for every turkey sold.
If you're more of a DIY-er or you love crafting with the kids, try this leaf catcher. It's a pretty piece and customizable, too, since the leaf templates come in color or in black and white (color them in if you want!) and you can choose whatever color yarn you'd like.
A cornucopia is another fun centerpiece idea. You can make or buy a cornucopia and fill it with things you're grateful for, like pictures of loved ones, toys, or food. Invite Thanksgiving dinner guests to do the same. No matter whether you fill it with things you're grateful for or go with the more traditional fruit, take the time to teach your children why the horn of plenty is traditionally associated with this feast.
And there can be more to being grateful than just saying what you're thankful for. After the holiday, put those words of thanks into action. Here are some ideas to get you started:
If someone in your family said they're thankful for good food, look for ways to share a meal with someone less fortunate. Invite a neighbor or acquaintance to dinner, collect food for a food bank, or help serve a meal at a shelter or soup kitchen.
If you children said they're thankful for their toys, look for organizations who do toy drives during the holidays and take your children shopping for gifts for others. Donate old toys to a shelter or charity who can use them. Talk to a local homeless or domestic violence shelter or a foster agency to see what their toy needs are during the year so you and your children can practice year-round giving and share with others the things that make you feel grateful.
Did someone mention they're thankful for a family member or friend? Look for ways to foster the relationship through visits, letters (so old-school), and Skype or Facetime. Share the gift of relationship with someone you know who may be living far away from family or who is lonely.
If you're hosting Thanksgiving dinner, consider this idea. Instead of traditional place cards, write a note of thanks to each of your guests and use the note as their place card. If your kids aren't writing yet, you can encourage them to draw a picture or you can write down what they say. This is a keepsake your guests will cherish.
Don't forget those who aren't around your table. Here are some ideas to express your gratitude to people in the community.
Spend some time in the kitchen with your kids to make a treat (or a whole meal if you can!) for your local police or fire station. Tell them you appreciate all they do for the community.
Write a note to a politician (I know, I know) or a community leader who is accomplishing things around an issue you believe in. Thank them for their hard work and dedication. This is especially meaningful for your child if they have a cause that is important to them or if there is an issue that they have recently become aware of and are concerned about.
Do you have a family-related employee like a nanny, babysitter, or housekeeper who helps things run smoothly in your household? Consider giving a token of your appreciation, whether a monetary gift, art work from your child, or something else you think they will find meaningful; include a note in which you can express your gratitude for their work.
Donate to a charity. If you and your family are planning on a non-monetary donation, please contact the charity to see what they need most. Include a note with your donation telling the charity what their work means to your family.
Finally, remember to share your gratitude all year—not just at Thanksgiving. Put out a thankful jar where you record on slips of paper things you're thankful for throughout the year, or keep a family thankful journal and make an entry when you're feeling grateful. Make saying "thank you" part of your everyday life. Thank whoever made (or bought—no judgement here) dinner; thank the kids for taking initiative to do chores or clean up a mess; thank the person who put gas in your car without being asked. Trust me, it's a small thing, but it will make the world a better place.
To take the pressure off, I'll start: Thanks for being a Baby Gizmo reader!