There is a new travel stroller in town and you are going to know about this one! The GB Qbit is a budget-friendly, compact-folding, easy-to-push, travel stroller that is going to seriously impress you when you see it folded.
GB Qbit SEAT
The seat of the Qbit has a weight capacity of up to 50 lbs and measures 14″ wide with a 17″ seat back, and a measurement of 25″ from seat back to canopy. There is a padded, 5-point harness to keep your baby in the seat, but the buckle is quite easy to master.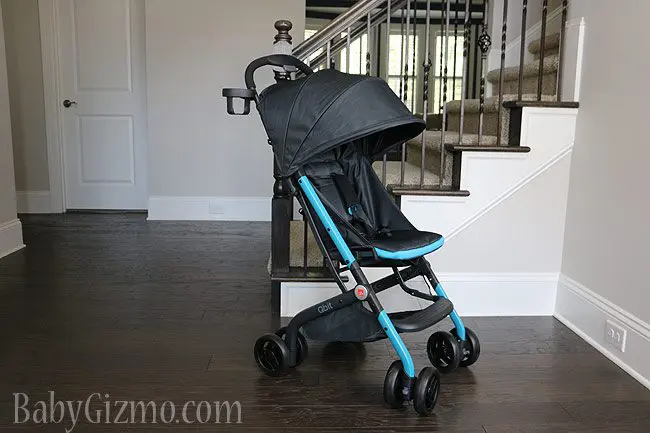 Since babies like to nap on the go, the seat reclines but it's not a deep recline. It can easily be done with the strap system and the seat is suitable for 6+ months. Not to worry though, the Qbit can be used with a newborn with the included car seat adapters for the GB Asana 35 AP and Asana 35 infant car seats.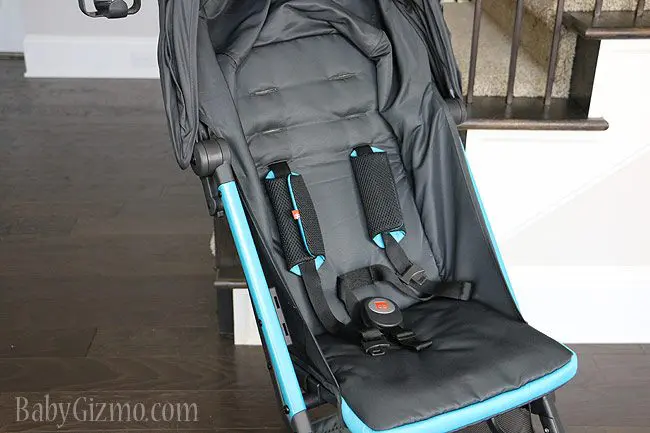 CANOPY
The three panel canopy is quite large for a lightweight stroller but is missing a peek-a-boo window or any mesh window on the back of the stroller to allow air to circulate through the seat. To add a mesh window for not only peeking but for air flow would be our recommendation for the next model of the Qbit.
HANDLE
No need to have the dreaded stroller hunch because while the Qbit handle is not adjustable, it is tall with a measurement of 41″ from ground to handle making it great for taller parents!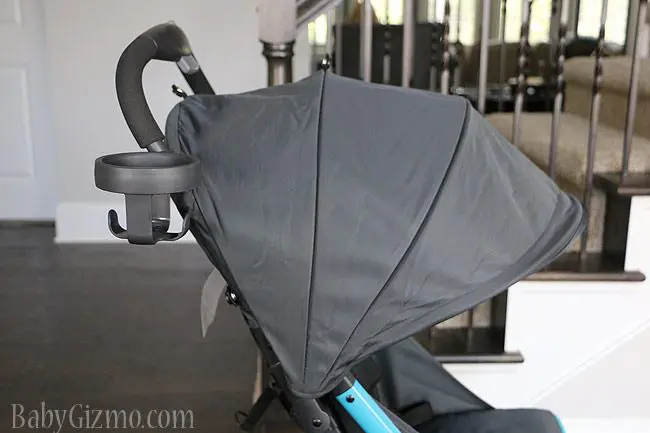 WHEELS
The stroller rolls on 5 1/2″ hard rubber wheels. The front wheels are swivel wheels with the ability to lock straight when pushing on a bit of all-terrain so that you don't get caught up in every bump. The rear wheels sport individual brakes to lock the stroller into place.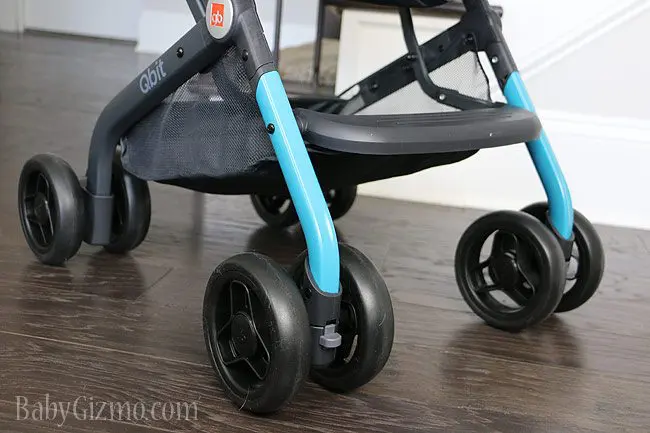 GB Qbit FOLD/UNFOLD
The fold of the Qbit is the best part by far! It has an easy one-handed fold that leaves the stroller in an itty-bitty, square package that slides into the included travel bag that has a shoulder strap for easy transport. So small, in fact, that it can be put in the overhead compartment on an airplane. That's right, you won't have to worry about gate checking this baby and fearing that they might break it or scratch it! Plus, weighing in at just 14 lbs, this stroller is definitely lightweight and manageable. To see the fold and unfold magic, make sure you watch our Baby Gizmo video review above.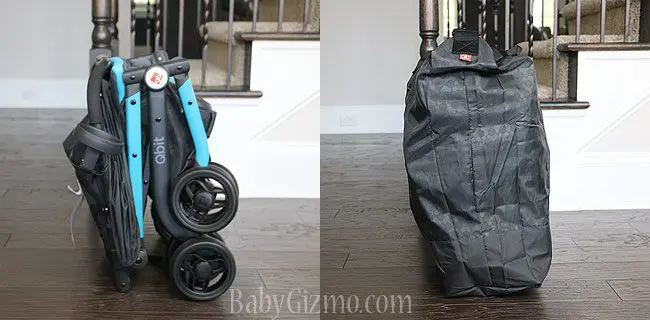 WRAP-UP
Another great thing about the Qbit is that you won't have to second mortgage your house to afford it! The GB Qbit retails for $179 which makes it a great deal for an amazing stroller for traveling. If you are looking for a quality stroller, that folds down into one of the smallest folded strollers we've ever seen, you have to check out the GB Qbit. The stroller will come in three colors – blue, red and white.
*Disclosure: Thanks to GB for sending us a BG Qbit stroller for our review consideration. As always, all thoughts, opinions and statements are our own.
OTHER GREAT TRAVEL STROLLERS