Have you heard about Cookies in a Jar? Everyone knows I love to bake. It might be a little obvious if you look at our food blog, SkinnyNotSkinny, and see how many dessert recipes there are compared to entree and salads. My baking obsession goes into full force during the holidays. I feel like I am literally baking all the time. And you know what? I love it! I absolutely LOVE holiday baking so it is no wonder that I also incorporate my baking into gifts.
I am well aware that not everyone likes to bake or honestly has the knack to bake really yummy cookies. Think about college students. They aren't going to keep all the ingredients on hand just to make cookies. BUT if they only needed butter, an egg and a little vanilla to whip up a batch because of your awesome gift, I'm almost positive they would love you forever.
Cookie recipes in a jar are definitely not a new concept. People have been gifting these for years…decades even! I'm not reinventing the wheel here or anything. I'm just giving you a great gift idea for someone who isn't necessarily a baker but LOVES fresh made cookies.
Here is how you put one of these gifts together! I'd recommend making it part of a basket. Maybe make a batch of cookies and bundle it with a Jar of Cookie Ingredients? Some for now and some for them to make later! Win-win.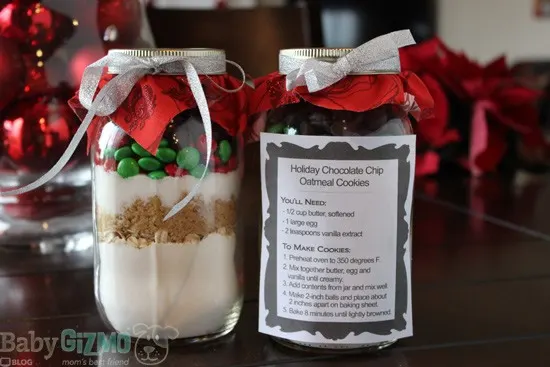 Cookie Ingredients:
1½ cup all-purpose flour
½ teaspoon baking soda
½ teaspoon sea salt
¼ cup rolled oats
½ cup packed brown sugar
½ cup granulated sugar
1/2 cup holiday M&Ms
1/2 cup chocolate chips
Items You'll Need:
1-quart glass jars with lid and ring
funnel or parchment paper shaped as a paper cone
printed label
How to Assemble Recipe in Jar:
Whisk together flour, baking soda, and sea salt in a large bowl. Using a paper cone, or a funnel if you have one of those, pour flour mixture into the bottom of the glass jar. Gently shake the jar to get the flour to form a flat layer.
Add layer of oats. Spread evenly with a spoon or spatula to form a flat layer.
Next, add brown sugar. Spread evenly.
Add granulated sugar. Spread evenly.
Add M&Ms and then the chocolate chips.
Before you seal the jar tightly, take a 4 inch square piece of holiday fabric and set it on top of the flat lid and screw the lid ring around it.
Tie a pretty ribbon around the lid.
Affix a printed label with directions.