I'm a die hard pizza lover. The more the toppings, the fancier the sauce … THE BETTER! Granted, a love a classic pepperoni too, but these days I'm all about mixing and matching delicious flavors atop a homemade crust.
My sister sparked the idea of pear, caramelized onion, and walnut pizza. We once had a salad with a similar variety and it just seemed like the next best thing to transfer that combination to pizza. So, we did! And it proved to be the most amazing pizza!
The next time you're hosting a girl's night, this is the pizza to serve as an appetizer or main dish. It is phenomenal!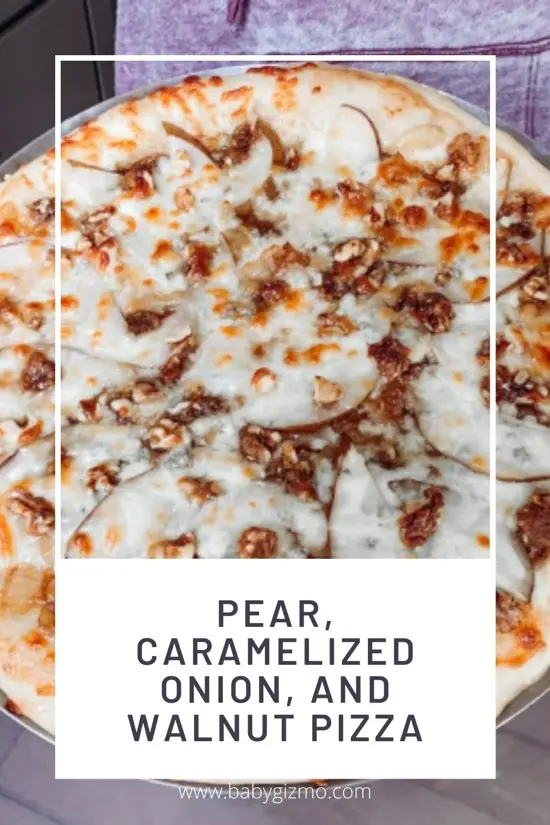 Ingredients
1 pizza dough
2/3 cup blue cheese dressing
1 red anjou pear, sliced
1/2 cup candied walnuts
2 tablespoons butter
1 large onion, sliced
1/4 cup blue cheese crumbles
1 1/2 cups mozzarella cheese
Directions
Preheat your oven to 500 degrees.
Choose your favorite pizza dough and follow the instructions to prepare it. I love the refrigerated dough from Trader Joe's. With that one all you do is let it come to room temperature and then roll/stretch it into a circle.
Prepare your toppings – first, caramelize the sliced onion. Over low heat toss the slices in butter. Cook them low and slow until they turn a beautiful golden brown. Stir occasionally. Add butter as needed.
On the dough circle spread a layer of blue cheese dressing. On top, layer the sliced pear and caramelized onions. Sprinkle with walnuts. Add mozzarella on top to seal it all together.
Bake for 10-12 minutes or until the cheese bubbles. Sprinkle with blue cheese crumbles before serving.