When it comes to pajamas, the holidays are my favorite time of year! As soon as Thanksgiving starts approaching, I'm already planning out which Christmas jammies the family is wearing this year. Yep, for about 6 weeks, we all sport matching pjs. (Believe me, Dad Gizmo is SUPER excited about this! LOL! Thankfully he plays along though!)
This year I was ready with the new Christmas jammies (you know the kids grow ALL THE TIME so we need new ones each year!). When I saw the adorable new "50 Shades of Santa" print by Shinesty, I knew these were the ones. Sure, Shinesty is known for their fun adult undergarments, wacky Christmas suits for men, retro ski gear and crazy sports gear BUT they also have a Christmas Pajamas Collection!
If you know me, I LOVE-LOVE-LOVE "soft clothes". So, anything that will keep me cute AND comfy during the holidays is perfection in my book. When the Christmas pajamas arrived from Shinesty, I was SO EXCITED! Not just because they were cute but because the fabric is SO soft. Soft like butter. I could live in these pjs and many days I do! It's no lie when I say that these are now the softest, most comfy pjs that I own now. The rest of the family was really excited about the pajamas when they tried them on as well. Even the teenagers didn't complain! We even made a Tik Tok about them!
50 Shades of Santa comes in blue and green but if that print isn't your style, Shinesty has a bunch more to choose from including Grandma's Quilty Pleasure, The Lincoln Log Love Lady, The Christmas Tree Camo and the Ninja Bread.
We love our new Christmas jammies and if you are looking for some of the softest jammies around, these are it!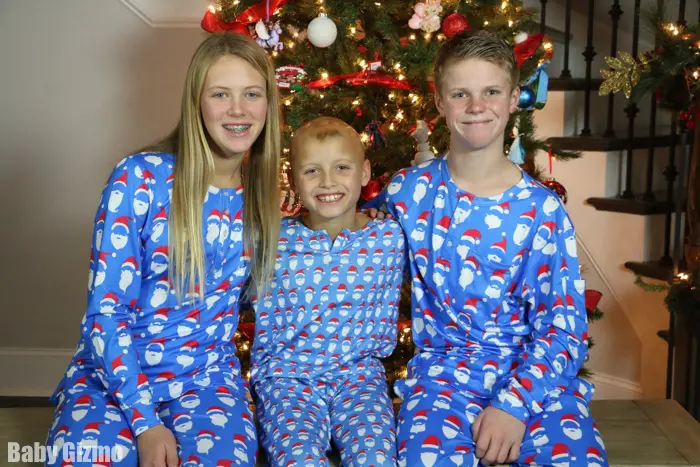 SIZING IS IMPORTANT
My only piece of advice for ordering family pajamas from Shinesty is pay attention to the sizing and size UP for the kids. My two teens wear adult smalls and those fit perfectly! But my 10 year old usually wears a solid size 10 but his Shinesty Christmas jammies shirt is pretty short. Unusually short considering the pants fit perfectly. He's not a tall kid but the shirt just hits his waistband and when he raises his arms, it's a half shirt. 🙂 It will work for this year but I should have sized up because it seems like the kid sizes run small (and short!). In case you are wondering, my husband and I are wearing a Mens L and a Womens L in the photos.
If you would like more information on the Shinesty Christmas pajamas, you can visit their website at: https://www.shinesty.com/collections/matching-family-christmas-outfits
*Disclosure: Thanks to Shinesty for sending us family pajamas.