Each year I throw an Easter party at my house for my kids (6 & 3) and their friends. It is a big hit, and is something they both look forward to. Now I am far from Martha Stewart so if I can do it, I'm sure you can too. It doesn't have to be difficult or expensive (think Dollar Store plates) to be a big hit with kids.
Just be a little creative (or in my case have a Pinterest account), and don't be afraid to be a little silly and messy. If throwing an all out party sounds daunting to you, just think of it as a really fun play date.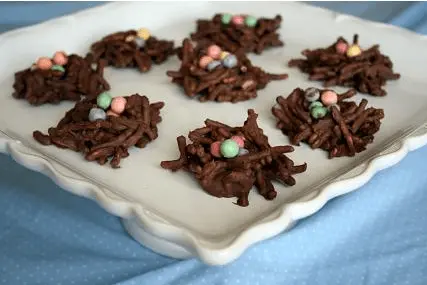 Instead of a traditional cake or cup cakes I opt for a baking craft. The kids have a great time making it, and it doubles as an activity. My two favorites are chocolate pretzel nests, and Resurrection Rolls. Both are easy for little hands, and use only a handful of ingredients. The nests by The Boys Who Lived are super cute and easy.This recipe calls for noodles, but I use pretzels. Give each kid a Ziploc with some pretzels to smash (boys love this part), and mix the pieces with melted chocolate. Spoon this mixture out on wax paper to make the nest. Add some candy coated chocolate eggs, and a "Peep", and bam!!! You have a completely edible and absolutely adorable bird's nest.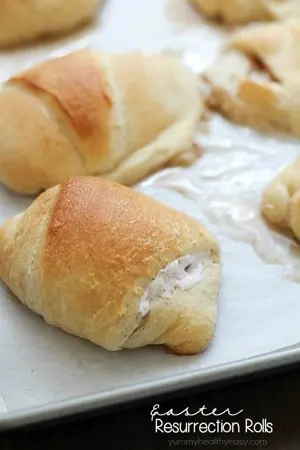 If you would like to tell the story of Jesus, the Resurrection Rolls are a perfect illustration. (Find the directions here by Yummy Healthy Easy) I have personally done both of these food crafts, and they are a big hit with kids & adults. I normally do these at the beginning of the party, and let them eat it near the end. This way the kids can do other activities while waiting for them to dry/cook. Plus it is always a good idea to sugar kids up just before they leave your house. Just say'n.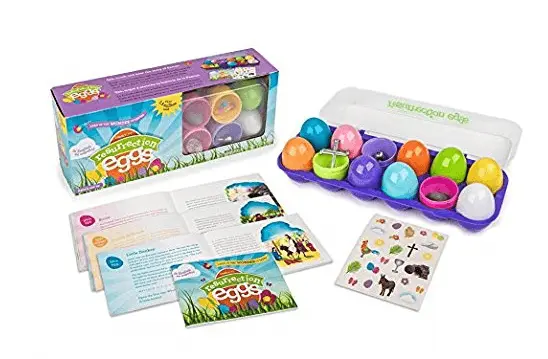 I normally follow up this exciting activity with a calming story and or music time. Kids love books about baby farm animals, spring flowers, and Easter. I always get my books on loan from the public library. It is free, and there is never any shortage of great picture books. For Christian's, Resurrection Eggs are a great way to show kids a visual representation of Jesus' sacrifice. You can get them at any Christian book store, or maybe even borrow a set from your church. If you have more time singing songs like Little Bunny Foo Foo, and maybe doing the bunny hop are sure to be a big hit with small kids. Make your own paper plate shakers by decorating cheap paper plates, adding rice or beans, and hot gluing together like a sandwich.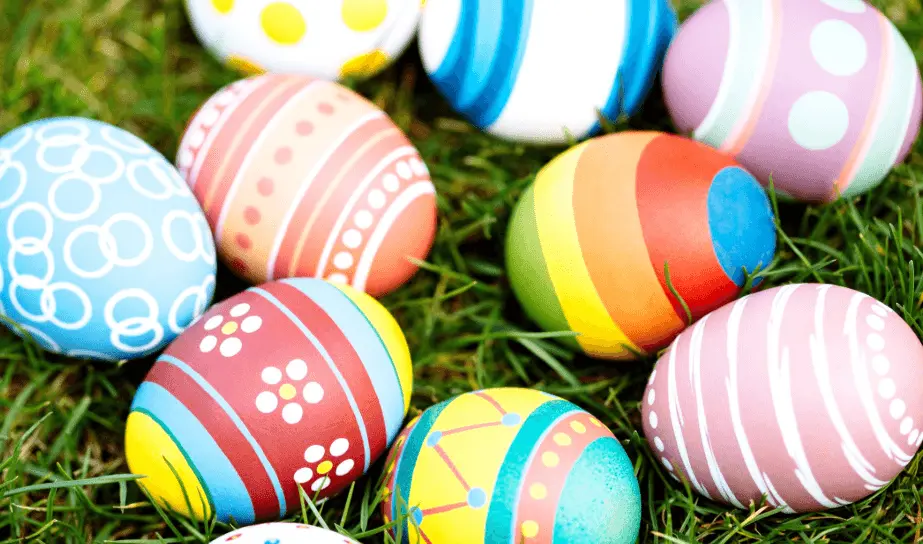 What Easter party would be complete without an egg hunt? You can supply all the eggs yourself, or ask each guest to bring a dozen or so. Have kids write their names, and put stickers on some paper lunch sacks to collect the eggs. Just be sure to put a tiny piece of Scotch tape on each egg to keep it closed. This prevents the eggs from opening up on the ground, and also keeps little fingers from easily opening them before mommy says yes. Also, don't forget to add fun stickers or tiny bubbles to some eggs as an alternative to chocolate candy.
All of the above can easily take up a two to three hour party. However, if you have more time here are some extra time filler ideas…..
Bubble Blowers: Cheese cloth fit over the end of a decorated toilet paper roll, and secured with a rubber band. Makes a foam of tiny little bubbles, and kids love it!
Pin the Tail on the Bunny: This homemade game is just like the better known Pin the Tail on the Donkey just with a hand drawn bunny, and cotton balls for a tail.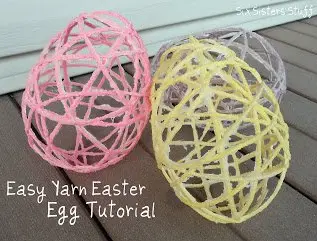 Yarn Decoupage Egg. (by Six Sisters Stuff) This is too hard for toddlers, but is great for older preschoolers or grade-schoolers. Simply take a balloon, and inflate it to the size you want for your egg. Take yarn dipped in decoupage (slightly watered down glue), and wrap it around and around and around your balloon. Let it dry, and gently pop the balloon. You can pre-make these to hang as decorations too!!!
Remember you party doesn't have to be expensive or perfect to be fun. Your young child is not going to judge how well you drew the bunny for a game, or if your chocolate nest is lop sided. She or he is just going to be thrilled that their mom planned something fun with their friends. All of the ideas above are inexpensive, easy to do, and lots of fun for little hands. If you don't have the time or space for a party you could always use them to add fun to your family's Easter Sunday plans.