Enjoy your Sunday brunch without the guilt! These Belgian Waffles are soft and moist on the inside, but crisp on the outside. Brighten them up with a drizzle of fresh strawberry syrup and a swirl of fresh whipped cream and they are to die for. You would never guess that they are gluten free, sugar free and packed with protein. And the best part? You simply blend the ingredients in in a blender and the batter is ready to go.
The base recipe was originally a pancake recipe that was given to me years ago by a friend who found it on the internet. I wish I could credit the person who came up with the recipe because it is seriously genius – who would think of cottage cheese, oatmeal, and eggs as the main ingredients for delicious pancakes?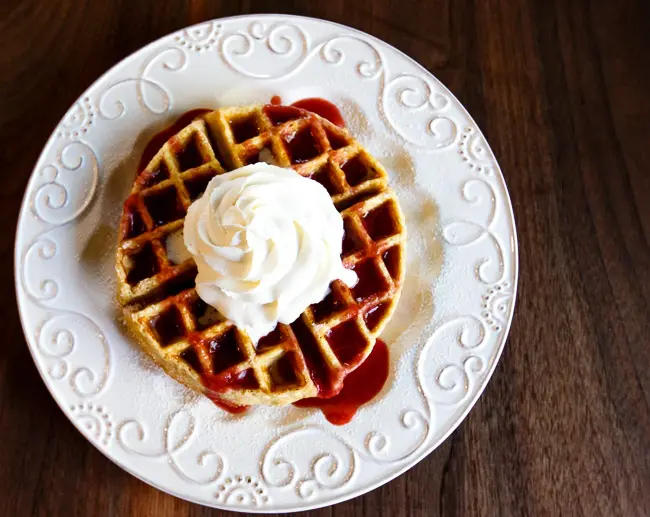 Over the years, I've tweaked the recipe for it to come out perfectly in my Belgian waffle maker. I personally prefer Belgian waffles over pancakes, mainly because you don't have to stand over the stove and watch them while they are cooking – if you haven't noticed by my previous posts, I'm all about good food that's fast and easy to make!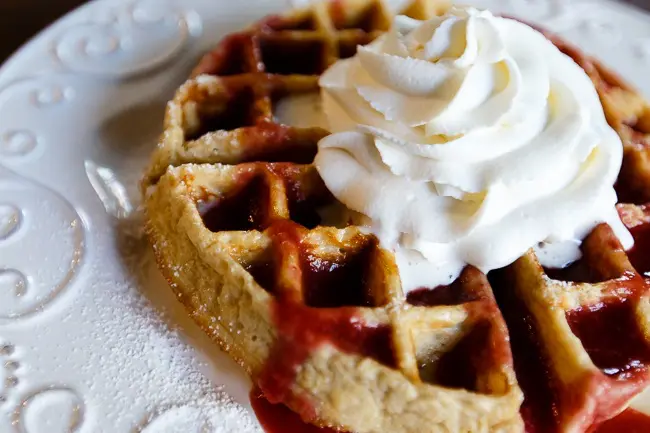 I make these waffles every weekend for my family and over the years I've come up with different toppings and variations to change it up a bit from s'mores waffle sandwiches (stay tuned for the recipe) to my favorite strawberry shortcake waffles, which I'm sharing with you today. I guarantee that if you try this recipe once, you will be hooked!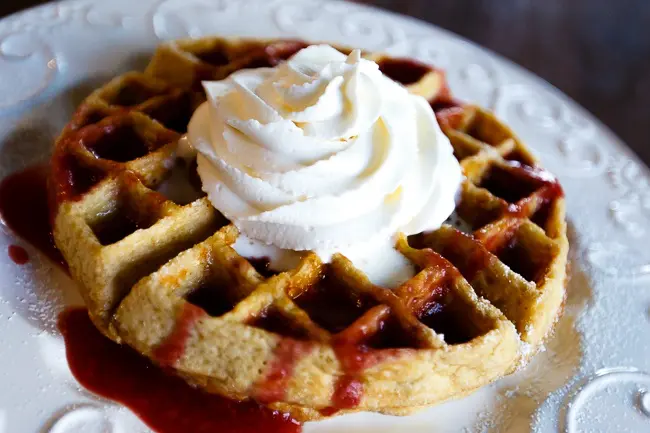 Guilt Free Belgian Waffles
Ingredients:
4 Eggs
1/2 cup Oatmeal
1/2 cup Cottage Cheese
1 Tbsp Coconut Flour
2 Tbsp Maple Syrup
1 Tbsp Powdered Evaporated Cane Juice or Powdered Sugar (optional)
Directions:
Preheat your Belgian waffle iron to medium high.
Place all ingredients in a blender and blend until all the ingredients are broken down.
Spray the waffle iron with an oil spray ( I prefer a coconut oil spray).
Pour the batter into the waffle iron and cook for 2 minutes. Every waffle maker will be different so adjust time/temperature for your brand.
Drizzle with fresh strawberry syrup. (see recipe below)
Swirl with fresh whipped cream. (see recipe below)
Dust with powdered evaporated cane juice/powdered sugar if you really want to indulge.
Enjoy!
Fresh Strawberry Syrup
Ingredients:
12 oz Frozen (thawed) or Fresh Strawberries
2 Tbsp Maple Syrup (adjust to taste)
Directions:
Blend the strawberries in a high-powered blender until all the seeds are broken down.
Pour the blended strawberries into a small saucepan and stir in the maple syrup.
Boil until it reduces down to about ¾ of the original quantity. It should be a thicker puree that coats the back of the spoon.
Maple Syrup Whipped Cream
Ingredients:
1 cup Heavy Cream
2 Tbsp Maple Syrup
Directions:
Add the heavy cream and maple syrup to a mixing bowl.
Using a hand beater or the whisk attachment on the standing mixer, whip on high until it is thick and forms stiff peaks. Do not over beat.
About the author: Rubina Umarji is the owner and executive cake artist of Rubina's Cake Shoppe. After the birth of her son in 2009, she left her career in engineering to focus on her two passions: her family and her edible art. Since then, she's had the opportunity to showcase cakes and gourmet confections to thousands of dessert loving clients as well as over 100 of Hollywood's hottest stars and has had her cakes featured on television. Now her days are focused on teaching cake decorating classes to all ages. Her favorite students are her two children, ages 3 and 5. She frequently writes cake decorating tutorials and recipes on the Rubina's Cake Shoppe Blog (www.rubinascakeshoppe.com/blog).