Whether you're going on an extended vacation or a traveling family who stays at hotels often, staying at a hotel for a long period of time in tight quarters can be tough. Especially if you have children. My husband's job requires that he travel once in awhile. Sometimes my son and I travel with him and stay in a hotel for weeks (or a month) at a time so I've learned my fair share of helpful tips when it comes to this subject. Read on for tips on making long hotel stays work!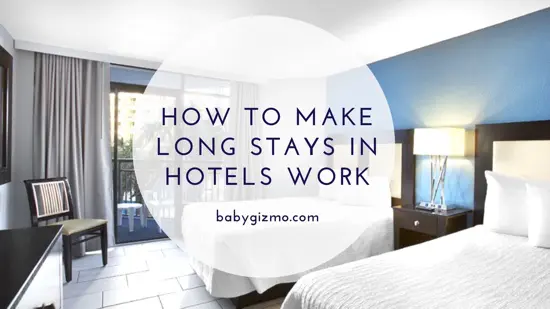 –Choose your hotel wisely.
If you're going to be in a hotel for a long period of time, you want to make sure that it's a nice one and has everything you need for your long stay. Use online resources like Trip Advisor to find the best one for you and your family!
-Choose a hotel with free breakfast.
Having free breakfast downstairs every morning waiting for me is such a treat. It means I don't have to get my son strapped in his car seat first thing in the morning and go driving to hunt down breakfast. It's waiting for me, it's free, and I don't have to do any work for it.
–Stay at a hotel with washers and dryers.
If you're at a hotel for weeks at a time, chances are you're going to have to do some laundry. If your hotel doesn't have a washer and dryer, you'll have to go hunt down a laundry mat or pay a pretty penny to have someone do it for you. It's so convenient to have washers and dryers just down the hall from you.
-Make sure you have enough space.
This is especially important if you have kids. Make sure you get a sleeper sofa in your room or a suite if you need the extra space. If you have a little one, make sure your hotel provides a crib or anything else you might need.
-Plan accordingly for your pets.
Traveling with a dog like I do? Be sure you choose a pet friendly hotel and let them know you're bringing your best furry friend so they can set aside a special pet friendly room for you.
-Don't forget to pack entertainment for your kids.
Coloring books, toys, books, art supplies. Don't forget that your children are going to get bored being cooped up in the hotel room all day with nothing to do so plan wisely.
-Get out often!
The worst thing you can do is sit in your hotel room all day and go stir crazy. I think it's so fun to explore the new cities my husband stays in. I get my son, my dog, and I out for the majority of every single day to go explore new things and have fun. We love adventuring.
-Use the internet.
Look up fun local things to do in the area you're staying. We just recently got back from a month long stay in Fresno, CA. I knew nothing about the area but I found tons to do. We went to the zoo, we checked out a kid friendly little amusement park, and we went to every single playground and park the city had to offer. We even found a little local bookstore that did a story time every Friday and we were there each week. Most cities offer a wide range of free and fun activities for your little ones, you just have to find it.
-Go shopping.
The best way to see a new city is to see the shopping they have to offer! I always enjoy going to all the malls and shopping centers of each city I visit. It doesn't mean I always have to buy something (although I'd like to) but it's still a fun thing to do.
-Save money by getting a hotel with a fridge and microwave and stocking up.
The first thing we do when we check into a hotel for an extended stay is go to the grocery store. We get plenty of healthy snacks for our hotel like fruits, vegetables, string, cheese, yogurts, and crackers. It's nice to have food on hand so you don't have to leave the hotel every time you're hungry and it saves money, too.
-See if your hotel offers discounts for extended periods of times.
Many hotel chains will offer you a discount if you're staying for a long period of time and lots of hotels have reward programs that you can sign up for where you can rack up points for each night you stay. If you stay often enough, you may just get your next hotel stay free of charge!
I hope that these tips have helped to give you some new ideas of ways that you can make your next hotel stays easier for you. Think of it as a mini vacation and a new adventure and it will all be smooth, fun sailing.