The holidays are over. We returned from visiting family late on Saturday night and knew that Sunday would be our unpacking and getting rid of any remnants of Christmas day! After sleeping in, we let the kids make their own breakfast while we starting packing all the holiday decor away. Sure, I knew that they would mess up the kitchen but how much harm could they do with frozen waffles and some syrup?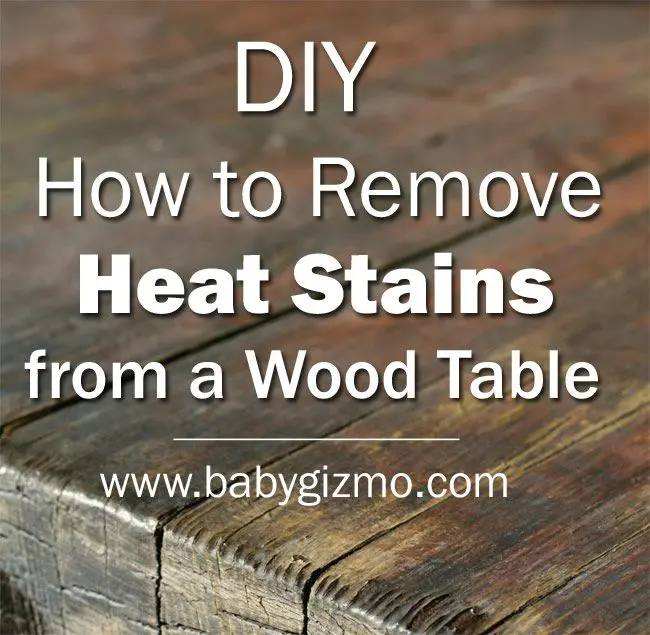 Famous last words, right? Well, one of the kids decided to microwave a plate with waffles on it and proceeded to set the very hot plate directly on our kitchen table. Did they grab a placemat that I'm always preaching that they need to use when eating at the table? Nope. Of course not. Well, that plate put a heat stain on our beautiful wood table. Yep, a nice circle of white that was about 2 inches white on my expensive (at least $1,000 table is expensive to me) table! Yep, we panicked.
We aren't new to the heat stains on a wood surface because a couple months ago my husband put a hot coffee cup directly on our wood coffee table and the same thing happened. Not knowing what to do and figuring that he had just ruined the coffee table, we have been looking at that white mark for a while now. But the kitchen table is different. It's more expensive. And while we planned to get new coffee tables to match our new couch anyway, the kitchen table isn't going anywhere.
We decided to consult Mr. Google to see if there was anything we could do. Sure enough, there were plenty of home remedies from baking soda and toothpaste to the most popular remedy of using a steam iron. Yikes, using a steam iron on a wood table to remove a heat stain?? It couldn't work, right? Not to worry, there were plenty of YouTube videos to prove us wrong and we saw plenty of people have success with the iron method.
Holding our breath that we wouldn't ruin the table anymore, we decided to give it a try. You know us though, we couldn't do it without turning on the video camera.
So, without further adieu, Mr. Gizmo is back in today's Baby Gizmo video to show you IF the DIY remedy of using a hot steam iron to remove a heat stain on a wood table worked!