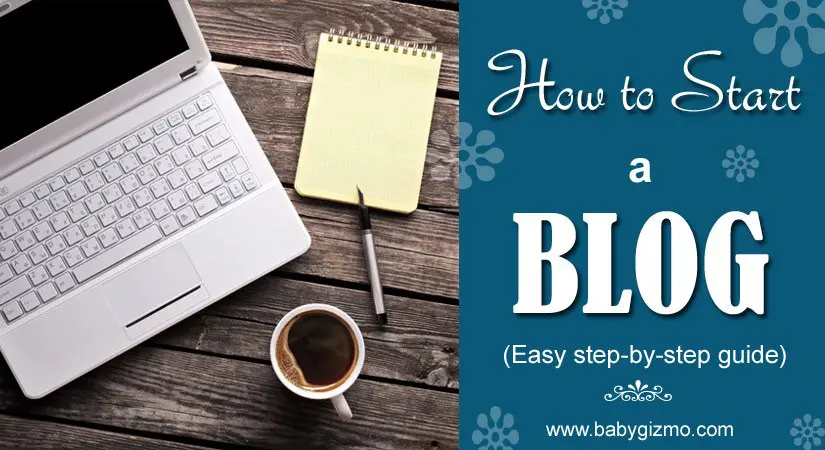 I am constantly getting the following questions from Baby Gizmo users – "How did you start your website?" and "Can you help me start a blog?" The truthful answer is that when I started having babies, I was VERY passionate about all things baby and I couldn't find a good source of trusted reviews for baby gear. Sure, CNET existed, but it really lacked coverage of baby products. In 2005, I started out to become the CNET of baby gear and provide users unbiased reviews, as well as, the best prices. Well – Amazon pretty much sank the market on price comparing engines and my true passion was for videos.
So, after adjusting and tweaking the Baby Gizmo business concept, I finally decided that I wanted to love what I do and worry about the rest later. Ten years ago no one was doing video reviews on basically anything! YouTube was brand new and video reviews were just unheard of at the time. The market was ready for the first video review company focused on only baby products.
Do you have life lessons you want to share? Do you love to write? Do you have a passion that you want to share?
BUT — Are you lost on how to get started? Don't know where to begin? Aren't technical and need the right resources to help? This article will help you with a step-by-step guide to getting started. Yep, we are showing you how easy it is to start your very own blog to blog about whatever you are passionate about!
Steps:
Buying a domain name
What is a domain name? A domain name is the URL that you go to when you want to find your website. Technically, all websites are made up of just numbers called an IP address, but it would be very hard to remember 64.207.188.82 if you wanted to go to BabyGizmo.com.
So, to find your website you need to pick a name that is easy to remember. The best way to start is to brainstorm on domain names and make a list of the names. My suggestion is to think of something catching, clever or unique. Stay away from things spelled incorrectly or with special characters like hyphens. If a user can't remember your name, they won't be able to find you!!!
When you have your top five choices, head over to BlueHost to see if they are available. Enter the name of the domain name in the left box below. For example – if you enter in "yahoo" with the drop down .com you will see that it is taken. Try your entire list of domain names to see which ones are available. You will also see the option on the right that allows you to use a domain name if you already bought one.

Get hosting
Once you have completed step 1 above, it is time to get the correct hosting. BlueHost makes it very easy for a new user to get set up and started, but first things first. What is hosting? Hosting takes your domain name and allows users to access that domain name around the world. Just having the domain name doesn't allow you to create content for others to see – you need hosting for that to happen. There is a monthly or yearly fee for hosting. Typically a hosting company will give you a discount for paying for a year in advance.
My advice is to go with the BlueHost shared hosting because it is the most economical option. Keep in mind that you can always upgrade if you are really kicking butt and have a ton of traffic. Is there free hosting out there? Yes! But like your mama always told you – "nothing in life is really free". Shared hosting will cost you around $5 a month, and if you don't want to pay that little of an amount, then you might not want to really blog.
When I first started Baby Gizmo, I went with BlueHost for my hosting because it was very economical and it allowed me to experiment without feeling like I was spending a fortune. The nice features of BlueHost are:
You get a free domain name if you sign up.
You get experts that can fix almost anything you screw up.
You get support that is always available.

BlueHost gives you a number of different options for hosting, but don't let this confuse or discourage you. I will tell you the best option to get you rolling. Currently, they offer these three shared hosting options: Basic, Plus, and Pro. I would go with the Basic option for 12 months at $5.95 per month. I know the banner above shows the price at $3.95, but that is for a 36 month commitment. I would also add the option for Domain Privacy Protection for 0.99 cents per month. This will make sure you don't have your personal mailing address available for people to find. The other options on the screen aren't necessary until you get rolling.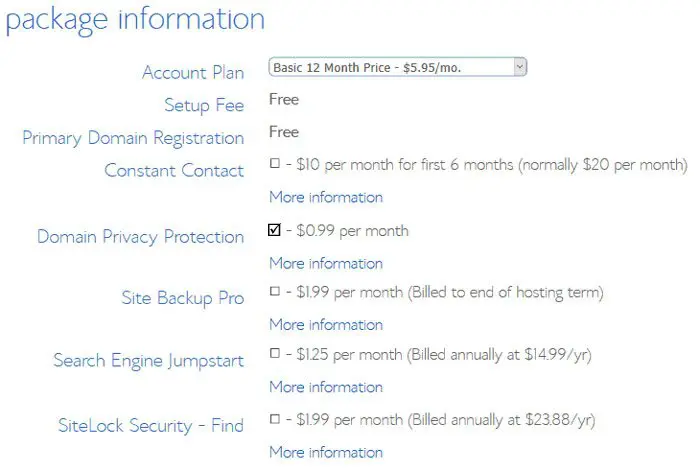 Installing WordPress
In order to get started on your new blog, you need to install WordPress on your new hosting account. During your sign up process after you put in your credit card, you picked a username and password for your Bluehost account. BlueHost will send you an introductory email with login instructions. Make sure you keep that in a safe place!
Getting your WordPress platform installed:
Go to BlueHost and click on Login in the upper right hand corner. You are now logged into your control panel.
Navigate to MOJO Marketplace.
Click on the One-Click Installs

Choose WordPress.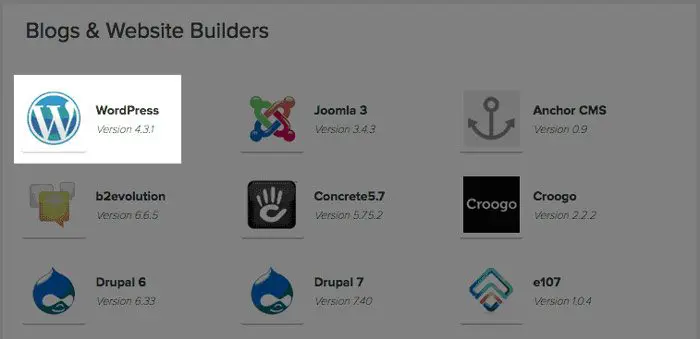 Click on the Install

Choose the domain name to install it to. If you only have one domain it should default in the drop down. Leave the directory blank.

If necessary, you can edit the email address, username and password for the new WordPress installation. Click "advanced options" and you can change those settings.
Read through the license and service agreements and check the boxes.
Select the Install Now

To access your new WordPress hosted website, type the login URL into your web browser. The address will be www.yourdomainname.com/wp-admin. It will take you to a login screen that will require you to enter in the username and password that you used when you set up your WordPress installation.
Theme and Design
Now that you have everything installed, let's get it looking nice for your readers. A theme is the look and feel of your new website. It will determine your colors, content area, your sidebars, your menus, and your header. The nice thing about themes is there are a ton of them out there for free and they are very easy to install and make your own. There are default themes on Bluehost but if you want get a theme that is more specific to your blog, we recommend Template Monster. They have a ton of great templates to choose from.

Once you pick your theme, all that's left is to set it up and voila! You've got your very own blog!