Ice Cream Brownie Starwiches
Can you believe it?!? 4th of July is right around the corner. Summer just started and I feel like it is already almost half over. In a few short weeks, kids will be holding their sparklers, the fireworks will be filling the sky and Ice Cream Brownie Starwiches will be in our hands.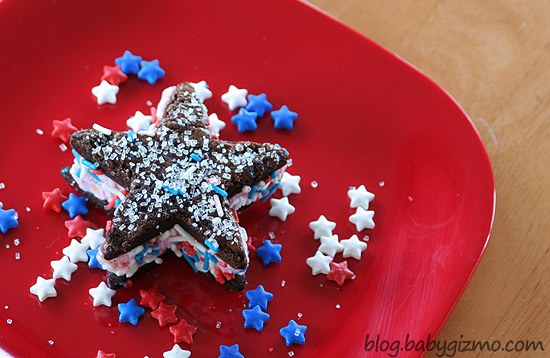 Ice cream sandwiches are super popular in the summer but any old out-of-the-box sandwiches just won't do for Independence Day. It's one of those holidays that you have to do it up right. Everyone digs out the red, white and blue and makes it a party.
Well, you'll be the hit of the party if you show up with Ice Cream Brownie Starwiches. These bad boys are a hit with kids and adults alike and find the right red, white and blue sprinkles and 4th of July plates and you have a winner. It's like a brownie sundae in your hand! Winning.
There are a couple tips and tricks to making these simple to make in the recipe below, so make sure you pay attention.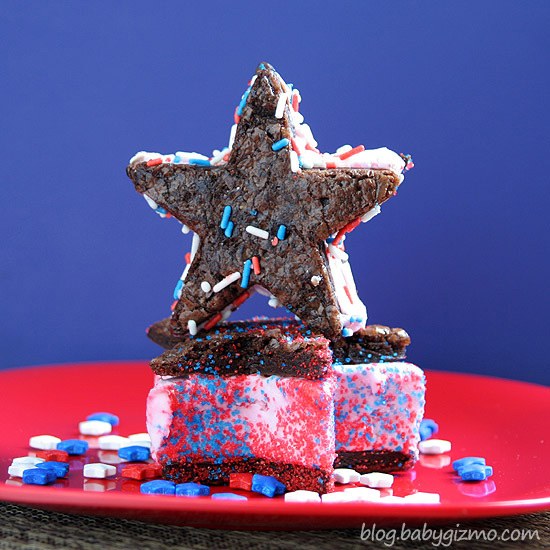 Ice Cream Brownie Starwiches
Ingredients:
Ice Cream (1/2 gallon any flavor, I choose strawberry!)
Family-Size Brownie Mix (+all the brownie ingredients)
Metal Star-Shaped Cookie Cutter
Red, white and blue sprinkles
1 cup melted chocolate (optional)
Preparation:
1. Preheat the over to 350 degrees.
2. Prepare the Ice Cream: Take the 1/2 gallon of ice cream out of the freezer for a few minutes to soften. (You want it soft enough to scoop out of the container and into a pan.) You could also make your own ice cream but I didn't this time. Line a 9×9 baking pan with parchment paper. Spoon almost all the ice cream into the prepared pan and smooth out the top so that it is as flat as you can get it. Cover the pan with plastic wrap and put back in the freezer. *Do not skip this step because this is going to make assembling the starwiches so much easier!
3. Make the Brownies: Line the bottom of a jelly roll pan with parchment paper. (I used a Wilton 44″ x 29″ pan.) Make the brownie mix according to the package. Carefully spread the brownie mix into the prepared pan making the batter go all the way to the sides.

4. Bake the brownies at 350 degrees for 12-13 minutes. Watch them carefully because you don't want to burn them but you don't want them gooey either. Since these brownies are thin, they are easy to get them perfect but you don't want to burn them.
5. Remove from the oven and cool. Once they are completely cooled, take a star-shaped cookie cutter and cut out as many stars from the pan as you can. Choose a star cutter the appropriate size that you would like your starwiches.(Note: A metal cookie cutter like the one shown below will work the best because you will need to use it to cut out the ice cream too!)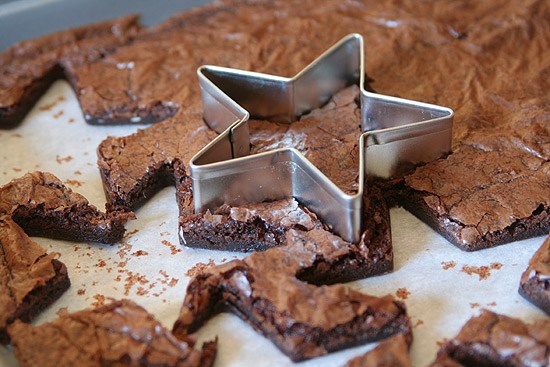 6. Put all the cut-out brownie stars on a plate and put into the freezer for about an hour or until frozen. Soft (non-frozen) brownies will be much harder to fill with ice cream.
7. Assembling the Starwiches: Fill a small bowl of warm water that is big enough to fit your star cookie cutter in. Remove frozen stars and pan of ice cream from the freezer. Dip the same star cutter into the warm water to warm it up a bit and then into the ice cream to cut out a perfect ice cream star to fill your starwich. (Note: Don't dilly dally during this step because the ice cream and brownie stars will start to thaw and make this process much harder!). Cut out as many ice cream stars as sandwiches you plan to make.
Take one brownie star and turn upside-down so the top of the brownie will be on the outside of your starwich. Set an ice cream star on top of the brownie and line it up. Top with a second brownie star and lightly press down. Pick up your starwich and gently sprinkle your red, white and blue sprinkles along all the sides while holding over a plate. Immediately put the starwich on a plate and return to freezer. Repeat this process until all the Ice Cream Brownie Starwiches are assembled.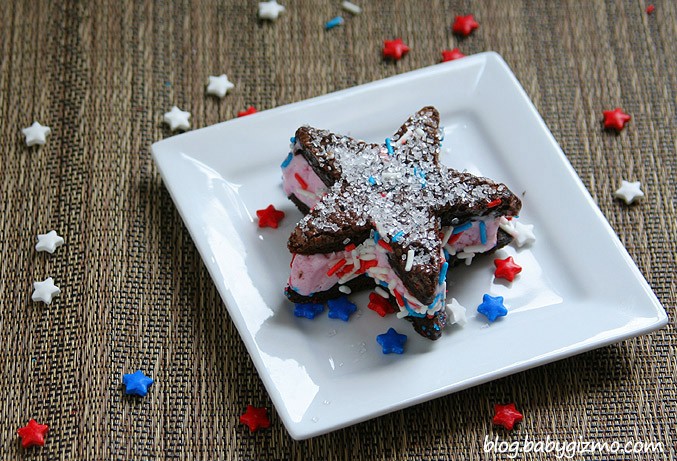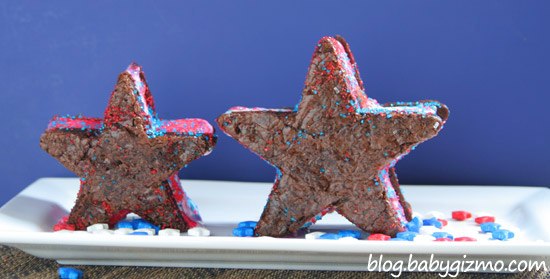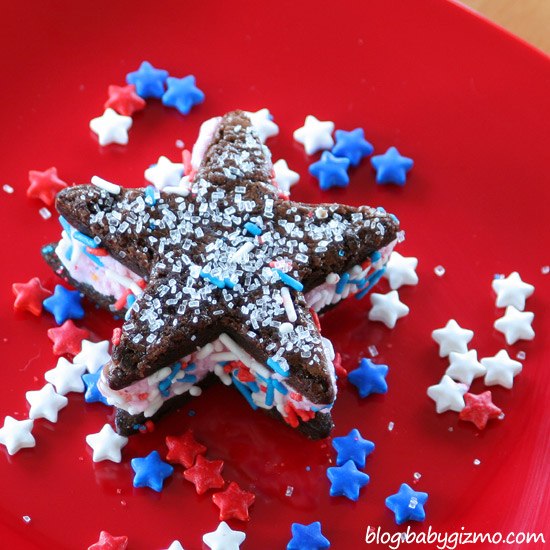 8. If you want to take it a step further like I did, you can melt 1 cup of chocolate (any kind!) and dip half the star and sprinkle with additional sprinkles. These are D-E-L-I-C-I-O-U-S!!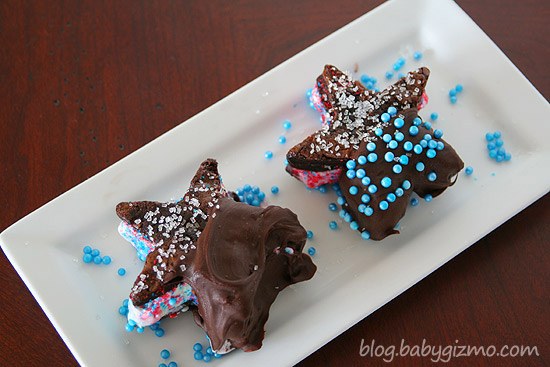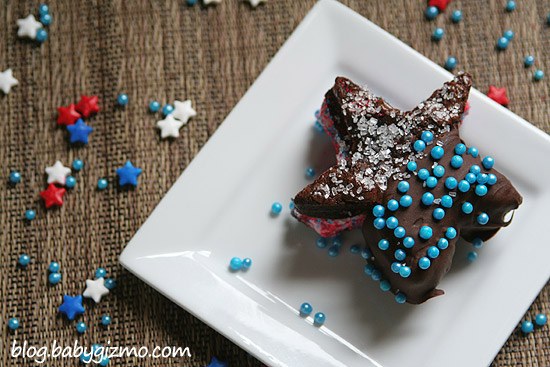 9. Once you are done assembling all the starwiches and they have been in a freezer a bit, you can go back and individually wrap each one with plastic wrap.
10. That's it. They are super yummy and easy to make. (NOTE: I highly recommend cutting out the ice cream stars because it is much, much harder to try to smear the ice cream on the brownie stars because of the shape.)
*If you like this recipe, please PIN it to share it! Thanks!
Don't forget to follow us on the Baby Gizmo Facebook Page for up-to-date reviews, recipes, travel features and videos!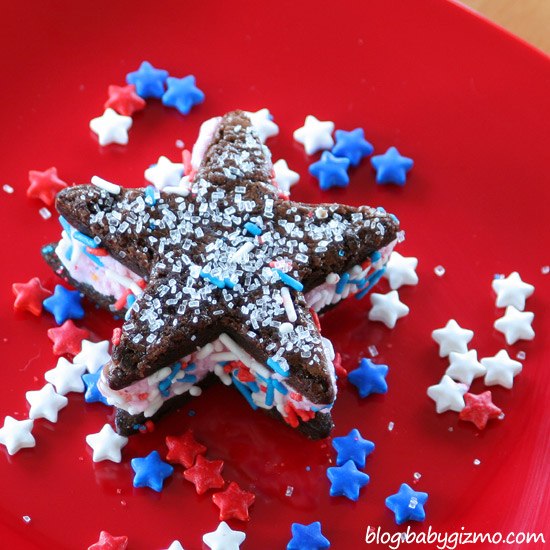 Ice Cream Brownie Starwiches
Ice Cream Brownie Starwiches
Ingredients
Brownies
Ice Cream

1/2 gallon any flavor, I choose strawberry!

Family-Size Brownie Mix

+all the brownie ingredients

1/4

cup

water

1/2

cup

vegetable oil

2

eggs

Metal Star-Shaped Cookie Cutter

Red

white and blue sprinkles

1

cup

melted chocolate

optional
Instructions
Preheat the over to 350 degrees.

Prepare the Ice Cream: Take the 1/2 gallon of ice cream out of the freezer for a few minutes to soften. (You want it soft enough to scoop out of the container and into a pan.) Line a 9×9 baking pan with parchment paper. Spoon almost all the ice cream into the prepared pan and smooth out the top so that it is as flat as you can get it. Cover the pan with plastic wrap and put back in the freezer. *Do not skip this step because this is going to make assembling the starwiches so much easier!

Make the Brownies: Line the bottom of a jelly roll pan with parchment paper. (I used a Wilton 44″ x 29″ pan.) Make the brownie mix according to the package. Carefully spread the brownie mix into the prepared pan making the batter go all the way to the sides.

get them perfect but you don't want to burn them.

Remove from the oven and cool. Once they are completely cooled, take a star-shaped cookie cutter and cut out as many stars from the pan as you can. Choose a star cutter the appropriate size that you would like your starwiches.(Note: A metal cookie cutter like the one shown below will work the best because you will need to use it to cut out the ice cream too!)

Put all the cut-out brownie stars on a plate and put into the freezer for about an hour or until frozen. Soft (non-frozen) brownies will be much harder to fill with ice cream.

Assembling the Starwiches: Fill a small bowl of warm water that is big enough to fit your star cookie cutter in. Remove frozen stars and pan of ice cream from the freezer. Dip the same star cutter into the warm water to warm it up a bit and then into the ice cream to cut out a perfect ice cream star to fill your starwich. (Note: Don't dilly dally during this step because the ice cream and brownie stars will start to thaw and make this process much harder!). Cut out as many ice cream stars as sandwiches you plan to make.

Take one brownie star and turn upside-down so the top of the brownie will be on the outside of your starwich. Set an ice cream star on top of the brownie and line it up. Top with a second brownie star and lightly press down. Pick up your starwich and gently sprinkle your red, white and blue sprinkles along all the sides while holding over a plate. Immediately put the starwich on a plate and return to freezer. Repeat this process until all the Ice Cream Brownie Starwiches are assembled.

If you want to take it a step further like I did, you can melt 1 cup of chocolate (any kind!) and dip half the star and sprinkle with additional sprinkles. These are D-E-L-I-C-I-O-U-S!!

Once you are done assembling all the starwiches and they have been in a freezer a bit, you can go back and individually wrap each one with plastic wrap.

That's it. They are super yummy and easy to make. (NOTE: I highly recommend cutting out the ice cream stars because it is much, much harder to try to smear the ice cream on the brownie stars because of the shape.)
Nutrition
Calories:
263
kcal
Carbohydrates:
12
g
Protein:
3
g
Fat:
23
g
Saturated Fat:
16
g
Trans Fat:
1
g
Cholesterol:
42
mg
Sodium:
18
mg
Potassium:
143
mg
Fiber:
2
g
Sugar:
8
g
Vitamin A:
71
IU
Calcium:
20
mg
Iron:
2
mg