Is Six Flags Fright Fest kid-friendly or should you steer clear of it with kids?
We were looking for something fun to do this weekend. It was predicted to be a gorgeous weekend (80 degrees and sunny is usually unheard of in Chicago in October!) and I wasn't going to let this one by without a fun event.
Since you can only visit the pumpkin patches so many times in October, I was looking for something different. It needed to be outside(remember the weather prediction) and it needed to be kid-friendly.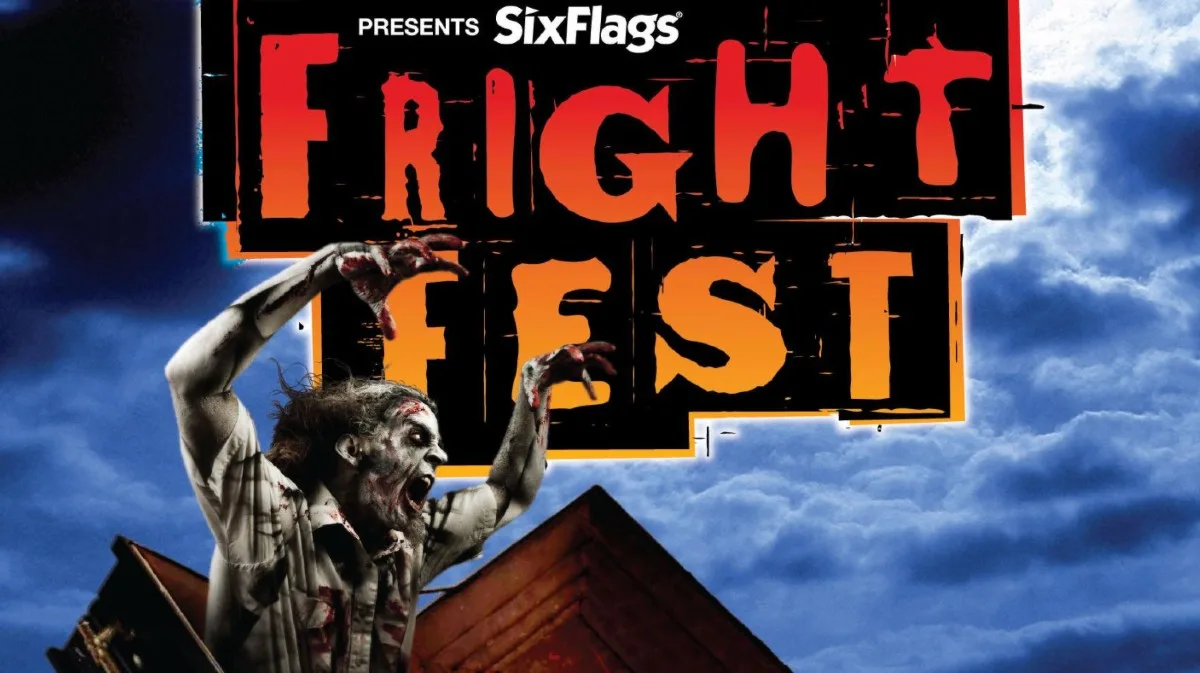 This wasn't an event for me but for my mini-gang – a 2, 4 and a 6 year old. After hearing a radio commercial for Fright Fest at Six Flags Great America, I decided that was it. It was only an hour and a half away in Gurnee, IL (north of Chicago) so it would make a great day trip! Obviously, I totally ignored the word "Fright" in the title of the event since I figured it would be perfect.
I hadn't been to Six Flags in almost 20 years but I have to say that I pretty much grew up at the Six Flags in St. Louis. With our season passes in hand, we frequented Six Flags as a child more times that I can count. I have very fond memories of the amusement park and all the rides, food, and shows that it had to offer. My very first concert was seen at Six Flags when I was in 6th grade. Technotronic. Don't judge.
As I was planning our outing to Six Flags, I started to worry that "Fright Fest" wouldn't be the best idea for a toddler and two small children. I went to the internet. Honestly, I didn't find the answer I was looking for. It does say on Six Flags website that "it is one of the most terrifying Halloween events in the world!"
Okay sure, companies lie all the time that they are the "best" or "scariest", I never believe a company's website. Was it too scary for small children? Well, I was about to find out. We would just stay clear of the Massacre Medical Center and the Mausoleum of Terror, right?!? I figured it was what I do – report to parents on things that are good and bad for their kids. Yes, it was at the expense of my kids potentially having nightmares if it went terribly wrong. Don't judge.
Six Flags Fright Fest ARRIVAL
We started off the day on a good foot and didn't realize what a good choice we made. I didn't even check to see when the park opened and just planned to leave the house around 9am which meant a 10:30am arrival. When we pulled up to the parking gate, I was wondering why it wasn't busier for a holiday (Columbus Day) weekend.
After the shock of the $20 parking fee, I realized the park didn't open until 11am which was still 25 minutes away. Little did I know that arriving this early was brilliant! We parked in the second row from the front. By the time we unloaded the double stroller, diaper bag, snacks, sippy cups, and water bottles and put the kids' shoes on, it was pretty much time for the park to open.
As we waited in the short line to get in, I started to worry that I made a bad decision and it was going to be too scary for the kids. After seeing the people walking in with scary make-up and bad hair, I was nervous. Oh wait, that wasn't for Halloween, they were just teenagers. *Trying not to judge*.
I was still nervous. I went directly to Facebook and asked our Baby Gizmo friends. I started to worry more when Aimee said "you are brave" and Endia said "Bad idea….they are only babies…but what you choose to do is your choice…lol". Luckily there were a few that had my back on this one and assured me that it wasn't that scary and the scary stuff is all after dark.
Well, either way we weren't turning back now. We headed in the park and walked right by the lake that was dyed blood red and skeletons and spiderwebs hanging from the trees without a second look from the kids. They didn't see anything but the glorious two-story carousel directly in front of them.
BATHROOMS
Before riding the carousel twice, we hit the bathrooms. We visit every restroom within 10 minutes of arriving anywhere. I have to say that the bathrooms were surprisingly clean. It was complete with a changing table which a mom with a diaper-wearing toddler appreciates and plenty of stalls so there would be no waiting in a last-minute pee-pee emergency.
A bit later in the day we even found "family restrooms" back in Kidzopolis which were basically large private bathrooms (with changing table!) that you can take the whole family and the double stroller in. If you are a nursing mama, you will be happy to know that there is a nursing room in Kidzopolis as well.
Six Flags Fright Fest HEADED TO THE RIDES
When our bathroom break was complete, we ended up walking into Yukon Territory. The kids didn't seem nervous at all and actually enjoyed all the "Fright Fest" decorations. It was similar to our neighbor's decorations but on a grander scale. Lots of big spiders, spider webs, corn stalks, hay bushes, skeletons, but nothing over the top scary.
My 6 year old daughter is a scaredy-cat, so if any child would be scared it would be her. She actually thought most of the scary stuff was funny. There was even a Children of the Corn wall. There were plenty of picture boards (you know the ones you stand behind and stick your head through the hole) that were a big hit with the kids.
The first ride we hit was the Little Dipper. A roller coaster for the little ones (over 42″ tall) but parents could still ride. It was a huge hit! This ride was a great way to introduce little ones to a rollar coaster but on their level.
CAMP CARTOON
After our mini-rollarcoaster pit-stop, we headed to Camp Cartoon. My kids had no idea that their favorite cartoon characters such as Scooby Doo would be the featured characters in this park!
Camp Cartoon was stocked with rides just for the kids. And when I say "kids" – even the 2 year old could ride. It was marvelous! My 2 year old was dying to hop out of the stroller to join the fun and was ecstatic to be riding the rides too.
One of my biggest fears (besides the potential kid nightmares from scary zombies and monsters jumping out at them) was that there would be nothing that the 2 year old could do. Wrong! The 2 year old rode just about everything the other kids rode. He was so excited to be with the big kids. In Camp Cartoon, there were great carnival-type rides without the scary carnies and rickity-old rides. My kids could have spent the entire day in Camp Cartoon.
Six Flags Fright Fest KIDZOPOLIS
After convincing the kids to leave Camp Cartoon to explore more areas, we came upon Kidzopolis. While we thought Camp Cartoon was the bee's knees, Kidzopolis was even better! This was an area designated for everything kid. What I loved about this area was there was one way in and one way out. That's it. No multiple exits for kids to sneak out.
It was an enclosed area. A very LARGE enclosed area but enclosed nonetheless. In the center was a huge Splish Splash Playship playground complete with slides, tunnels and things to climb. The kids were beside themselves. Rides AND a playground?!? They were in heaven.
While it is an enclosed area, my kids are young, it IS a busy amusement park and they outnumber us 3 to 2, we did have to do zone defense. My husband and I stood about 10 feet from each other and blocked the exit while we watched intently at the kids' every move as they enjoyed the Playship.
In the Kidzopolis, there is also more rides for kids (some for kids only and some that the parents can ride too!) from teacups to cars to airplanes. This is also the area that has the fabulous "family restrooms" and nursing room that I referred to earlier.
There is a great stage in back complete with kid-size seats but unfortunately, Six Flags only has shows in the "Kid Challenge Stage" in June, July & August. Really, Six Flags? You can't put on a couple shows a day for the kids in October too? No worries though because the kids were so excited about the rides and Playship that they didn't give the stage a second look. There were also snack stands that were closed for the season in this area as well.
All in all, Kidzopolis was the hit of the day! We spent hours in this area! This area was also one of the scare-free zones later in the day that you could bring the kids without fear of zombies jumping out at them.
COUNTY FAIR
Kidzopolis is right next to the County Fair area. This was also a great area for the kids but beware it will cost you. This is the typical carnival/county fair type game area. You know all those games that you have the chance to win those ridiculously huge stuffed animals that the kids go crazy over.
Throwing balls at tin cans stacked up, trying to ring the top of a bottle, the pony race game, basketball shoot game…they were all there! And just like a carnival they all cost money and they aren't cheap. And it doesn't help when you see winners carrying their giant stuffed bananas dressed like a Jamaican though the park to get your 6 year old obsessed about playing the games. As long as you have kids that can walk away from the games when it's time to go (mine are NOT these kids), it's all good fun.
EATING
There are plenty of food choices in Six Flags. There is a large food court complete with a Panda Express and other food options, but I was really happy to see the familiar Johnny Rockets available. While I know food in an amusement park is always going to be expensive, I'm always happier to pay for food from places that I recognize. The rest of the park was stocked with tons of food stands from ice cream to cotton candy to funnel cakes.
Six Flags Fright Fest TRICK OR TREAT TRAIL
Another scare-free zone was the Trick or Treat Trail located in the Southwest Amphitheater from 11am – 2pm. Your little ones could visit this area complete with kid-friendly Halloween decorations to grab some candy and see some of their favorite Six Flags characters in fun costumes. When we hit the Trick or Treat Trail, Bugs Bunny and Tweety were there waiting for us.
Six Flags Fright Fest TIME FOR THE SCARY
We had been warned that the 4pm parade was the indication to parents of small children that it was about to get scary. You'll notice on their website that all the scary scenes are when it is dark! Once the parade of zombies, ghosts, goblins and monsters was over, they were released to roam the park. Well, I'm no dummy. I took that warning very seriously and we left at 3:45pm.
We had a fabulous day without a scare in sight and I wasn't about to ruin it with a parade of frightening creatures to give my kids nightmares and make my bed occupied by frightened little ones for months to come. Five hours was plenty for my small kids and they were getting a little tired anyway. Plus, we wanted to make this weekend an event so we had reserved a hotel room at the local waterpark resort (Key Lime Cove) across the street.
While the teenagers and adults could be scared out of their wits in the darkness of Fright Night, we would be enjoying a kid-friendly waterpark and arcade across the street. Win for everyone. The kids were happy to go swimming and we were happy to successfully take three small children to Fright Fest without a single fright in sight.
Moral of the story, if you are thinking about taking small kids to Fright Fest at Six Flags, you can totally do it successfully. It's tons of fun, a boatload of things for them the entire day and if you leave before dark, you are all good! If you have older children (teenagers) or people in your party who would like to stay past dark, just keep the kids in the "scare-free zones" in Camp Cartoon and Kidzopolis!
Other good things I noticed about Six Flags Fright Fest for parents:
1) They take their no smoking policy VERY seriously! There are designated areas for smokers and tons of signs throughout the park that if you smoke elsewhere you will be ejected from the park immediately! Love that! You won't have to worry about someone lighting up in line and blowing smoke in your kid's face!
2) While I like to bring my own stroller, there is stroller rental available. Make sure you get there early because it is on a first-come, first-serve basis.
3) My kids were more interested in the rides and games so we weren't able to make any shows. If you are a show-loving family, it's good to know there are 5 different shows with showtimes throughout the day to accommodate you.
4) There are loads of rides, shows and games at Six Flags that would take you days to do it all but this was an outing to do kid-friendly activities only!
INTERESTED IN A SCARE?
If you are interested in a scare (or you have teenagers with you!), it's good to know that Fright Fest offers 3 haunted houses, 5 horrific scare zones, 8 hair-raising shows and nearly 200 roaming monsters throughout the park. Plus, all your favorite rides have been given an eerie makeover. (The monsters don't roam until after that 4pm parade!)
To transform the park they use over 2,000 corn stalks, 7 tons of pumpkins, 50 pounds of blood-red dye, dozens of corpses and hundreds of rubber snakes, bats, skulls and body parts.
Foggers will pump out 1,100 gallons of fog fluid this year. (After dark, of course!)
Visit Six Flags website HERE for more information.
Note: You can find coupons/discounts at Dunkin Donuts.