Having a lightweight, compact stroller is key when you have a baby. You'll want a buggy that is easy to fold, great to travel with and has big features but on a compact frame. The Joovy Kooper is just that! With a lightweight frame, incredibly easy, compact fold, and great storage, the Joovy Kooper is a stroller that you need to know about.
STROLLER VIDEO
STROLLER SEAT
The Kooper seat is roomy measuring 12″ wide with a 17″ seat back and a measurement of 27″ from seat to canopy. It accommodates from 3 months up to 55 lbs. If you'd like to use the Kooper with a newborn, just add the Kooper car seat adapter (sold separately) and you'll be ready to go.
No more stressing over spot cleaning your stroller because the Kooper seat fabric is removable and machine washable which makes our mom hearts happy!
The seat sports a padded, adjustable, 5-point harness for safety and an adjustable leg rest for comfort.
A reclining seat is key for baby to nap on the go, so the deep, one-handed, strap recline is great and easy to do. The seat does not recline flat so it's only recommended from 3 months and up. Not to worry, if you want to use the stroller with a newborn, just purchase the car seat adapter that works with 30 different infant car seats to turn it into a travel system.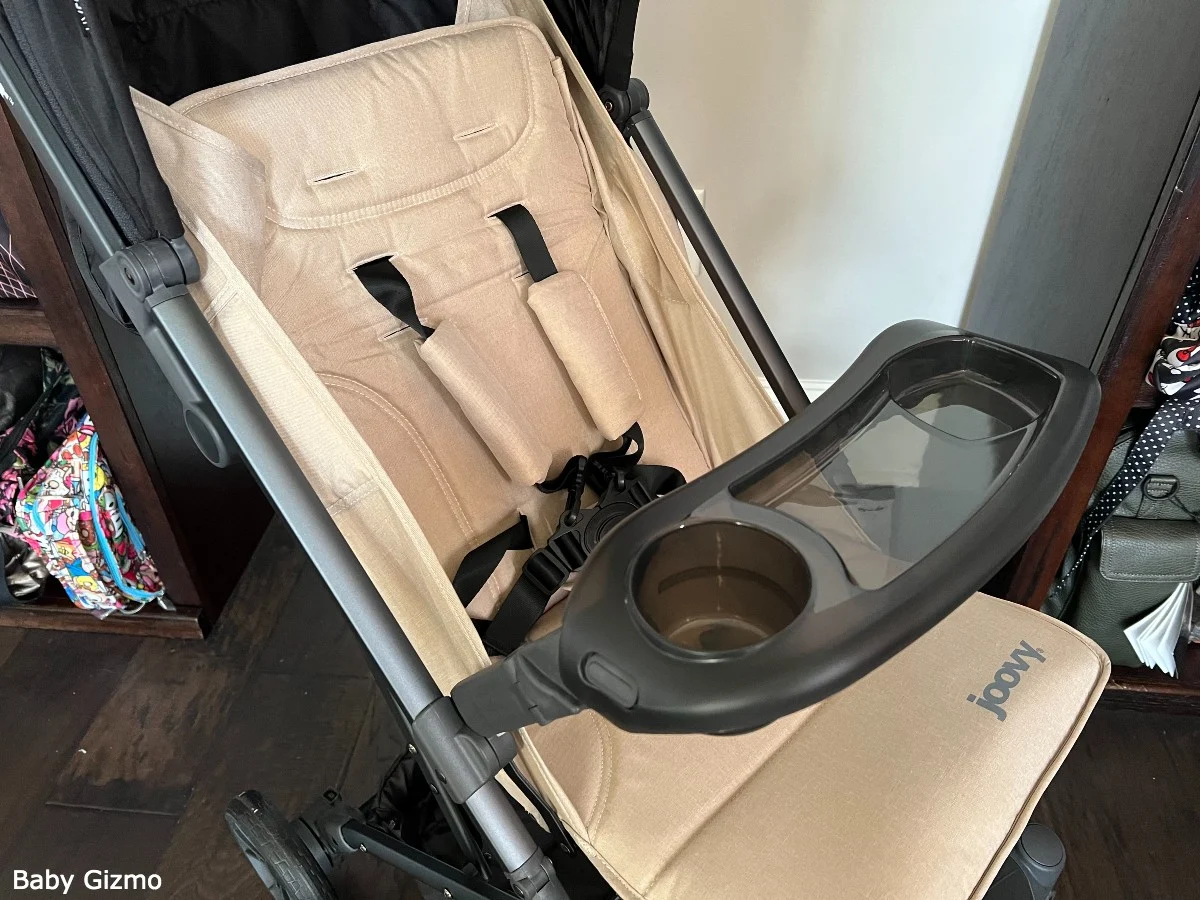 HANDLE BAR
The handlebar on the stroller is not adjustable and measures 40″ from ground to handle. It should be good for taller and shorter parents alike. If you are SUPER tall, you might want to check it out first.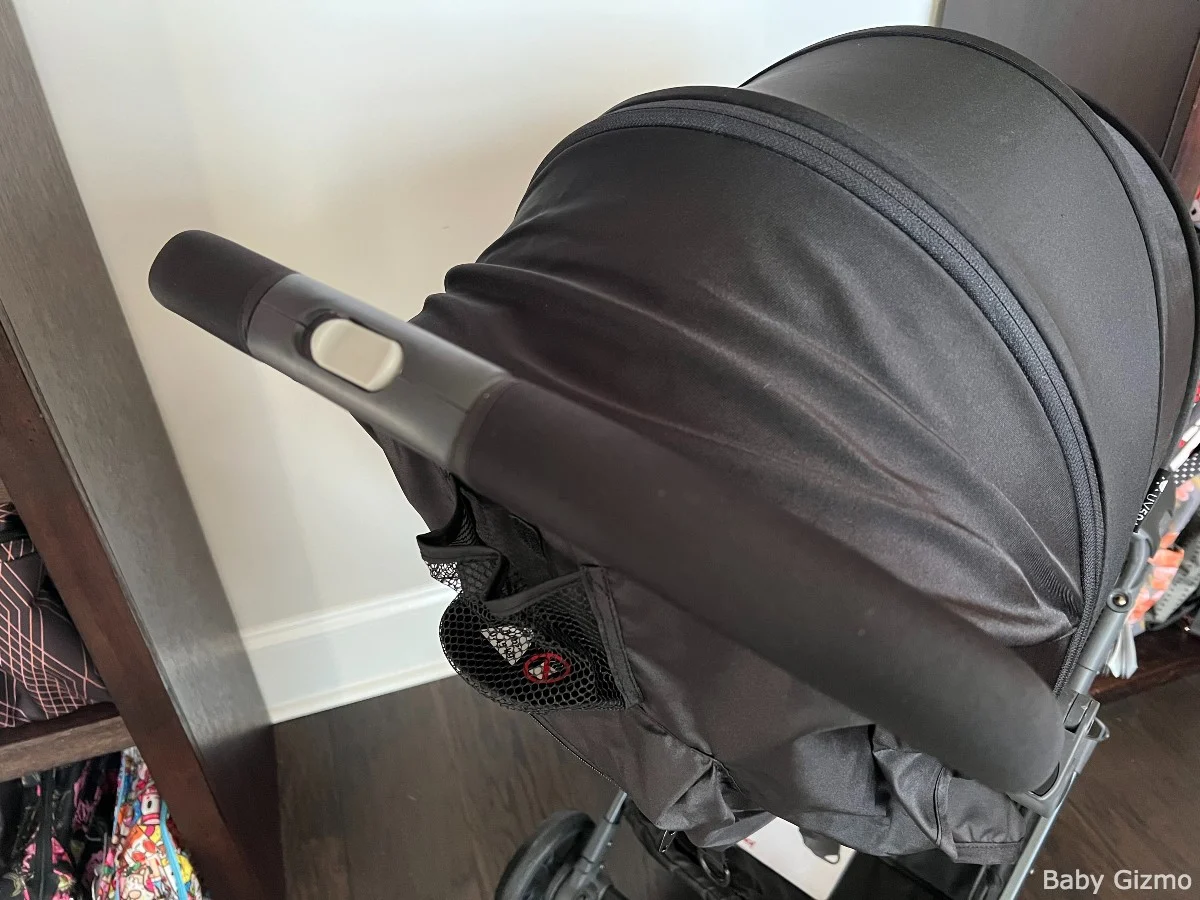 CANOPY
The three panel canopy provides great coverage on it's own but when you unzip the fourth hidden panel, the canopy almost extends to the baby tray making it a FULL COVERAGE canopy. We love that the fourth panel is all mesh to not only allow air to circulate through the stroller seat but to also double as a huge peek a boo window to keep an eye on your little rider.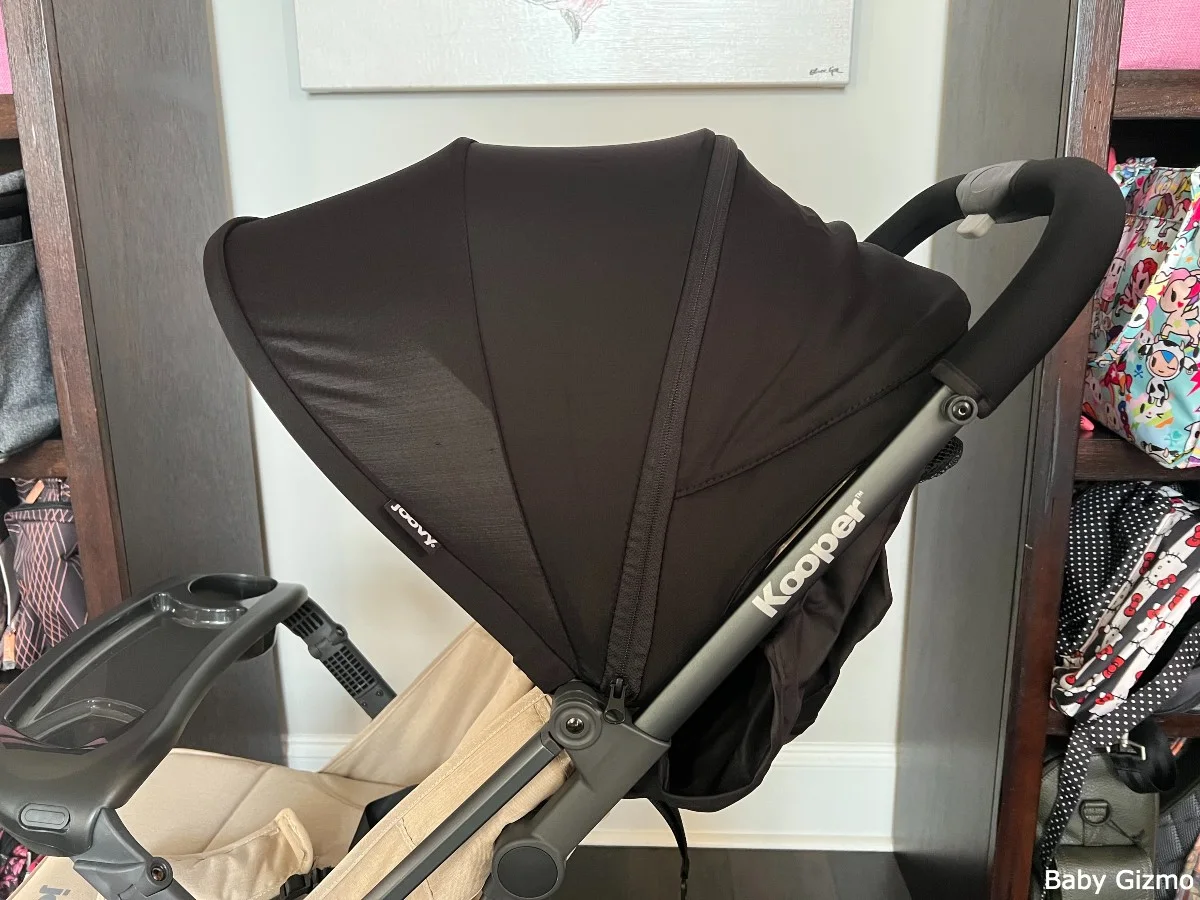 STORAGE
In the world of strollers, bigger is better when it comes to baskets. There is great, easy-to-access basket underneath the seat that can accommodate a medium to large diaper bag. We can easily fit a Ju-Ju-Be BFF or Be Classy. On the back of the seat you'll find a mesh bottle holder and also a big pocket to throw things into like a cell phone, wallet or set of keys.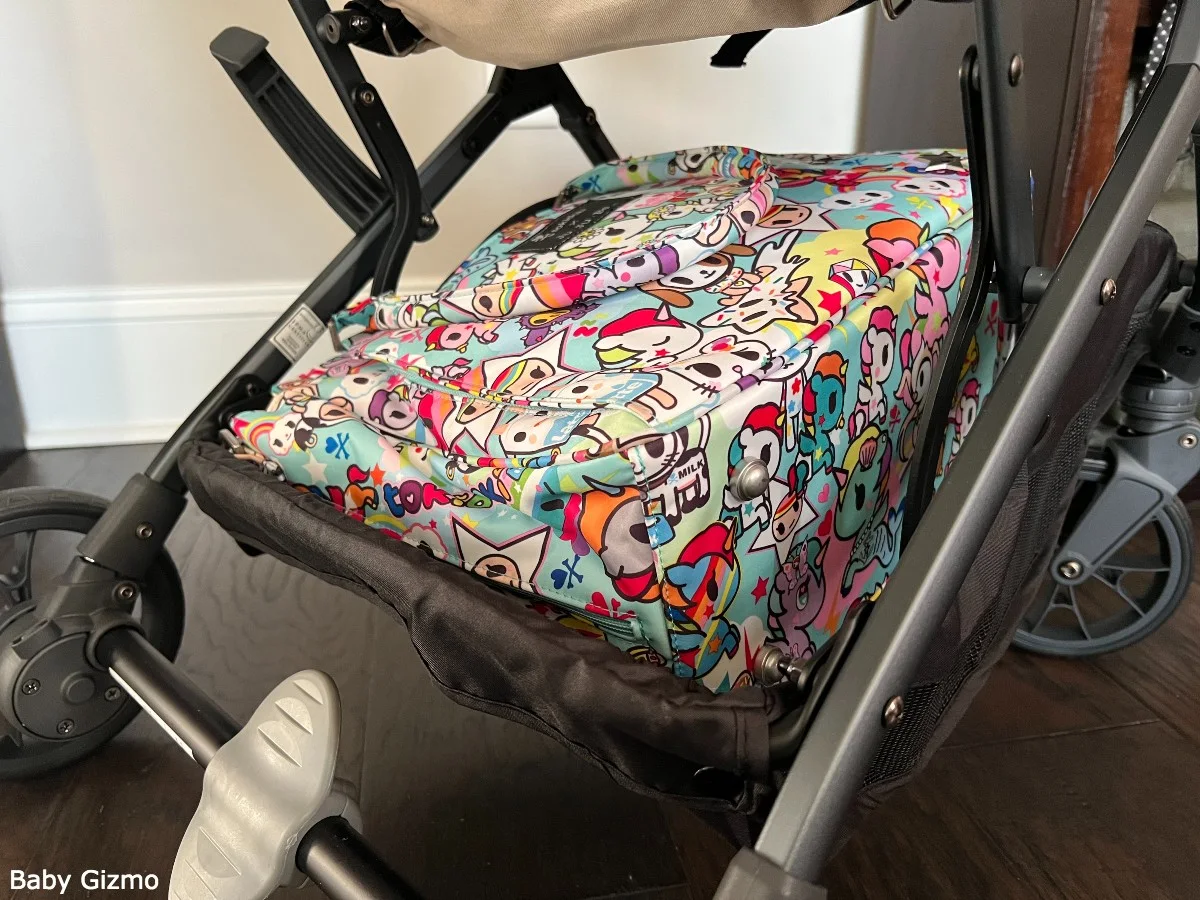 STROLLER WHEELS
The Joovy Kooper rolls on 6″ hard rubber wheels in the front and 7″ hard rubber wheels in the back. The front wheels swivel 360 degrees but do not lock straight. There is also a one step, flip flop-friendly brake to lock the stroller into place.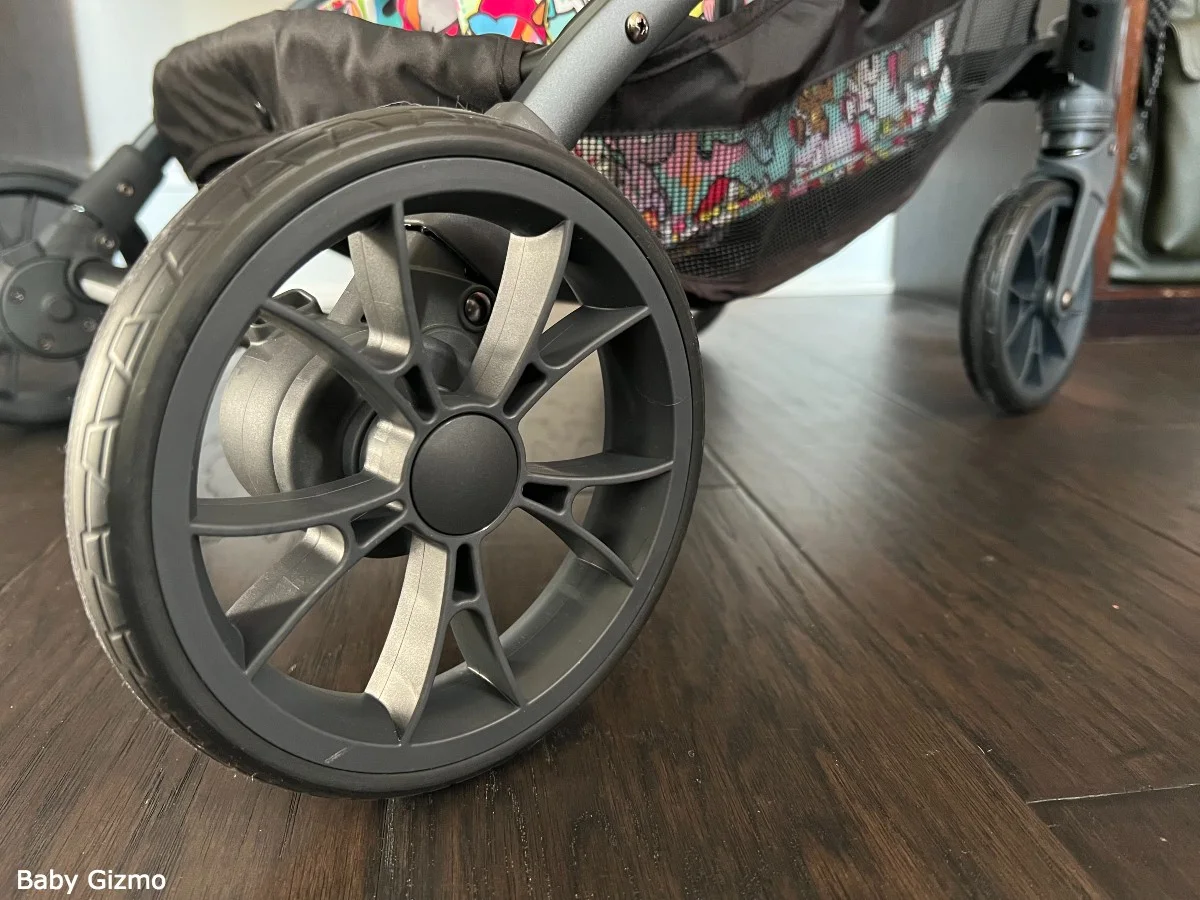 STROLLER FOLD
The Joovy Kooper fold is SUPER easy to do with just one hand AND you can leave the snack tray attached. Yep, while other lightweight strollers have us scrambling to figure out what to do with a removed snack tray while the stroller is folded, NOT the Kooper. It folds all in one piece. No need to remove ANYTHING!!
The stroller locks into place with an automatic lock and ends in a standing fold. It's a compact package that only weighs in at 16 lbs so it is easy to travel with.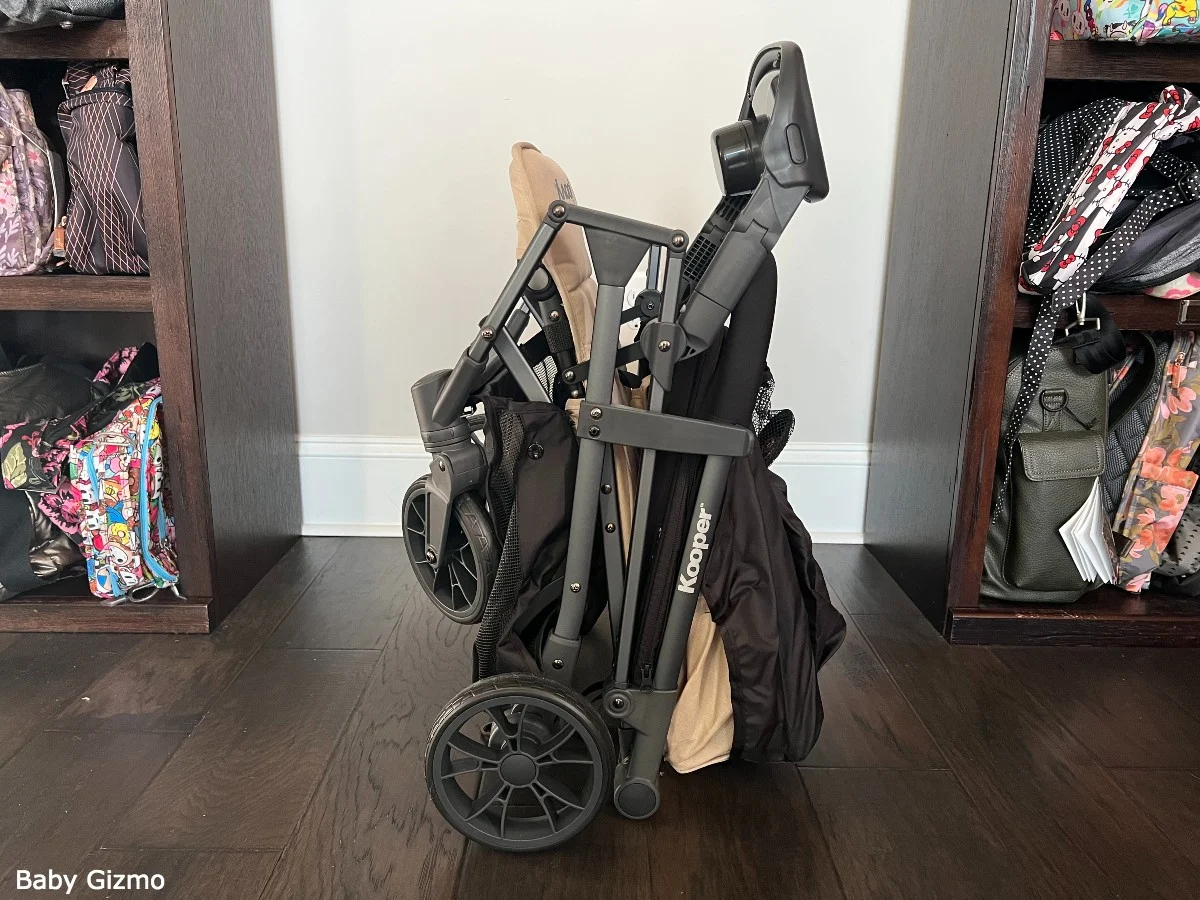 ACCESSORIES
As we mentioned earlier, there is a car seat adapter to use the stroller with a newborn. You can also get the rain cover for the stroller which is sold separately.
PRICE
The Joovy Kooper retails for a very reasonable $259. The car seat adapters are an additional $29 and the rain cover is $34.
WRAP UP
The Joovy Kooper comes in six different colors: Black, Forged Iron (grey), Glacier (teal), Olive, Paprika and Sand and has some great features for both parents and babies.
Purchase the Joovy Kooper Stroller