Are you that mom that likes to pack for every possible circumstance? Maybe you travel often, and need a weekend/carry on diaper bag? Or maybe you have several children or twins, and need a bag that can handle the kitchen sink. If any of these applies to you look no further than the JuJuBe Be Prepared diaper bag. I have owned this bag for several years now, and it is still my go to bag for all day trips and travel with two kids and a baby.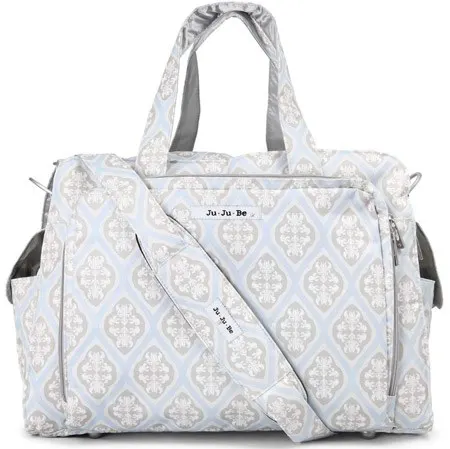 The QUALITY of the materials used is amazing! Not only are the prints fresh, and fun, but it stands up to almost anything. They use Teflon coated fabric that resists staining, and is machine washable. The inside is coated with a substance called AgiON that is antimicrobial to combat the yucks like germs, mildew, and mold that can get in a diaper bag. Also, you won't find any plastic parts on this bag as it sports all metal hardware. It is tough enough to hang off my stroller fully loaded, and not rip where the strap meets the bag. It is the only diaper bag I've found thus far to stand up against my abuse.
The Be Prepared is incredibly well ORGANIZED. At 18.5x14x6.5 inches it is a large bag, but it is a snap to locate and retrieve items you need. JuJuBe utilizes light colored fabric on the inside so you can see everything. They also have LOTS of mesh pockets on the sides that are perfect for diapers/wipes. They even have colored tabs so that if you are packing for two kids you can keep their stuff separate. No more reaching into a bag for your 8 month olds diaper and pulling out your 2 year olds diaper instead. Two additional side interior pockets are perfect for toys, snacks, or sunscreen. Two large pockets on the outside are great for books and magazines, and the memory foam changing mat. Lastly two drink pockets on either end of the bag are insulated to keep drinks warm or cold. They hold even large Sippy cups.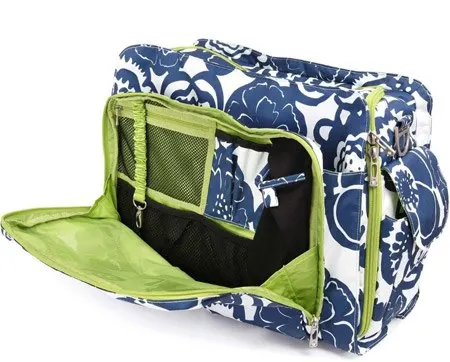 A MOMMY POCKET adorns most of the entire front of the bag. Unzip it to find a gusseted pocket that has a place to store all your mommy essentials. Several separate pockets hold things like hand sanitizer, lip stick, nail files, pens, and band aids. It has a great pocket for your sunglasses that is made of a soft fabric that can double as your lens cleaner. The mommy pocket is big enough to hold all of this plus your wallet, cell phone, and keys. No need to carry a separate purse or spend hours digging out your lip gloss that is covered in lint from the bottom of your diaper bag.
It is also very VERSITILE. You can use it with the messenger strap, or pop out the attached tote handles to throw it over your shoulder. The messenger strap is removable, and stows neatly away in one of the large outside pockets. The tote handles are sewn on, but also easily stow away in a pockets on either side of the main zipper. If you want to keep the contents secure keep it zipped up all the way. If you want to have quick hands free access to the items inside unzip it half way, tuck in the extra top fabric into the dedicated pocket, and you have an open top tote! If you zip the zipper all the way down on each side the bag completely open up so you can grab the stuff on the bottom without having to remove the stuff on the top. The gusseted sides keep everything from falling out when the bag is fully open. This is my personal favorite feature.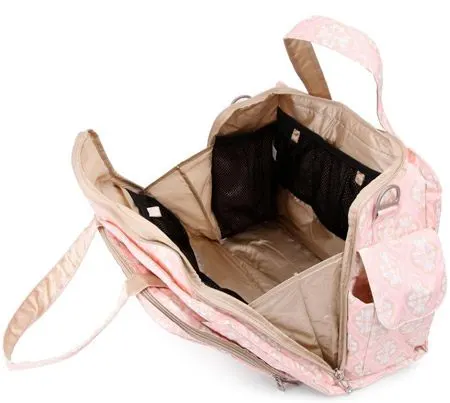 The Crumb Drains are the only feature that I find strange. The idea is they let you sweep crumbs from snacks out of the bottom corners of the back pocket. The only problem is this is the same pocket that holds the changing pad. I am not going to put my child's open snacks in the same pocket that houses the thing used for diaper changes. Maybe it is just me, but that seems a bit gross.
JuJuBe bags have lots of fun matching ACCSESSORIES. It comes equipped with a generously sized plush changing mat, and two stroller clips that allow you to attach the bag to a stroller handle. [Although fully loaded it would tip most strollers]. You can purchase wallets, lunch bags, paci pods, sunglass holders, and matching bag tags to name a few. Each is made with the same high quality material, and is a fun way to spice up your diaper bag stash.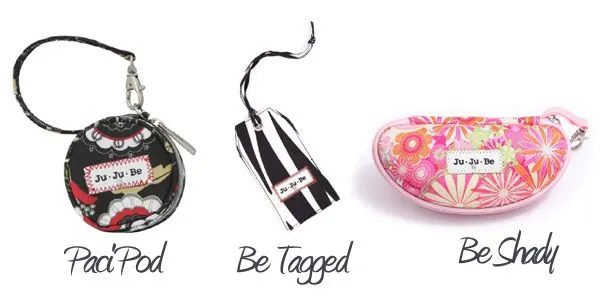 At $180 this bag is EXPENSIVE, but it is so worth the extra money. The features make it very easy to use, and the quality is unmatched. I have owned several other designer brand diaper bags and they have all broken in some way within about 6-8 months. I am very hard on my bags, filling them to the brim, and throwing them around airports, subways, and under my stroller. This bag has stood up to my abuse for three years now, and still looks almost like new. In fact, I would be hard pressed to purchase anything but a JuJuBe bag.
Click HERE To Watch JuJuBe's Video Demonstration Of This Bag