I never had many pets growing up but I always longed for a dog. As soon as I got married I begged my husband for a puppy. A few months after we were married we brought home the cutest baby shih tzu in the world. I always joke that he's our first born child because he kind of is! My son came around a couple years later and I love that he will always know life with our dog.
My son can be a little rough with the dog so we have to teach him to be calm when he's around him, but this has been a great lesson on teaching my son to be kind and gentle. If he starts to get a little rough (this goes with family members and friends, too) we simply tell my son to be nice and he instantly becomes gentle.
Although my son is only 18 months old, he adores our dog. He hugs him and kisses him, gives him belly rubs, and insists on holding his leash when we take him out for walks. He also likes helping me give our dog baths, putting food and water in his dishes, and combing out his hair. I think all of these little things are really helping to teach my son the art of responsibility. He's learning what it means to take care of something and to be in charge of the well being of another living thing. He is also making a lifelong friend.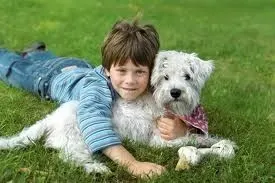 The bond between a boy and his dog is unbreakable, and it warms my heart every time I see them together. While pets aren't for everyone, if you do have a pet in your home, it is the perfect opportunity to teach your child some valuable lessons they will keep with them always.
A few tips to remember-
*When you're introducing your child to a new pet, try to start out by buying them a stuffed toy of the same animal they are going to be getting so can practice being gentle and kind to the pet. If you already have a pet and are going to be welcoming a new baby into your family, do what I did and go get a baby doll. It may sound weird but I think my dog seeing a baby doll around the house and me holding it really helped him to understand a baby would soon be coming.
*Remember to never leave your children and pets alone. Pets are animals and may nip when they feel they are in danger. Children also need to be supervised at all times with pets so they don't accidently pull ears or tails too hard.
*Try rewarding your child when they do a good job helping you with your new pet. This will help teach them what to do and what not to do.
Now tell me, do you have pets in your home? How do your children get along with them? Do they help take care of the pets?