Since I love holidays and food it will come to no surprise to you that Thanksgiving is my favorite. Our family Thanksgiving always includes the same delicious foods that I look forward to eating all year. Since I'm still somewhat new to having my own family and hence contributing my own food to Thanksgiving, I've been playing around with difference recipes the past few years.
This recipe for Fluffy Pumpkin Heaven is my favorite. It's super simple, delicious, and easy enough to let your kids help you make it. My son is only 18 months old and he had a blast helping mommy layer vanilla wafers on the top.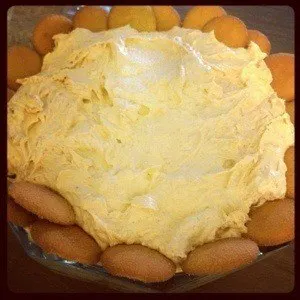 Ingredients-
One 8 oz cool whip thawed
One 5 oz vanilla instant pudding mix
One 8 oz cream cheese softened
One 15 oz can solid pack pumpkin
One teaspoon pumpkin pie spice
Directions-
In a large bowl mix the pumpkin, pumpkin spice, vanilla pudding, and cream cheese.
Fold in the thawed cool whip.
Chill in the refrigerator until serving.
You can serve it with so many things. I prefer to layer it with vanilla wafers because I think it makes the presentation look cuter and kids love it. If you're not feeling the layering thing you can make a spread of different things to dip in the pumpkin heaven like graham crackers, cookies, or even fruit. Get creative and get your children in the kitchen to help you!