I am a self proclaimed Disney expert. I've had a Disneyland pass most of my life and travel to Disney World in Orlando. While every group has different dynamics and therefore requires different planning, here are some things I suggest to help you have a successful trip with little ones.
–Get there early. Once you park, you walk to the trams. The trams take you to the front entrance where you'll have to wait in line to buy tickets. Then you'll wait to get inside the park. This all takes time, so arrive early.
–Have a plan. Whether it's a strict schedule or just a few ideas, you need a plan. This will help you stay organized because it's even harder to do so when kids are with you.
–Be realistic. You may not get to see everything but make sure you see everything you really want to. Let the kids ride Dumbo, and let everyone pick their three "must do" rides.
–Use the baby centers. They are private, clean, and very nice places to change and feed your baby.
–Bring your own stroller. The Disney strollers don't look very comfortable at all and since they all look the same, it's near impossible to find your actual stroller when you come off a ride. If you do rent one, put a blanket or some kind of marker on your stroller to help you identify it. Also remember that cast members move strollers around while you're on the ride to make room for others so your stroller may be in a slightly different spot than it was when you left it. Also, do not lock your stroller because we've heard stories on expensive, luxury strollers being broken because the cast member didn't realize it was locked and tried to move it.
–Bring snacks and drinks from home. You may want them while you're in line and I promise they will be cheaper than the ones at Disney.
–Use fast passes. Use fast passes. Use fast passes. Did you get that? They basically let you cut the line and they are a total time saver and amazing.
–Look up the ride height requirements before you go so you know what your children can and can't ride. This will save the kids from disappointment when you're there, too.
–Use the baby swap. If you've got kids that can't ride a ride, half the group waits while the other half waits with the kiddos. When the first half of the party is done, the second half goes to the front of the line to ride. Just tell a cast member you want to do the baby swap and they'll take care of the rest.
Other things worth mentioning-
*Buy your kids Mickey ears.
*See the characters.
*Pizza Port has awesome pizza the kids will love.
*Get a cocktail at Ariel's Grotto if you start to get stressed,
*If you have AAA, they offer a discount for park admission and annual passes.
*Grab a Starbucks by the entrance of CA Adventure for a pick me up.
*Get an autograph book for the kiddos and stop in Toon Town to see lots of characters all in one place.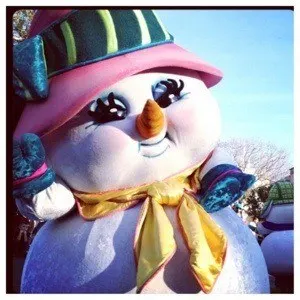 *If you're traveling around the holiday's make sure you see the Christmas parade so your kids can catch a glimpse of some cute snowy characters. You can also watch the candy makers hand making candy canes on Main Street!
*Take a ride on the carousel. Did you know that each and every single of these horses has a name?
*Make sure to check out the new Cars Land in California Adventure. If you want to ride any of the new rides, get there early! Fast passes are usually gone 15 minutes after the park opens and the lines are long!
Most importantly, have fun, don't stress, and breathe. You're in for a magical time!
Have you ever taken little ones to Disney? How did it go? What is the number one tip you would share with other moms?